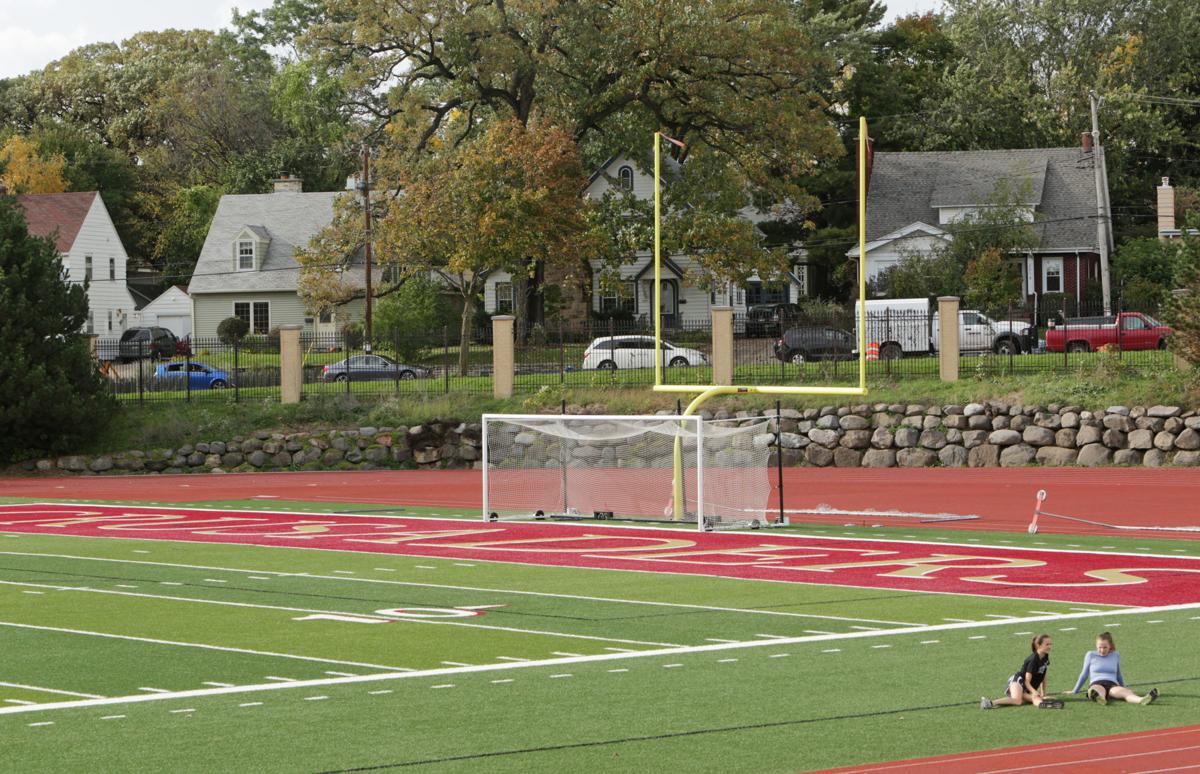 Madison's Plan Commission delayed making a decision on a proposal that would allow Edgewood High School to play games on its athletic field. 
The commission also referred a decision on an ordinance that would have stopped Edgewood from making changes, such as adding lights, to its field unless the school received approval from the city. Both decisions will be taken up for a second time at the commission's meeting Sept. 16.  
Edgewood, located on the near west side, and its immediate neighbors have been arguing for months over whether the Catholic school can hold games on its field. The conflict escalated last week when Edgewood sued Madison, arguing that the city is treating the private school differently than its four public high schools. 
This spring, the city's zoning administrator discovered that Edgewood was in violation of its 2014 Master Plan by allowing athletic contests to occur on its field. Edgewood appealed the decision, but the Zoning Board of Appeals upheld city staff's decision. 
Following the Zoning Board's denial, Edgewood requested the city terminate its campus master plan as a way to be able to use the field for athletic events. If terminated, Edgewood would lose its remaining development rights in the master plan and would need city approval for individual development proposals and other changes. 
"If we do repeal the master plan, we don't really know what's going to happen in terms of process of all the portions of the master plan that will no longer be addressed," Ald. Patrick Heck, District 2, said. 
Commissioner Bradley Cantrell voted against the motion and stated that he is in support of keeping the master plan in place. He said athletic games would be an "appropriate" use but that lights and additional noises should be considered conditional uses, which require additional approval. 
"To me, the best way forward is to stay with the master plan," Cantrell said. 
Educational institutions located within a campus institutional (CI) zoning district, such as Edgewood, can voluntarily create campus master plans. All buildings included in a 10-year master plan are considered approved and do not require additional City Council approval. The plan also designates the uses of various open spaces on campus.
Nathan Wautier, a lawyer representing Edgewood, said the school has adopted three of 19 projects outlined in its master plan and understands the benefits it would lose by the city repealing its plan. 
Wautier said the campus master plan process has not functioned in a way that either the city or the school had envisioned.  
"The city and Edgewood disagree on whether the master plan was ever intended to regulate or restrict existing uses," Wautier said. 
Planning staff and the city attorney's office recommended that the city repeal Edgewood's master plan.
"As it is voluntary for a CI-zoned institution like Edgewood to request approval of a master plan for its campus, staff believes that is also possible to ask to no longer be governed by a master plan," city planner Timothy Parks said in a memo to the Plan Commission Aug. 26. 
City Attorney Mike May described Edgewood's request as changing the zoning of a location, which is not an unusual action for the city. However, this would be the first time it has been done in the context of a master plan. 
May said it would be in the city's best legal interest to repeal the master plan because then Edgewood would have the same zoning considerations as the public high schools — an argument the school makes in the lawsuit under the Religious Land Use and Institutionalized Persons Act.  
"From our perspective, just from the legal aspect of the lawsuit, that would put them back on equal footing with the other high schools and pretty much eliminates their complaint," May said. 
Meanwhile, some neighbors argue that repealing the master plan would toss out years of planning and input. 
Daryl Sherman, a liaison to Edgewood from the Dudgeon Monroe Neighborhood Association, said the master plan represents discussions over access to the Lake Wingra waterfront, use of rain gardens and care of effigy mounds.  
"The master pan represents much more than a document permitting or prohibiting Edgewood from playing games," Sherman said. "The master plan is the only means that Edgewood campus and the adjoining neighborhoods have to discuss and record these."
The second ordinance that the commission referred making a decision on would require Edgewood to apply for city approval before making any modifications to its field. If approved, the ordinance would apply to all schools located in campus institutional districts. 
Some commission members felt the issue was rushed and that other schools, such as Madison College, had not had enough time to consider the effects. 
"I think that this ordinance has broad implications on some major institutions in Madison, and I don't think there's been adequate time for those institutions," Cantrell said. 
Ald. Tag Evers, District 13, argued the change is needed to ensure Madison residents have a voice in potential modifications that could affect their lives. 
"We do not want to live in an exploitative environment in which a landowner takes advantage of a flaw in the zoning ordinance," Evers said. "Residents who live adjacent to an institution that is seeking to make significant changes should have their voices heard." 
This article has been updated to clarify that the if the second ordinance is approved, Edgewood would not be able to make modifications to its field without additional approval from the city through a conditional use permit. 
Share your opinion on this topic by sending a letter to the editor to tctvoice@madison.com. Include your full name, hometown and phone number. Your name and town will be published. The phone number is for verification purposes only. Please keep your letter to 250 words or less.
Get Election 2020 & Politics updates in your inbox!
Keep up on the latest in national and local politics as Election 2020 comes into focus.