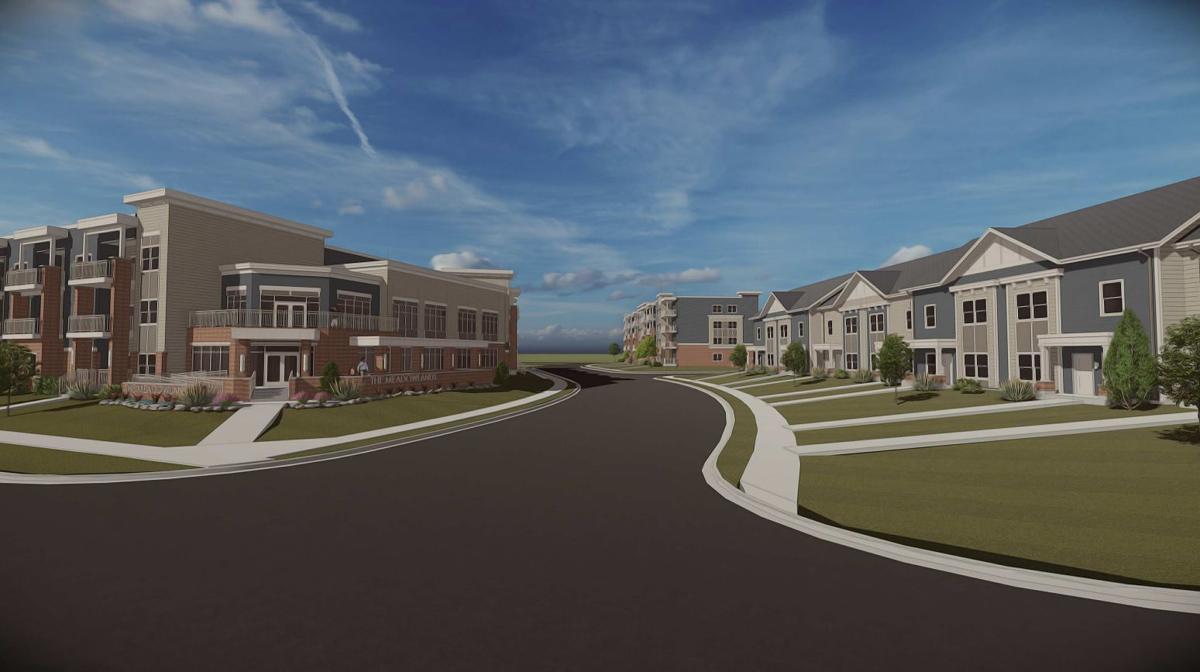 The Meadowlands, a workforce housing project, was approved by the Madison Plan Commission Monday night in spite of neighborhood opposition and the area's alder — Lindsay Lemmer of District 3 — voting against it.  
The Meadowlands is slated for 6810 and 6834 Milwaukee St., 1 and 45 Windsor Drive and 6815 Advantage Drive, east of Interstate 94 and near Door Creek, on the eastern edge of Madison.  
The proposal calls for a 216-unit multi-family affordable housing project with 218 underground parking stalls, 173 surface parking stalls and 202 covered bike stalls. It will consist of seven townhomes and have 51 one-bedroom, 197 two-bedroom and 65 three-bedroom units.  
Ten units will be restricted for people making at or below 50% of the area's median income and 203 units will be restricted for people at or below 60% of the area's median income. According to the U.S. Census Bureau, $59,387 is the median household income in Madison.
Resident Cheryl Solaris testified Monday night that a community meeting about The Meadowlands drew close to 100 people and was highly contentious. The Plan Commission received 79 emails from residents with the vast majority opposing the project. 
"I really feel that we need to listen to people who live there and give a lot of weight to what we have to offer," Solaris said. "We live there. We love the area. We have a lot of green space, there's a lot of charm and character. We want that to be consistent. This is a huge project going on in a small area and the size of this proposal within that small area will be a burden and cause a lot of stress. We need to maintain the integrity, character, charm and safety of the neighborhood." 
The developer, Matthew Gilhooly of KCG Development in Indianapolis, said in response to questions about security that people will need an access card to enter buildings and that they will utilize cameras on site. An amendment submitted by Lemmer and passed by the commission called for KCG Development to provide a security plan as well as a plan for who the property management company will be, an indoor game room and a children's playground as conditions for the Commission's approval.  
The section of Milwaukee Street where the project will be located is not on a current bus line. There is a bus stop on the 6400 block of Milwaukee Street, but service is at peak hours only. The nearest grocery store is Metro Market on Cottage Grove Road, approximately two miles away from the proposed site. There are no other immediate services or retail locations closer than that.  
Ron Trachtenberg, an attorney with Furhman and Dodge in Middleton who spoke in support of the project, said that he believes there would be a 24-hour transit in the area within two years. Lemmer said Madison Metro Transit has reported that service may come within the next five years, but that nothing is guaranteed. Gilhooly said he expects most residents of the development will have vehicles of their own.  
The commission approved the project on a 4-2 vote, moving it on to the City Council for final approval. 
The Plan Commission also unanimously approved a proposal for Ace Apartments, a 70-unit affordable housing project to be located at 4602 Cottage Grove Rd. The project will be built in the place of the old Sentry grocery store, which will now be demolished.  
High-profile agenda items addressing the Salvation Army's proposed campus to house services for the homeless and changes to the plan for the Edgewood High School campus were moved to the Nov. 11 Plan Commission agenda. 
Correction: Ald. Lindsay Lemmer did not ask for the developer to provide on-site security. This article has been corrected.
Get Government & Politics updates in your inbox!
Stay up-to-date on the latest in local and national government and political topics with our newsletter.