A rainy start to Friday in Madison doesn't bode well for blocks of downtown streets that are already full of water.
Historic rains at the beginning of the week caused lake levels to rise and filled storm sewers. With nowhere else to go, water is lapping at curbs on the east end of the isthmus.
A potential flooding map released by the city of Madison shows much of the central isthmus area that could experience flooding or flash flooding including the area blocked by East Wilson, North Blair, East Johnson and Dickinson streets.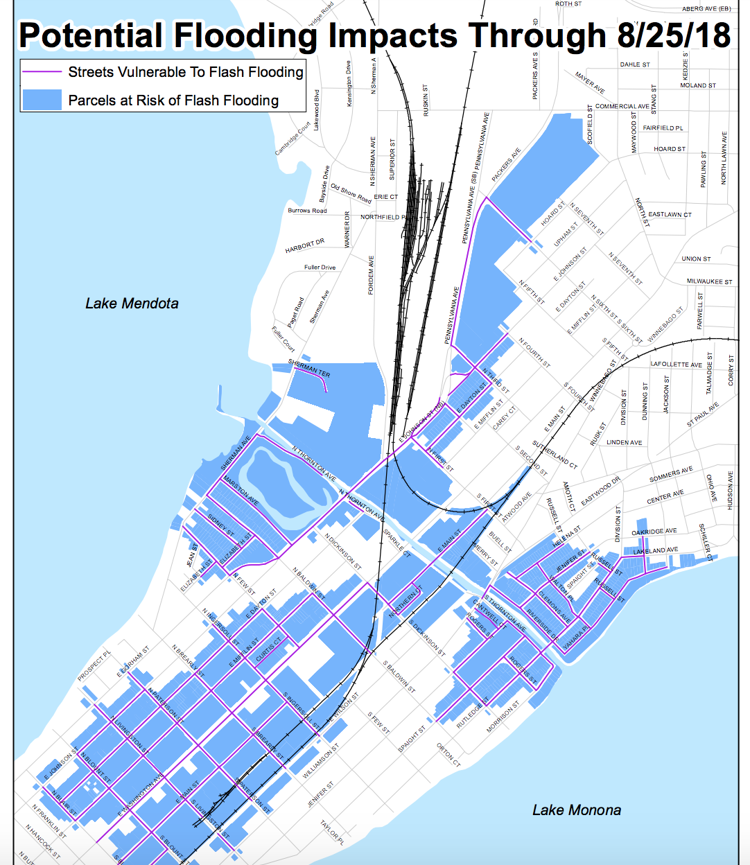 Areas bordering Lakes Mendota and Monona are also expected to flood in addition to streets along East Johnson street heading north toward Packers Avenue.
Current lane closures include:
East Johnson Street between North Baldwin Street and Fordem Avenue

East Washington Avenue has intermittent lane closures

Deming Way between Gialamas Way and Fourier Drive

East Main Street at the Yahara River

Longmeadow Road near Stricker's Pond

The 700 block of Mifflin Street between Blount and Livingston Streets
Bike paths have also been affected by the flooding. Check out recent closures here.
The city is offering free overnight parking in city-owned garages from Aug. 23 through Aug. 31 during flood conditions. There is no fee for vehicles parked between the hours of 9 p.m. and 7 a.m. Vehicles parked in the garage outside of those hours will be charged the hourly rate.  
Residents can also purchase short-term passes to park in city garages. The passes are $7 a day, and residents choose the dates and the parking location they will be using. 
On Thursday, Dane County increased the amount of water coming out of Lake Mendota at the dam into the Yahara River opened the locks channel to release more water.
With lakes expected to rise by another couple inches, Land & Water Resources Department Director Laura Hicklin said in a committee meeting Thursday that more capacity is needed in Lake Mendota to protect the Tenney dam.
"We have no option of holding water back in Mendota," Hicklin said, recognizing that the action will put pressure on other lakes. "We have to let water out of Mendota to protect the integrity of that dam."
She said the county is not worried about the dam failing but has measures in place to do emergency repairs if needed.
"We're not really expecting — and there's no reason to expect — the dam will fail," Hicklin said.
Though failure of the dam is not a concern, water is lapping over the top of the dam because there is no where else for the water to go.
In addition, the dams at Babcock County Park and LaFollette County Park are open. Aquatic plant harvesters are located in the Yahara River from Lake Waubesa to Lake Kegonsa to remove weeds and plants from impeding water flow.
Areas to the west of Madison in Dane County were hit the hardest by the historic levels of rain. On Thursday, Century Avenue in Middleton closed between Branch Street and Old Creek Road due to a sinkhole.  
Dane County Executive Joe Parisi estimated Friday morning that the initial damage assessment totaled $108 million, with $69 million in damage from private homes and businesses and $38 million of damage to the public sector. 
Dane County updates on flooding can be found online and residents can register to receive emergency alerts.