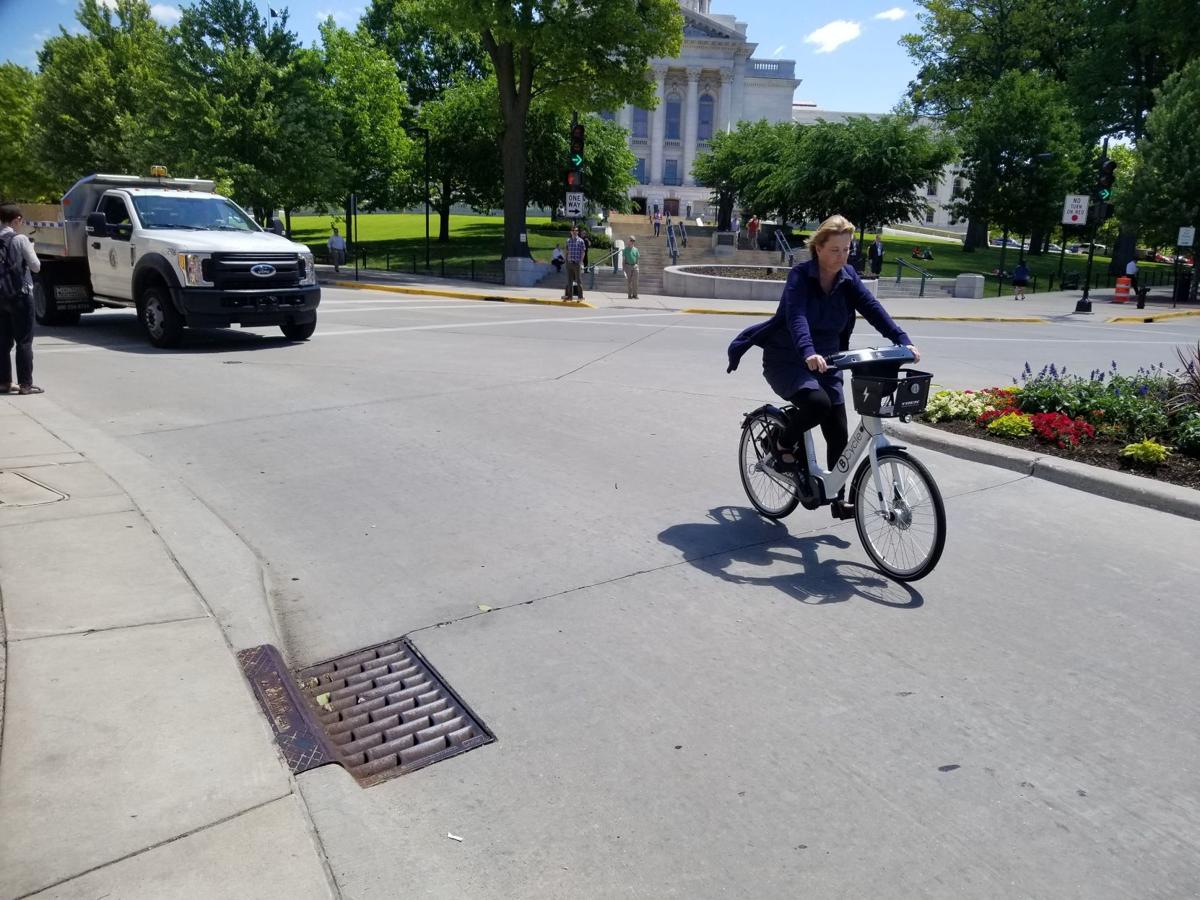 Ann Casey has thought about renting a BCycle as a quick way to get around downtown Madison for meetings. But she never took the leap.
"It was really easy, even pedaling up this little hill on the Square," said the Madison Community Foundation financial officer. "I could see doing this even when I'm dressed up for a meeting."
Casey had just taken advantage of BCycle's demonstration of the new rides the bike share company plans to roll out next week. On June 18, the entire fleet of 350 red three-speed bikes will be replaced by 300 sleeker-looking, white two-wheelers with pedal assist technology.
Not everyone's crazy about the upgrade.
"I'd be perfectly happy keeping the normal ones," said longtime BCycle user Bob Paolino, who considers himself a bike-share advocate.
While carrying the weight of a motor and a battery, the new bike weighs the same as the old, about 45 pounds. Riders can choose whether or not to engage the motor.
Paolino said that if he encounters a steep hill, he'll likely hit the "turbo" button. But he had a couple of gripes.
For one thing, the handlebar basket is considerably smaller, too small for a large grocery bag.
And there's no cable lock on the basket.
"It's officially a lock, but really a bag leash to put the loops of your bag in there so it doesn't go flying out," he said. "I'll have to bring bungee cords now."
BCycle is betting that the pedal power will overshadow any quibbles riders might have. In pilot rollouts in other cities, e-bikes significantly increased ridership.
More e-bikes on the bike paths
The fleet of BCycle pedal-assisted bikes will add to a rapidly emerging e-bike culture that's already thriving, with local and state governments scrambling to keep up.
According to Evan Williams, store manager at Crazy Lenny's E-Bikes on the west side, the store has sold about 8,000 e-bikes since opening in 2013, 2,400 of them last year.
"This year's been even better," he said.
Most of those bikes have been getting snapped up by people who are beyond the age of craving strenuous exercise.
"We definitely get riders that are retirement age, people that like biking. They just don't like the hills," he said. "They just want to go out and have a recreational ride and still have energy to do stuff for the rest of the day."
But there's been a notable shift recently.
"This year we're seeing riders of all ages, driving age on up," he said. "The last couple of years we're seeing more riders in their 20s and 30s. So I think it's gaining popularity on that end as well."
Nobody who regularly travels the city's bike paths could fail to notice their presence. And even fit cyclists on high-tech road bikes are occasionally humbled by a rider on a bulky e-bike, sitting comfortably upright as they sail past.
But the fact remains, they remain illegal on bikeways by state law. That's likely to change soon and in the meantime, Madison police are turning a blind eye.
"I certainly see a lot of them out there, and I'm not aware of any enforcement that's been done," said Renee Calaway, Madison's bicycle and pedestrian coordinator. "I think at this point, with the law looking to change, that it certainly isn't a priority for the Police Department to do that."
BCycle, the Waterloo-based Trek Bikes subsidiary that runs bike shares in about 42 U.S. cities, decided to make Madison its first city to go all-electric.
"Madison's highly educated, tech-savvy and open-minded populace will allow for greater adoption of e-bikes," said BCycle executive director Morgan Ramaker in an email. "We have seen how e-bikes are changing the game in cycling across the globe, and we are eager to demonstrate how e-bikes can increase ridership among more people in bike share."
Bill in the works to set legal definitions
Trek, the city of Madison, Dane County and others are backing legislation that will allow e-bikes to operate on the Wisconsin's extensive network of bike paths and trails.
Currently, e-bikes are legally classified as motor bikes. A bill making its way through the Legislature would redefine the vehicles while maintaining a ban on gas-powered vehicles.
The bill breaks down electric bikes into three classifications:
Pedal assist only that tops out at 20 mph (BCycle bikes top out at 17 mph).
Motor driven with or without pedal assist that maxes out at 20 mph.
Pedal assist that has a 28 mph pedal-assist limit.
Operators of the latter type have to be at least 16 years old.
All three types of e-bikes would be legal on Wisconsin paths and trails, but local governments could still regulate their use.
Groups lobbying to support the measure include the Bike Federation of Wisconsin, the American Heart Association, the cities of Madison and Milwaukee, Dane County, the Greater Wisconsin Agency on Aging Resources, the League of Wisconsin Municipalities and the Metropolitan Milwaukee Association of Commerce.
Lobbyists also include Trek, Harley-Davidson, which recently acquired electric bike maker Stacyc, and Uber, owner of Jump Bikes.
The Senate version has already been passed though a committee vote unanimously with bipartisan support. The Assembly version went through the Transportation Committee with a unanimous vote and needs one more committee sign-off before getting a floor vote.
Similar legislation has been passed in 20 other states, according to BCycle's Ramaker, and several states have laws in the works.
Speed limits have been considered
BCycle and other e-bike advocates say they allow people to get around quickly and efficiently without the irksome sweat factor. For those not in the market for toil, they negate hardships posed by hills and headwinds. They give a chance for older, less physically fit or disabled people who otherwise wouldn't be able to ride to enjoy the same scenic trails and commuting opportunities as the hard-core local biking community.
And, the thinking goes, the more bikes on streets and bike paths, the fewer cars on the road.
Longtime bikers often have a reflexive opposition to the new biking landscape, invoking the prospect of speeding bikers wreaking havoc on crowded bike paths. But as the inevitability grows with the number of users, there are signs that acceptance is setting in.
"They're coming, they're already here, people are already using them," said bike advocate Robbie Weber, a transportation expert and board member with the advocacy group Madison Bikes. "I think that having a law that at least makes it clear what type of bike you can use and where, and that allows local communities to regulate them, it's kind of like 'Let's bring some order to this.'"
Initially, she said, she wasn't so accepting.
"My feelings on e-bikes have evolved as I have seen them being used responsibly by people who otherwise probably would not be biking," she said. "And they especially would not be commuting."
She said Madison Bikes has not weighed in on the issue.
"My guess is various board members, not to mention membership, probably has a variety of views," she said.
Calaway, the bicycle and pedestrian coordinator, said she's had people call her with concerns about e-bikes traveling too fast on bike paths. But she noted that there are plenty of bikers who can easily travel 20 mph without pedal assistance, and she gets complaints about them, too.
"The complaints I get, they're not something maybe that's particular to an e-bike," she said. "They're more particular to the speed that people travel."
She said discussions are ongoing about how and whether e-bikes need to be regulated by the city. Speed limits have been considered, but there are several complications, like how to enforce it, and how to account for varying levels of congestion in specific stretches of path.
She's hoping to find some direction from states that have already passed e-bike laws.
"I've been reaching out to other communities to see what they're doing, if they've found some things that work," she said.
Webber hopes that common notions of consideration and common sense will win out.
"I think if — big if — people are able to self-regulate, there's nothing inherently wrong with e-bikes," she said. "But people have a hard time self-regulating, regardless of what mode of transportation they're using."
Share your opinion on this topic by sending a letter to the editor to tctvoice@madison.com. Include your full name, hometown and phone number. Your name and town will be published. The phone number is for verification purposes only. Please keep your letter to 250 words or less.