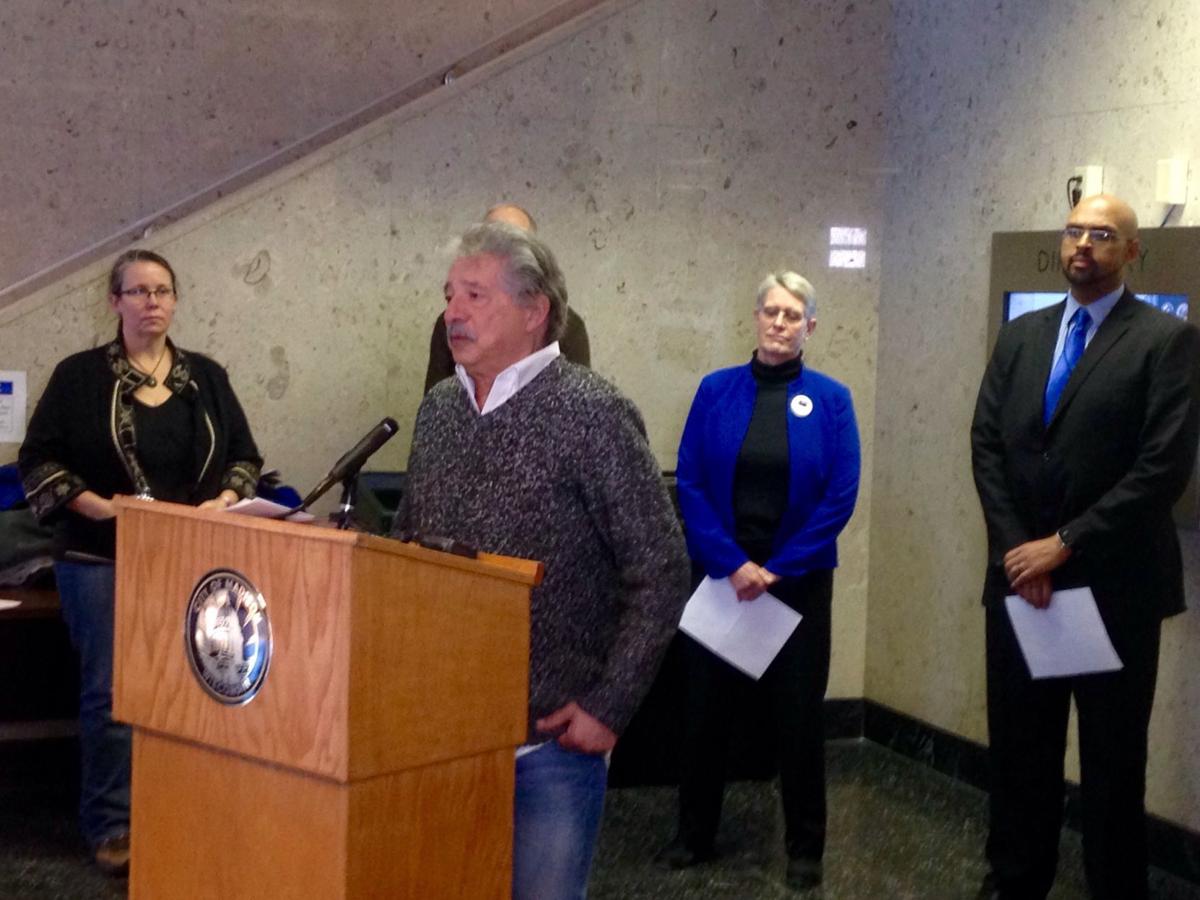 Madison officials are hopeful the U.S. Department of Transportation will intervene in the state's decision to close, combine and relocate two Division of Motor Vehicles service centers on the city's west side.
The city of Madison filed a civil rights complaint Wednesday against the Wisconsin Department of Transportation alleging the decision to close service centers at Hill Farms and on Odana Road in favor of a new service center on Excelsior Drive on the far west side adversely affects communities of color and people with disabilities.
Because the federal DOT provides funding to the state department, WisDOT is required to ensure individuals are not discriminated against, city Civil Rights director Norman Davis said.
"We wanted to leverage the relationship that the U.S. Department of Transportation has with the Wisconsin Department of Transportation in the hopes of ensuring that communities of color, individuals with disabilities, do not experience discrimination, do not experience disparate impacts as it relates to accessing services that are provided by the Department of Transportation," Davis said.
The DOT plans to close the Odana Road location Jan. 18, shut down the Hill Farms center on Sheboygan Avenue Jan. 19 and open the new center at 8417 Excelsior Drive on Jan. 22.
If the state follows through with its plans, Madison Mayor Paul Soglin said it might not be efficient to change Metro Transit bus schedules, but the city might look at using other systems to get service to the Excelsior Drive center.
"We are hopeful the U.S. Department of Transportation will recognize the failure of our state's Department of Transportation and will step in and order changes to be made," Soglin said. "Whether it is getting a driver's license or a license plate, we will see to it that all the people in our community can utilize government services for which they pay."
Ald. Rebecca Kemble, District 15, who launched efforts leading to the complaint, said the U.S. Department of Transportation is a "proactive office" with a "winning track record" against states that have restricted access to people.
In 2016, the federal transportation department announced an agreement with Alabama after the state tried to close 31 driver's license offices throughout the state, which would have had a disproportionate effect on African-American residents.
The city of Madison's complaint alleges that the department's decision to close the service centers at Hill Farms and on Odana Road and replace them with a consolidated office on the far west side makes it more challenging for communities of color and people with disabilities who rely on public transit to obtain services from them.
"Whether WisDOT intentionally chose a less transit friendly location is unclear," the complaint states. "What is clear is the clear disparate impact the decision will have on racial minorities and disabled persons who rely on public transit to obtain DMV services."
While the location in the Hill Farms state office building at 4802 Sheboygan Ave. and the center at 6514 Odana Rd. are located on major transit lines and located near bus stops, it is more difficult to get to and from the new building, according to the complaint.
Madison Metro Transit estimates that a bus trip from the intersection of Badger Road and Cypress Way on the city's south side, a predominantly non-white neighborhood, to the Hill Farms location takes approximately 41 minutes, one way. A trip from the same starting point to Excelsior Drive will take 64 minutes by bus.
The complaint also states that bus riders will need to walk 0.3 miles from the closest bus stop to the Excelsior Drive location, which will affect older and disabled individuals seeking services at the DMV.
Additionally, only one direct route, Madison Metro Route 15, serves the Excelsior Drive location. Metro does not currently provide service to the area between 9:30 a.m. and 3:30 p.m.
"The decision to combine and move the west side DMV service centers to an area that is relatively inaccessible by transit disparately impacts racial minority residents who rely primarily on transit to reach the DMV for services," including obtaining a driver's license or a voter ID, the complaint states.
League of Women Voters of Dane County president Brooke Soltvedt is concerned that the change would affect people's ability to vote by making it more difficult to access the required identification.
"When Wisconsin enacted it's stringent voter ID law, it limited the type of ID that most citizens can use for voting to a Wisconsin driver's license or an ID card," Soltvedt said. "Both require at least one trip to the DMV."
Madison Area Transportation Planning Board chair Al Matano agreed that the change could exacerbate challenges created by the state's voter ID law. He asked DOT Secretary Dave Ross in a letter to reverse the closures and relocation decision and include space for a service center in the new headquarters building.
"It has been suggested by some that the voter ID law is intended to make it more difficult of people to vote — in particularly lower income people," Matano said. "Making it more difficult for people who get around by transit to obtain a voter ID or driver's license is consistent with this theory."
Share your opinion on this topic by sending a letter to the editor to tctvoice@madison.com. Include your full name, hometown and phone number. Your name and town will be published. The phone number is for verification purposes only. Please keep your letter to 250 words or less.