Not only will Nathaniel Imrie be leaving Madison Memorial High School with a diploma when he graduates on June 15, he'll have some practical job experience from working for the city of Madison as an automotive mechanic apprentice.
Imrie, 18, was hired in January 2018 after a competitive application process by the city's Fleet Services Division as one of three students in the first cohort of apprentices. He attends class at the high school in the morning and then heads to the city's garage on First Street, where he works on city vehicles like police squad cars.
Imrie said he enjoys working on "real world stuff" and has never been a fan of the traditional classroom setting. He enjoys the range of skills he is learning, from hydraulics to sirens to wire work, and gets a thrill out of seeing fleet vehicles he's worked on out on duty.
"I'll look on the street and I'll see the unit number of one of the cop cars I worked on, and I'm like, 'I worked on that,'" Imrie said.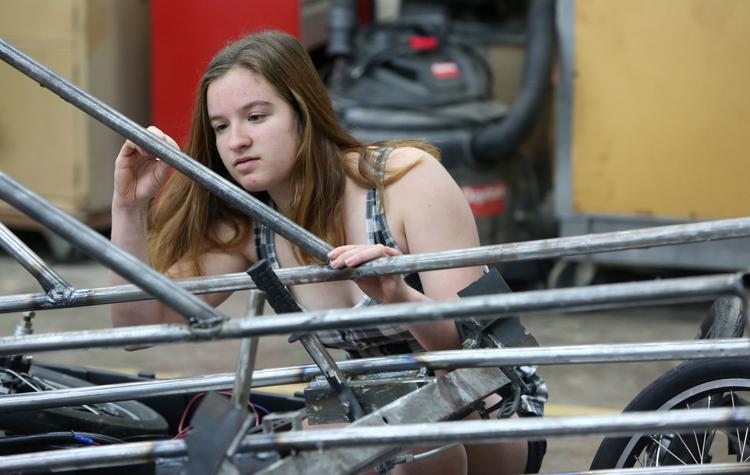 Student apprentices earn $13.01 per hour, receive high school credit and work with a mentor. The program is offered through the school district's work-based learning program. Students must be at least 16 and meet certain requirements for grades, disciplinary records and attendance to be eligible for the program.
Students are certified at different levels through the school district after 450 hours and 900 hours.
Since the Fleet Services program began, other city agencies like the Madison Water Utility and the Engineering Division have brought on student apprentices through the school-to-work program.
A La Follette High School student began working at the Water Utility's mechanics shop on South Paterson Street this year, and another La Follette student worked for the Engineering Division on building maintenance and repair.
Mahanth Joishy, Fleet Service superintendent, said he hopes the program is a start to building a "tradition of bringing in new, fresh high school students who are willing to learn." He also said the program benefits both the students and the city.
"The goal is we are hiring some of these folks full time in the future after they get their technical degree," Joishy said.
Since joining the city's Fleet Services Division in June 2017, he said 12 people have retired from a staff of 37 full-time employees. He said he expects more retirements over the next two years.
"We know there are retirements coming up and attrition, and (the apprenticeship) could help us fill it," Joishy said.
After graduation, Imrie plans to attend Madison College, where he has already started taking night classes, with financial assistance from a scholarship he earned by winning the Firestone Challenge, a regional skills competition for high school automotive students.
Imrie also received a technical excellence scholarship through the state Department of Public Instruction for three years of college tuition — one of four students at Memorial and 16 students across the district to do so.
Imrie's grandfather piqued his interest in cars, which continued into high school by taking automotive classes. Miles Tokheim, a technology and engineering teacher at Memorial, is a strong proponent of technical classes like automotive technology being offered in high schools.
Tokheim encourages students to apply for opportunities like the apprenticeship that the city offers. Other students in his class are currently working for Don Miller Auto Group and Zimbrick.
"College isn't for everybody, and you don't necessarily need to go to college," Tokheim said. "I think students need to explore their options."
Freshman student Olivia Busalacchi, 15, is one of those students checking out the auto classes. She took the introductory class during first semester, and is now taking an advanced class through an independent study.
Busalacchi said she looks how the class is useful and that the skills she learns connect together.
"It's really cool to have those connections and their skills," Busalacchi said.