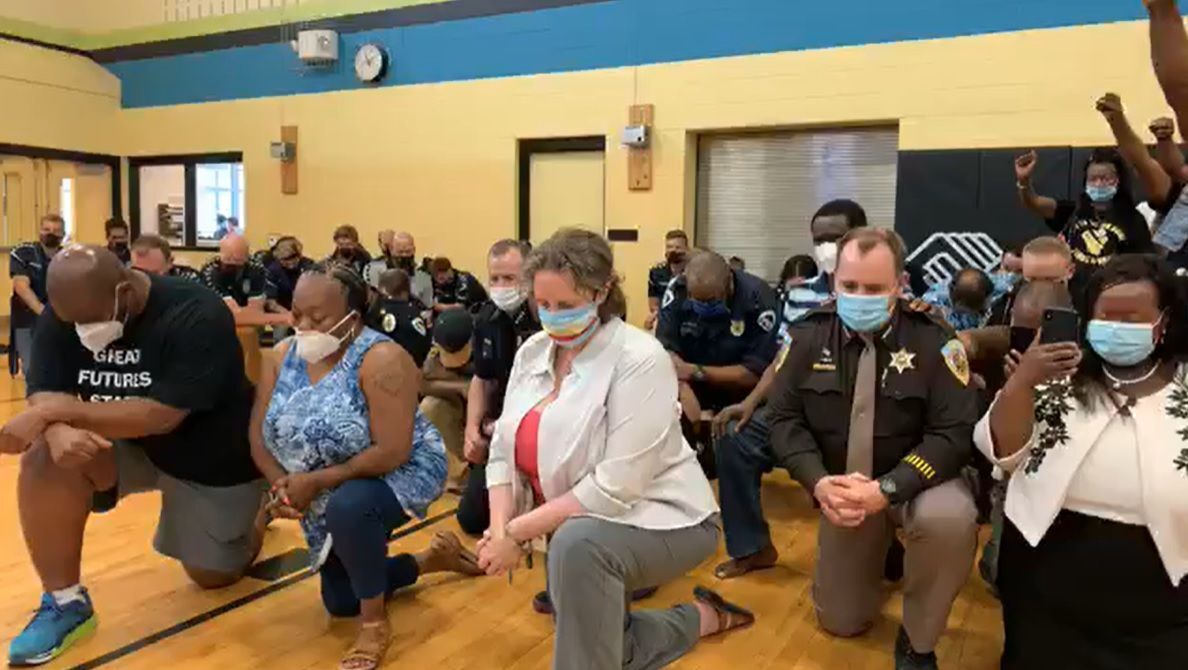 As part of a Wednesday press conference to announce the formation of a community peacekeeping team to assist protesters in downtown Madison, several elected officials knelt in solidarity with some leaders of the black community in opposition to police violence.
Madison Mayor Satya Rhodes-Conway, Dane County Sheriff Dave Mahoney, acting Madison Police Chief Vic Wahl, Boys and Girls Club of Dane County CEO Michael Johnson, state Rep. Sheila Stubbs, Madison School Board President Gloria Reyes, police officers and other black community leaders took a knee, a gesture of opposition to police brutality made famous by former professional football player Colin Kaepernick.
The move came at the end of an event announcing that the Boys and Girls Club is hiring a 75-person team in an attempt to keep the protests that have followed the death of George Floyd in the custody of Minneapolis police, which have taken place downtown every day since Saturday, peaceful and assist anyone who needs help or medical attention during a demonstration.
It was the first time Madison police and government leaders have knelt in solidarity with black leaders, though it has happened in other cities around the country.
Wednesday's event comes on the heels of demonstrators placing flowers to represent the victims of police violence on the lawn of Sheriff Mahoney's home on Tuesday. Mahoney did not speak during the press conference.
"George Floyd should be alive today," Rhodes-Conway said. "Black lives have and always will matter. I understand the anger that builds when the world doesn't have them. Yet I cannot and will not condone the destruction that we've seen downtown. The rain last night was a breath of fresh air and the protests were peaceful. I want to thank all of the activists who worked hard to make that true."
Johnson said the peacekeepers he hires will embed themselves in the crowds during protests, which led to confrontations between some participants and police, along with property destruction, on three straight nights before a peaceful night Tuesday.
Gloria Reyes, a former MPD officer, and Anthony B. Cooper Sr., of Focused Interruption Coalition, will train the peacekeepers to provide support and guidance to young people who are involved in protesting via deescalation training.
The volunteers will be paid $12.83 per hour to participate. $190,000 has been raised from the community to assist downtown businesses that have seen property damage. The looting of stores and destruction of property was a frequent point of discussion Wednesday.
"Stop leaving our kids to do destructive things," Johnson said. "I just cannot fathom how we can sit here and allow these things to continue. People have come in and tried to create a race riot. We should not tolerate this kind of behavior."
Additionally, local developer John McKenzie, who owns the McKenzie Apartment Company, said his company will partner with Dave Jones Plumbing, Ace Electric and Olson Toon Landscaping in a volunteer effort to help fix or clean up downtown businesses damaged this week.
"This is what Madison is," McKenzie said. "It isn't the few people who are causing problems."
Rhodes-Conway echoed those sentiments and pointed to the good things happening in the city like artists of color who are painting murals on boarded-up shop windows, adding that she will continue to work to bring about change in police use of force.
"We have more work to do," Rhodes-Conway said. "I welcome the call the governor made today to focus on use-of-force policies across the state. And I have directed my staff to work with our police department to continue in the review of our use of force policies."
It is unknown how many days the protests and gatherings will be taking place downtown or around Madison. Tuesday night, the City Council denied the extension of the mayor's curfew and state of emergency.
Get Government & Politics updates in your inbox!
Stay up-to-date on the latest in local and national government and political topics with our newsletter.