Madison's six candidates for mayor shared the debate stage for the first time this election season Wednesday night, raising what they view as the top issues facing the city and showcasing a diversity of experiences and personalities.
Approximately 640 people gathered at the east side's Barrymore Theatre for The Capital Times' event to hear from Raj Shukla, Mo Cheeks, Nick Hart, Toriana Pettaway, Satya Rhodes-Conway and incumbent Mayor Paul Soglin.
The candidates exhibited a passion for making the city better for all residents, discussing equity, affordable housing and climate change. Some discussed specific goals and policy recommendations they would pursue if elected.
Shukla, the executive director of the River Alliance of Wisconsin and chair of the Sustainable Madison Committee, set a goal of making the entire community carbon free by 2045. Cheeks, alder for District 10 and vice president of business development at MIOsoft Corporation, said he would implement a position in the mayor's office focused on environmental policy and that he would double the city's affordable housing fund.
Candidates addressed the issue of equity and racial disparities throughout the forum.
"I'm running for mayor of Madison to take on this persistent reputation that we've developed as a tale of two cities," Cheeks said.
Rhodes-Conway, managing director of the Mayors Innovation Project at the Center on Wisconsin Strategy and a former alder, is running to create a city where everyone has the "opportunity to thrive."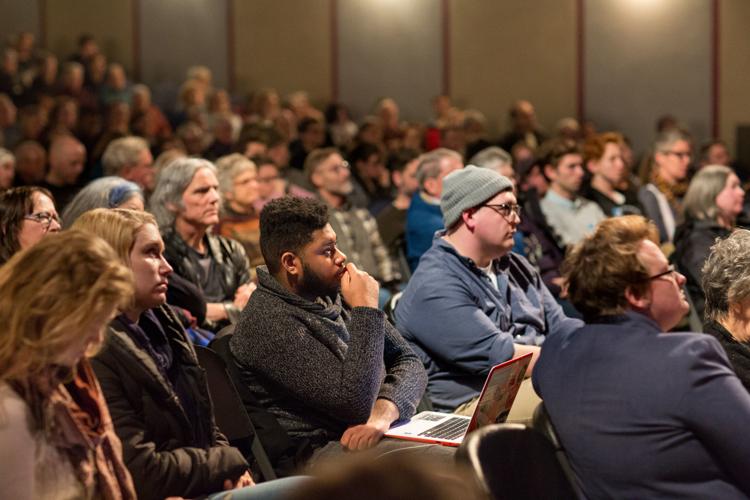 "I'm running for mayor because it's time to not just talk but to actually do," Rhodes-Conway said. "I think we need to have a mayor who has the political courage to implement solutions and is not thinking about the next election."
Pettaway, the city's racial equity coordinator, wants to tap more closely into the needs of the community. She fell short of the 200 signatures needed to appear on the primary ballot but has said she will be running as a write-in candidate
"We are all Madison," Pettaway said. "I am leading on grassroot advocacy and bringing back what's important to all residents."
Shukla blatantly said "racial inequities divide us."
Pettaway discussed her work as the city's first racial equity coordinator implementing the Racial Equity and Social Justice Initiative tool and Rhodes-Conway highlighted her work on the Oscar Mayer Strategic Assessment Committee analyzing how the east and north side communities could be negatively affected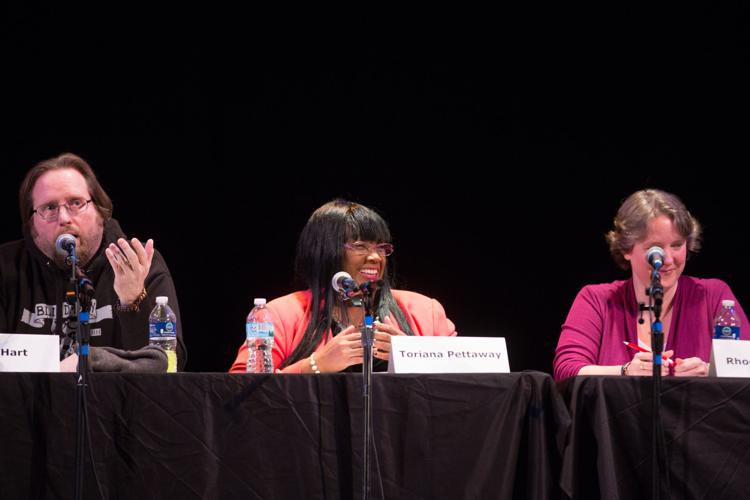 Soglin, who has been mayor for 22 years, pointed to improvements in disparities since he was elected in 2011. On his campaign website, he refers to income disparity gaps closing and a reduction in juvenile arrests.
"The data that we now have that came out from the latest reports for 2017 show significant changes that unfortunately are not appreciated," Soglin said. "That in turn undermines the progress that we've made, and it fails to recognize good solid programs and how effective they are."
While appreciating the academic accuracy of the mayor, Shukla illustrated the lived experiences of community members.
"I look at this as a person of color. I look at is as a father of a child with a disability … The urgency with which my daughter feels the threat of being ignored, the threat of being marginalized, the threat of actual abuse: It is real time. It is oppressive," Shukla said.
Hart assured the audience he is serious about the race and advocated for changes to Madison's policing model. He also said the city needs to "admit it is racist" and be progressive instead of pretending it is.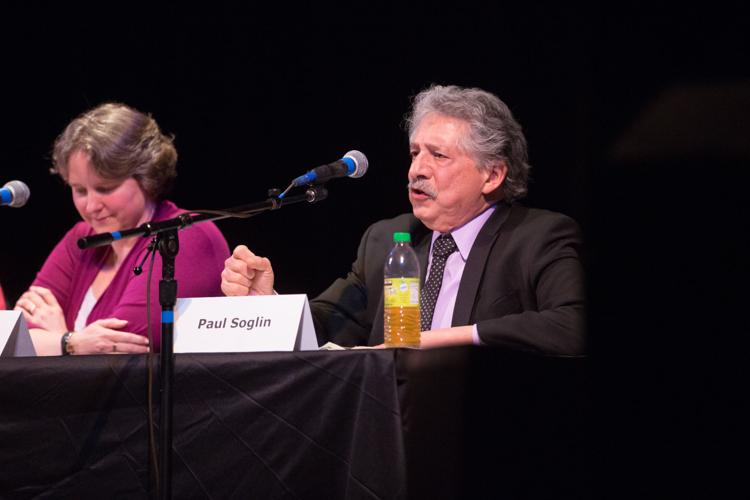 Candidates also addressed what Rhodes-Conway called an "affordable housing crisis" in Madison. She called for more creative solutions than building new units such as Madison's tiny homes village.
As mayor, Soglin has overseen the creation of 1,000 affordable housing units and the affordable housing fund. He said successful communities need not just affordable housing, but quality child care, transportation, out-of-school time activities, access to health care, education, job development and peer support programs.
Soglin also addressed challenges in establishing Tree Lane Family Apartments on the west side, one of the city's permanent supportive housing complexes that houses formerly homeless families.
"With so many challenged families with so many issues, it has turned out we are in a situation where the case management and the support services are not sufficient," Soglin said.
Shukla also called for more creative ideas to boost the number of affordable housing units in Madison and pointed to the city of Minneapolis, which eliminated single-family zoning as a way to address its affordable-housing crisis and a history of racist housing practices.
"We are what we do. We can make a city that is equitable. We can make a city that is sustainable," Shukla said. "We can make a city that is vibrant for everyone that lives here."
Referencing the record-setting rainfall and flooding on Madison's west side and isthmus in August, candidates prioritized climate change efforts and stormwater management practices. Addressing this issue also demonstrated the personality differences between Cheeks and Soglin.
Soglin called on the audience to put pressure on the county to lower the lake level of Lake Mendota while Cheeks called for greater collaboration between the city, county and state.
"What our city can't afford is pointing fingers in crisis," Cheeks said.
However, Soglin said in his closing statements that failing to call out mistakes of other public officials is a necessary though a difficult challenge of being mayor.
"To be silent is to betray the trust of the people who elected you," Soglin said. "I don't enjoy being critical, but I am not going to keep my mouth quiet whether it's a Republican or Democrat in office."
Only one candidate was confident that he would not get enough votes to win. Hart, a stand-up comedian, brought an air of levity to the forum, interjecting with wry comments and donating his follow-up opportunities to a fellow candidate.
"Nobody in here is voting for me, but most people in Madison aren't here," Hart said.
Tone Madison and Arts + Literature Laboratory will host a mayoral forum focused on arts issues at the Barrymore on Wed., Jan. 16. The primary election is Feb. 19, and the two candidates with the most votes will square off in the general election is April 2.