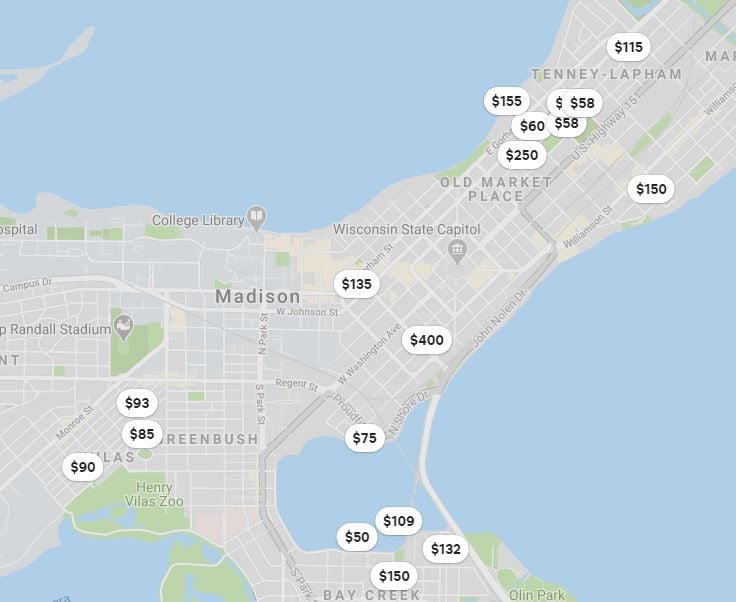 A new Madison ordinance seeking to provide policy changes to how property owners operate Airbnb listings or other tourist rooming houses (TRH) operations is going before the city's Plan Commission on Monday night.
The new ordinance is aimed at providing a more uniform set of guidelines than currently exists for people operating a TRH. Officials hope it will also help the city enforce those guidelines on people who are circumventing or disregarding city law.
Under the new ordinance people operating a TRH would need to obtain an annual permit from the city. It would require TRH operators to give documentation confirming that the operator is in compliance with all regulations as well as consent to inspections from the Zoning Department.
Currently, a TRH has to be the primary residence of the person operating it and that person can only rent the TRH for 30 days per calendar year if they are not present at the time of the rental.
According to Madison Zoning Administrator Matt Tucker, this regulation is to prevent people from buying properties for the sole purpose of renting them out as TRHs and to crack down on people who are intentionally trying to circumvent current regulations.
"I think we've learned in the five, six years we've allowed this to occur that we need a more default way to do this," Tucker said. "My office has been doing a lot of that work. We have some blatant non-compliance that is really difficult for us to manage."
To obtain a tourist rooming house permit from the city, a resident will have to pay a $100 application fee and an annual $100 permit fee. They will also have to provide the name and address of the TRH operator, provide a floor plan, provide proof of a health licence, show that they've registered with the Treasurer's Office for room tax collection, provide a list of the websites and other locations where the rental will be advertised and provide a notarized affidavit stipulating that the TRH is the operator's primary residence.
Tucker said the affidavit has been used in other cities to provide a stronger means of enforcing regulations, since falsifying an affidavit is a criminal offense in itself.
"If someone falsifies their affidavit it's kind of similar to contempt of court because someone falsified a document," Tucker explained. "So in Denver, for example, they got rid of most of the people who were (operating a TRH illegally) and had a 15% drop in TRH operations."
Tucker said some TRH activity in Madison is from people purchasing homes for the sole purpose of renting them out to visitors. There's no permanent occupant or resident.
"You can make a good amount of money doing that but the city only allows it where the operator is a resident. But it does allow the resident to be absent for 30 days of the year. But we've had people operating or taking apartments or accessory dwelling units and renting them off," Tucker said.
Other cities around the world have encountered problems with active TRH markets that lead to lower vacancy rates and higher costs of living.
"It eliminates housing stock for rent and it increases the cost of housing for everyone. We don't have a big issue with that yet in Madison but there's examples of places like Sedona, Arizona, where 60% of dwelling units are short term rentals," Tucker said. "So there's just no place for people to live and it just drives up the cost of living."
Residents who oppose the updated ordinance say the fact there's money to be made by operating a TRH is the reason things need to stay the way they are.
"This affects people who may want to have a mini-hospitality business just with a spare bedroom or something, and this doesn't make doing that very easy," said Peter Daly, who operates an Airbnb. "In this area, the whole boom of Airbnb and sharing houses has all gone to the people with fairly decent incomes and we have a lot of people in this town who could use this income to stretch their budget and we're making this more difficult for them."
Guest privacy has risen to the forefront of the discussion as well. Under the changes to the ordinance, people operating a TRH would be required to provide more detailed information about guests, similar to what's required of hotels.
Several residents wrote letters to the Plan Commission and City Council about the guest privacy issues and revisions to that part of the proposed ordinance may be forthcoming.
"Why should I release all the personal information about guests that are entitled to their privacy?" Daly, who belongs to a group of Airbnb proprietors, said. "I think what should happen is the city should table what they have and bring it to a wider discussion and bring about an ordinance that involves other parties. There have been a few troubled sites and there's gotta be a way to go after the troublemakers without putting that burden on everyone else."
Ald. Patrick Heck, District 2, said the city is open to more revisions.
"Recent updates to the proposed ordinance change have eliminated what I believe were items that raised privacy concerns. The proposal could change more, but at this point it requires only the name of the person making the reservation be recorded rather than all parties who are staying at a tourist rooming house as part of a reservation," Heck said. "It also requires that one of these three items be recorded: email address, phone number or street address. It also has removed the requirement for license plate numbers to be recorded and provided to the city."
Privacy issues aside, cracking down on bad actors seems to be the primary focuses of the proposed ordinance change.
In July 2019, 17 Hill Farms neighborhood residents wrote a letter to Mayor Satya Rhodes-Conway saying that a residence at 5030 Marathon Drive was being used as a TRH and that guests had been there for more than 30 days. The residents asked the city to enforce more strict policies. One resident, in a separate letter, alleged blatant violations of the ordinance by someone operating an Airbnb in the area.
The resident complained that renters parked where they aren't supposed to, trespassed on property, held large parties, disrupted neighbors' daily lives and forced them to call the police.
Heck said he has heard both sides of the argument from residents in terms of supporting or opposing the new ordinance, including people who share concerns about operators not following the current ordinance.
"Some support the proposed change due to the negative impacts that some TRH operators who do not follow the rules have on their neighbors," Heck said.
The proposed new ordinance has been discussed at the Board of Public Health as well as City Council and has been referred for a second time to the Plan Commission.
"The city is supportive of, recognizes and embraces TRHs," Tucker said. "But there's an interest in it being done equally and fairly across the board. Some neighbors don't want to see neighborhoods become home to de facto hotels and that's a concern. We do get those complaints and the ordinance won't allow that."
Tucker said that the proposed ordinance update could come up before the City Council on Feb. 25. Assuming adoption at that meeting, it would go into effect on April 15 and operators would have to have permits in place by July 1.
Get Election 2020 & Politics updates in your inbox!
Keep up on the latest in national and local politics as Election 2020 comes into focus.