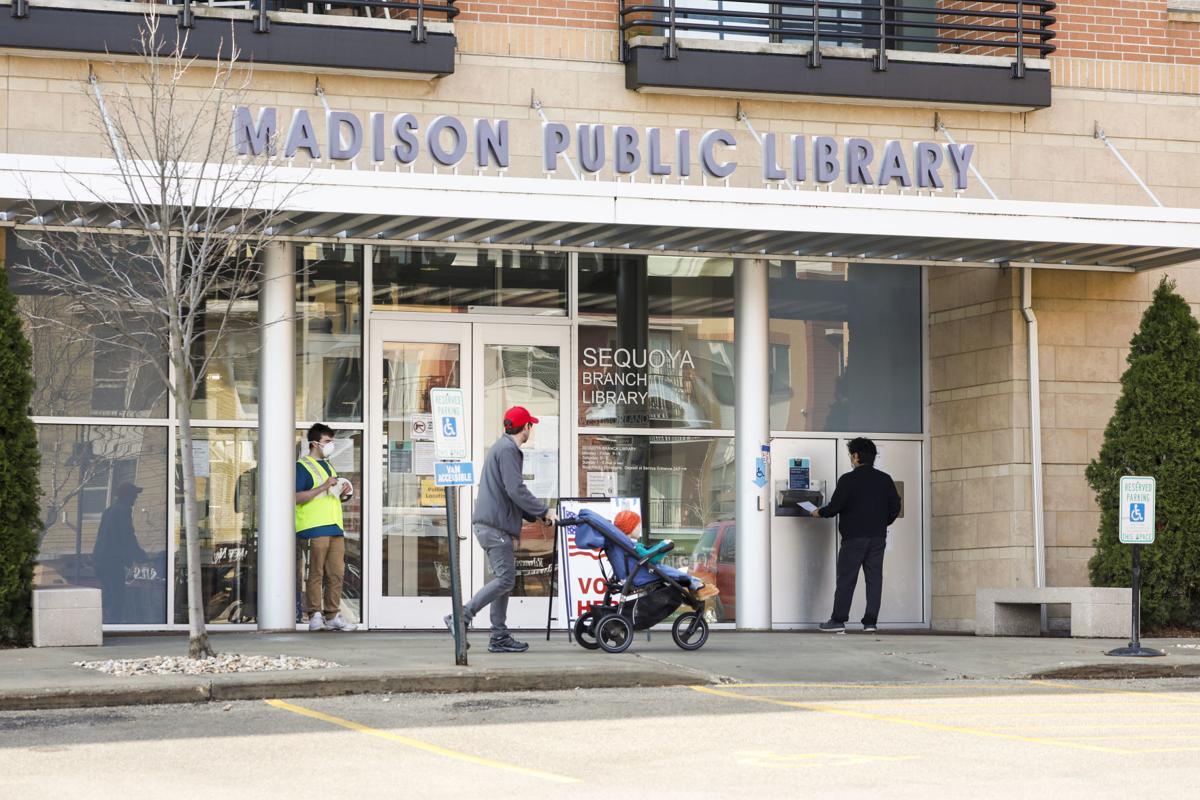 Madison spent an extra $108,000 to help voters cast ballots in the spring election as local officials statewide worked to secure supplies and cover sometimes heightened labor costs for contests held in the midst of the COVID-19 pandemic. 
That's around 21% higher than the $504,000 originally budgeted for pulling off the April election, city finance director Dave Schmiedicke wrote in an email. Madison logged 56% turnout among absentee and in-person voters. 
But while Madison's costs soared, Dane County Clerk Scott McDonell said the county's expenses for setting up the elections were not as affected by the pandemic. Municipalities, which are responsible for mailing absentee ballots, faced the brunt of additional expenses like postage, staff time and safety equipment like Plexiglass shields. 
"April expenses were not too out of line for the county as we were already planning on large turnout due to the Democratic primary," McDonell said, noting the county ordered extra ballots.
It's still unclear how Madison's figures compare to other large municipalities in the state, which saw increased requests for absentee ballots and, in some cases, large lines on Election Day as polling locations were consolidated amid staffing shortages and other concerns.  
Madison, which had 66 polling locations staffed by 1,245 poll workers on April 7, didn't see many of those same issues. But both Milwaukee and Green Bay drew scrutiny during and after the election for their lack of in-person voting sites. In Milwaukee, just five of the city's normal 180 sites were open for voting, while Green Bay had only two of its typical 31. 
Milwaukee Elections Commission head Neil Albrecht said cost figures weren't currently available, while Green Bay finance director Diana Ellenbecker told the City Council Tuesday night that the city "had some salary savings for poll workers" and overall were "on budget or slightly under budget after two elections." 
A 2020 election budget breakdown shared Wednesday with the Cap Times showed of Green Bay's more than $300,000 budgeted for elections this year, officials have spent $96,726 so far, leaving $237,594 available. Ellenbecker said projected costs for the August and November elections weren't yet available. 
In Kenosha — where 10 polling locations were open April 7, down from the normal 22 — Clerk Debbie Salas said expenses were tens of thousands of dollars higher than usual. 
Specifically, she wrote in an email breakdown that supplies and postage cost the city around $22,000, while renting hand-washing stations was $1,600, and extra labor costs were around $21,000. She noted much of the time to send out and count absentee ballots was volunteered, including with aid from the National Guard. 
Additional purchases of PPE and Plexiglass shields carried unknown costs, she said, but given that they are being used now at libraries, museums and the municipal clerk, they could "be counted as an overall cost due to COVID."  
Salas said in a normal spring general, supplies and postage for absentee ballots would be around $7,000, while there wouldn't have been extra costs for labor, hand washing stations, Plexiglass shields and more. 
Election fallout in some cities 
Officials in Green Bay and Milwaukee have grappled with post-election scrutiny differently. 
The Green Bay City Council Tuesday night opted to create an elections committee for the remainder of the COVID-19 crisis as individual members also grappled with the idea of hiring an outside investigator to review local officials' decisions surrounding the April contests.
In Milwaukee, Common Council officials at the end of April unanimously agreed to create a "SafeVote" program that would mail an absentee ballot application to all of the city's 300,000 registered voters for the November election.
Initial reports didn't indicate how much that program would cost. Albrecht wrote in an email that city officials' focus currently is on detailing that initiative as well as "our post-election reconciliation." 
The Wisconsin Elections Commission last month split over a request, supported by some Green Bay alders, to have state staff look into the shrinking number of in-person polling places for the April 7 races in both cities. 
While local officials were left shouldering many of the election's costs, Wisconsin Elections Commission representatives spent their own dollars to help them secure certain supplies. 
WEC ahead of the April election paid for "a significant number of envelopes" that were then sent to local clerks to meet increased demand. The commission also provided personal protective equipment and sanitation supplies to municipalities for the spring contests. 
Even with this support from the state, municipalities were tracking down additional supplies. 
"I know a lot of them were trying to get a hold of their own sanitizing wipes. Some of them put up Plexiglass shields," McDonell said.  
While the total figure for state dollars spent wasn't immediately available, commissioners in March voted to allow staff to spend up to $200,000 on additional assets needed for absentee voting such as envelopes, labels or sanitation supplies. At the time, the state had an estimated shortage of 600,000 envelopes for absentee ballots.
But local jurisdictions also had to cover additional absentee postage costs, which average about $1 per voter for delivery and return postage. Those increases weren't budgeted for, the commission noted in a recent memo, because "their budgets have traditionally focused on the historical need for in-person absentee and traditional election day polling places."
Going forward, the commission is looking to leverage funding under the federal CARES Act signed into law by President Donald Trump in March to continue supporting local election efforts. Through that law, the state Elections Commission will receive a $7.3 million grant that can be used for expenditures from March 28 through Dec. 31, 2020 to "prevent, prepare for, and respond to coronavirus … for the 2020 Federal election cycle," according to a memo from the agency.  
Among the uses for the funding is printing extra ballots and envelopes for increased absentee voting; efforts to update voter registration lists; upgrading state or local databases to support online absentee or mail ballot requests; extra mailing and postage costs; acquiring extra voting equipment; cleaning polling places before and after elections; leasing new polling sites if existing ones are closed; overtime salary and benefits costs for elections staff and poll workers; and more. 
Share your opinion on this topic by sending a letter to the editor to tctvoice@madison.com. Include your full name, hometown and phone number. Your name and town will be published. The phone number is for verification purposes only. Please keep your letter to 250 words or less.