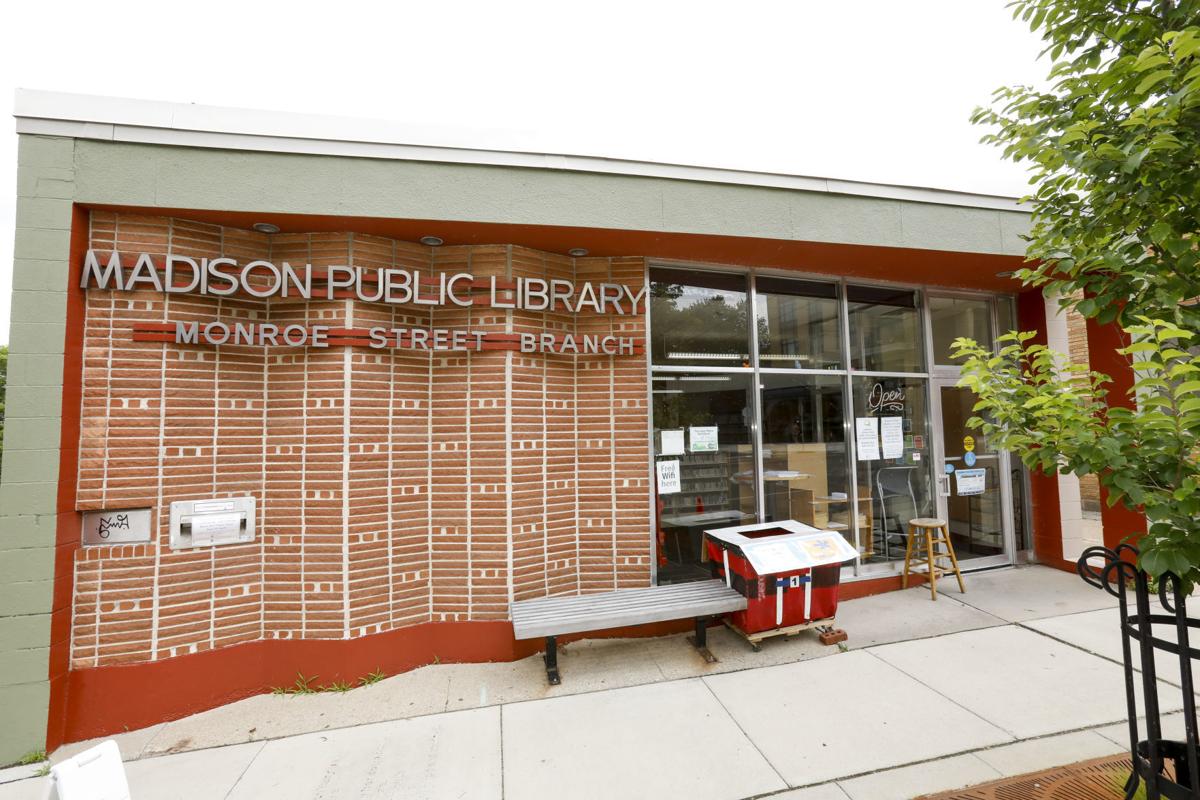 Working to adapt to a challenging budget climate, the Madison Public Library Board recommended Thursday a 2021 operating budget request that includes closing the near west side's Monroe Street library branch for a year. 
The board also recommended eliminating library fines as part of its budget request to the mayor, who will release her executive spending plan for the city in the fall. Madison's City Council will vote on the budget in November. 
Board members emphasized a priority on providing equitable service to Madison residents and lamented the difficult circumstances created by the coronavirus pandemic, especially the economic crisis it has caused. 
"No library board should be making these kinds of decisions to take away services, take away branches or pit one neighborhood against the other," Library Board President Jaime Healy-Plotkin said.  
Challenging budget 
For the library system, the budget circumstances required filling a $300,000 gap to balance the budget and then cutting approximately $1 million to meet the mayor's directions. 
Library Director Greg Mickells said in a monthly report that because over 60% of the operating budget is attributed to personnel costs, reducing staff is necessary to meet that budget target. This places pressure on hours, programming and services, he said.  
Ald. Tag Evers, District 13, bluntly told the board what effect closing the Monroe Street library would have on the neighborhood.   
"You will be interrupting a community," Evers said, while urging the board to consider ways to supplement the lack of services in the neighborhood. 
Recommended option 
After evaluating seven options, the board voted 5-4 to recommend a budget option that includes the following: 
Elimination of fines
50% reduction in all program and supply budgets
Goodman South, Hawthorne, Lakeview, and Meadowridge libraries maintain regular hours 
Central, Pinney, Sequoya and Ashman libraries move to one 8-hour shift, six days per week
Monroe Street Library closed for 2021, though board members expressed an intent to consider reopening if financial circumstances change
Central Library closed on Sundays
Sunday hours move from Pinney and Sequoya to one library from each pair of Goodman South and Meadowridge; Hawthorne and Lakeview 
In total, the budget recommendation would eliminate 23 positions, including five librarians, four library assistants, 13 pages and one security monitor.   
The decision to close the Monroe Street branch at 1705 Monroe St. was recommended as an option, in part, because the facility presents challenges in adapting to pandemic conditions given the building's small footprint. Also, the library serves a neighborhood that is predominantly white with high income earners. 
Library Board member Cindy Fesemyer said the library system should be "committed to dismantling structural racism" and support Black and brown neighborhoods. 
"In this time, that means we have to reduce our traditional support of dominant culture," Fesemyer said.  
However, Evers said characterizing Monroe Street library patrons as only white, privileged and wealthy people is an "incomplete picture." He said a number of residents are elderly and live on a fixed income and many working class families in the Greenbush neighborhood walk or bike to this branch.
While agreeing that the Monroe Street Library should support the greatest overall burden, Evers supported options that kept the branch open on a partial basis. He said that even two days a week would be a "lifeline" to people who are dependent on library services. 
Some board members, including Jair Alvarez, said they would not support any scenario that closed a library location, with Alvarez calling it the "very, very last option." 
"I don't want to see, if we start chipping away libraries, where we might end up," Alvarez said. 
Share your opinion on this topic by sending a letter to the editor to tctvoice@madison.com. Include your full name, hometown and phone number. Your name and town will be published. The phone number is for verification purposes only. Please keep your letter to 250 words or less.