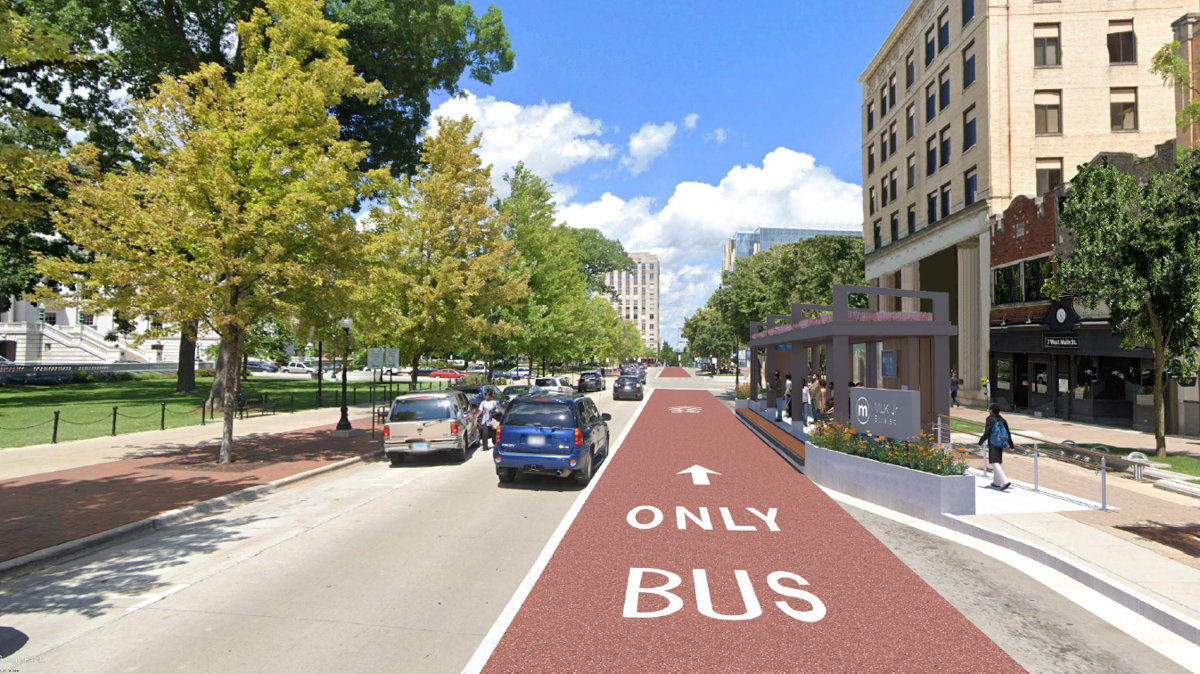 As Madison refines designs for a bus rapid transit system, city leaders stress the new public transportation system will spur economic recovery after the pandemic while critics worry stops on State Street will harm its future. 
Bus rapid transit, or BRT, is a high-capacity model of bus service that features fewer stops, faster service, direct routes and 60-foot-long buses running on dedicated lanes. 
Engineering designs for Madison's east-west route, which will run along East Washington Avenue through the city's center and end at West Towne Mall, are 30% complete. These plans encompass what side of the intersection the stations are located, how bus lanes interact with traffic lanes and what the shelters look like.  
After designs are complete, expected at the end of next year, service is anticipated to begin in 2024. 
Mayor Satya Rhodes-Conway said Wednesday at a public input meeting that Madison needs the economic boost that BRT promises to bring. 
"BRT is uniquely necessary as we continue to address the issues of growth and limited housing in our region, as well as the issues that are brought on by the economic hardship of the pandemic," Rhodes-Conway said.  
According to a review of BRT systems conducted by city transportation planner Philip Gritzmacher, bus rapid transit can have a "strong positive impact on employment resilience, overall transit system utilization and property values."  
Gritzmacher compiled results from studies evaluating systems in cities including Eugene, Oregon; Charlotte, North Carolina; Seattle and Pittsburgh, among others. 
BRT can also boost development within a transit corridor, according to Gritzmacher's memo, but the systems need to be in corridors favorable for high density redevelopment. 
Access to housing, jobs, entertainment, shops and other amenities are critical for the project's success. Benefits could include "strong job growth, redevelopment, high ridership, or any combination," the memo said. 
BRT systems should also keep best practices — short trips, quick, dedicated lanes, buses and stations — in mind, according to Gritzmacher. Systems with these characteristics, including Madison's plan, are classified as a "heavy BRT."  
Any "diminishments" should be carefully considered, Gritzmacher wrote, as "compromising system elements could reduce corresponding economic benefits." 
"The closer you are to that best model of BRT, the bigger the economic benefits will be," Gritzmacher said in an interview. "The more it will be like some of the other forms of mass transit that you traditionally think of as having a strong economic benefit like rail." 
The "locally preferred routing plan," developed after a multi-year process, identified two stops on the 200 and 300 blocks of State Street and two on the Capitol Square as optimal because they provide direct access to the city's economic and cultural centers.  
Several speakers at the public input meeting Wednesday also raised concerns about the downtown stops. 
Four former mayors — Sue Bauman, Dave Cieslewicz, Joe Sensenbrenner and Paul Soglin — opined on the BRT route recently in the Wisconsin State Journal. They argued it would "do serious damage to the heart of downtown — State Street and the Capitol Square — without providing any significant benefit to mass transit." 
"We need an accessible and equitable BRT route that enhances State Street and the Capitol Square as the city's premier destination for dining, shopping, entertainment and community gatherings, not one which relegates it to a permanent future as a mass transit corridor," they wrote. 
The former mayors contend downtown needs to be "reimagined, revitalized and remade" and that committing to BRT precludes new initiatives.     
But Gritzmacher said State Street and the Capitol Square are "core destinations that people are looking to reach in the downtown area." 
"It's really critical that we do maintain those stops and that they are logical and close together so that it's not difficult to navigate the system," Gritzmacher said.
Transportation director Tom Lynch said the plan calls for removing up to eight of the existing bus stops and likely eliminating all buses on lower State Street. Also, the electric buses will be quieter than the current ones running on diesel. 
"We'll continue to move forward with what we think is the best alignment," Lynch said. "We believe that economic and transportation benefits are significant, transformative." 
Share your opinion on this topic by sending a letter to the editor to tctvoice@madison.com. Include your full name, hometown and phone number. Your name and town will be published. The phone number is for verification purposes only. Please keep your letter to 250 words or less.