While municipalities across Wisconsin have allocated funding for engagement efforts surrounding the 2020 Census, Madison-area leaders emphasized the value of partnerships in ensuring a complete count.  
Madison included $75,000 in its 2019 and 2020 budgets for census outreach efforts. This funding enabled the city to form partnerships with Centro Hispano, Hmong Institute, Latino Academy of Workforce Development, Latino Chamber of Commerce, Freedom Inc., Rebalanced-Life Wellness Association and the Northside Planning Council.
At a press conference Monday at Madison College's Goodman South Campus, Mayor Satya Rhodes-Conway said connecting with communities that are not reached by traditional media and have been historically undercounted is a priority. 
"We can and will and are spending money on outreach, but it's events like this with all the community partners we have that are going to really make the difference," Rhodes-Conway said. 
The census officially began Jan. 21, 2020, in Toksook Bay, Alaska ahead of the April 1 Census Day. Most households will be able to start participating around mid-March when the Census Bureau plans to send instructions to almost all homes. 
Complete Count Committees are at work across the state, developing and implementing plans to increase participation in the census. The state's committee met for the first time Feb. 11. 
"What we do now will impact our future," said Rep. Shelia Stubbs, D-Madison, who is a member of Madison's Complete Count Committee. "We cannot afford in this state to leave anyone behind."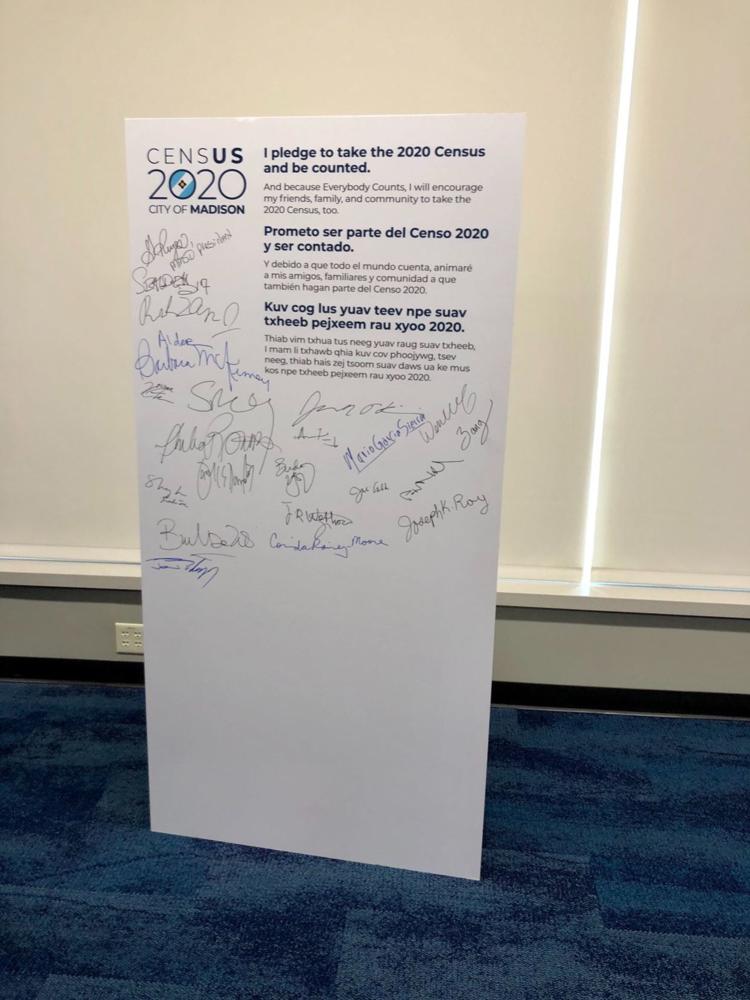 Complete Count Committees play a key role in reaching historically undercounted groups of people. Trust in government at all levels is low, and people fear that their information will be shared or used against them, according to a Census Bureau study.  
Over the summer, fear intensified as President Donald Trump's administration attempted to include a citizenship question on the 2020 Census. In July, federal courts permanently blocked the administration from adding, "Is this person a citizen of the United States?" to the census form.  
"We know that we do this work in a climate where there are people and institutions who don't want us to be counted," said Mario García Sierra, a Centro Hispano board member. "We're going to do the work, the outreach and engagement to make sure everyone in this community gets counted and gets the representation and the services that we need." 
Across the state, municipalities and counties have invested in Census 2020 engagement efforts at different levels. 
Of the state's five largest cities, Madison by far has included the most funding at a total of $150,000 over two years. Also, the Department of Civil Rights' budget includes $10,000 to assist with language access materials associated with the census. 
Dane County included $7,500 in 2019 and $10,000 for census efforts. 
"Given the limited funds, there's a lot we can do without a lot of expenditure," Todd Violante, director of planning and development, said. 
The city of Milwaukee included $50,000 in its 2020 budget, which was the same amount allocated for efforts surrounding the 2010 Census. The city of Kenosha included $30,000.
Green Bay and Racine did not include any funding, however Brown and Racine counties each included $10,000.
Data from the U.S. Constitution-mandated decennial count of all people in the United States determines billions of dollars in federal funding and is used to allocate seats in the U.S. House of Representatives. 
"The census isn't just a headcount," said Wenona Wolf, Barnes' policy and legislative director. "It's about visibility, voice and value."    
Dozens of federal and state funding streams, such as Medicaid, Headstart and affordable housing tax credits, are determined through census data. In addition to a count, factors such as income and age are also used to determine specific program needs. 
"If Madison's population was undercounted by just 10%, we could lose $500 million in much needed services over the next decade," Rhodes-Conway said. "We can't afford that." 
A potential barrier to high census participation rates locally is the current lack of temporary census workers in Dane County. The Census Bureau sends out invitations to sign up to take the 2020 Census in mid-March, but Dane County Executive Joe Parisi said 20% of residents are expected not to respond. 
This means that these households will be targeted by a census worker in-person to encourage residents to fill out the census. 
"The more folks we can get to sign up, the fewer we have to go door-to-door knocking," Parisi said. 
The specific number of workers that the bureau needs is still being determined, U.S. Census Bureau Media Specialist Robert Giblin said. But as of Feb. 13, the bureau is at 35% of its goal for applications in Dane County but still needs an additional 4,183 applications. 
Across the state, the bureau needs an additional 18,688 applications in Wisconsin, which is about 64% of the goal for the number of applications for the state. Those interested in working for the bureau can apply online. 
"It's a great way to put some cash in your pocket, while at the same time doing some incredibly important work for our community," Parisi said.
Briana Reilly contributed to this report. 
Share your opinion on this topic by sending a letter to the editor to tctvoice@madison.com. Include your full name, hometown and phone number. Your name and town will be published. The phone number is for verification purposes only. Please keep your letter to 250 words or less.
Get Government & Politics updates in your inbox!
Stay up-to-date on the latest in local and national government and political topics with our newsletter.