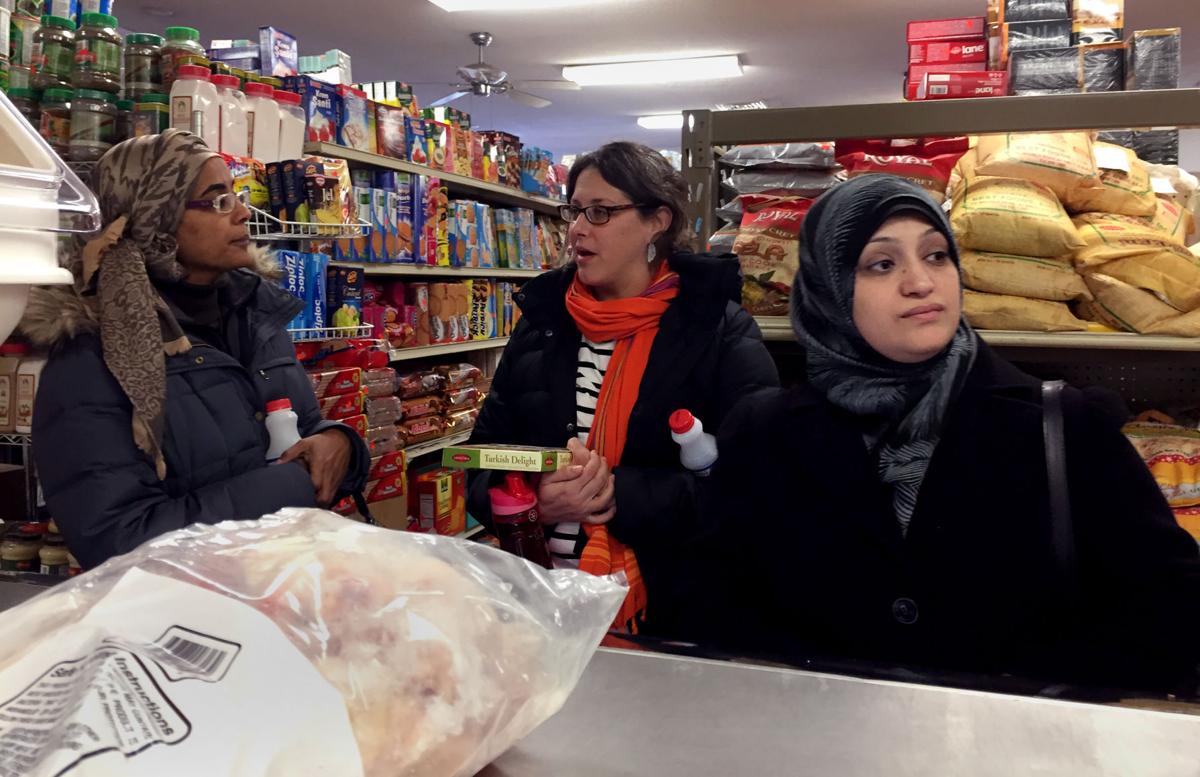 Madison nonprofit organizations serving immigrants have been flooded with clients and questions since President Donald Trump signed several executive orders governing immigration.
The clients represent a broad segment of the community, said Grand Sovern, an immigration attorney at one such organization.
"You assume who immigrants are and how this affects them, but it's so much broader than anybody thinks about," he said.
Sovern is on the board of the Community Immigration Legal Clinic (CILC), which advises immigrants at a free walk-in clinic every other Friday at Christ Presbyterian Church, 944 East Gorham St. from 2 p.m. to 5 p.m.
The clinic provides services like education on immigration rights, referrals to immigration experts, as well as training for volunteers, including lawyers, interpreters and intake assistants.
Executive orders causing immigrants alarm in recent weeks include the immigration ban from seven predominantly Muslim countries, an expansion of U.S. Immigration and Customs Enforcement (ICE) actions and measures to cut federal funding from "sanctuary jurisdictions."
On Tuesday, the Department of Homeland Security released documents outlining the president's aggressive immigration enforcement plans, which include hastening deportations.
Since Trump signed the orders, the CILC has seen its visitors double. Those visitors are documented and undocumented individuals from a wide variety of countries concerned about the future, Sovern said.
Immigrants in Madison represent a range of countries and jobs, he said. Since the clinic opened in 2009, it's seen over 2,000 people from 130 countries, with immigrants from the high and low ends of the job market, he said. 
As a volunteer, he's seen a woman who adopted children 20 years ago come in worried that the adoption documents were incorrect. Other clinic visitors include Nepali refugees looking for guardianship and a U.S. citizen thinking of getting married to a non-citizen.
"Everybody thinks (immigrants) are undocumented people and it's easy to tell who they are, but there are so many connections to immigration in the community," he said.
CILC has also been fielding questions from employers, neighbors, schools and even hospitals.
"It's people who care about them, and live with them, and work with them and go to school to with them," he said.
Because immigration affects such a wide swath of the community, CILC isn't the only place in Madison that's been inundated, Sovern said.
Robin Dalton, senior immigration lawyer at RISE Law Center, a local bilingual nonprofit focused on immigration and family law, said the organization has also seen a dramatic increase in clients as well.
"I'll be working, and I see message after message popping up," she said. "I'll call somebody and there will be three more messages by the time I'm off the call."
RISE always sees increases in calls when there's a change in administration or new immigration news, she said, but the Trump administration brought an even greater increase in volume, as well as a significant increase in fear. She's received calls from former clients with green cards or full U.S. citizenship who are afraid it will be taken away.
"This time it's just really fear-based and just high anxiety," she said. "(Clients have) actually talked to me and said, 'My child is now in therapy because kids in school have been telling them they'll lose their brother or mother.'"
RISE works with many survivors of domestic or sexual violence and human trafficking, and there's also been an increase in calls from victims of abuse, Dalton said. Abusers use deportation fears to their advantage, telling their victims that if they report the abuse, they will be deported or their children will be taken away from them, she said.
"Lots of clients are calling and saying, 'If this happens again, can I still go to the police? Are they going to report me?'" Dalton said.
Centro Hispano has also been answering a stream of practical questions, Sovern said: Who will take care of my kids if I get deported? Who will pay my lease or take care of my car?
The Immigrant Justice Clinic has been fielding calls, Jewish Social Services is trying to prepare for refugees who may or may not be able to resettle in Madison, and the foreign student office at UW has seen an influx of students who come with concerns about how the new immigration orders might affect them, Sovern said.
These services are needed more than ever, Sovern said, as immigration law is incredibly complicated and Trump's executive orders don't outline clear implementation.
He cited Trump's order for 10,000 additional ICE agents and 5,000 border patrol agents as evidence of a complicated system growing more complex. The travel ban order provided an example of how poorly implemented the orders have been, he argued.
"The officers at the airports had no idea what was happening with that travel ban, and then they're going to hire 15,000 new (officers) ... to implement rules that are very, very complicated," he said.
CILC is fundraising in order to hire a staff attorney who will deal with removals, Sovern said, and is also looking for volunteers.
"People can call CILC and find ways to get involved," he said. "We are trying to harness what's in Madison."
Share your opinion on this topic by sending a letter to the editor to tctvoice@madison.com. Include your full name, hometown and phone number. Your name and town will be published. The phone number is for verification purposes only. Please keep your letter to 250 words or less.