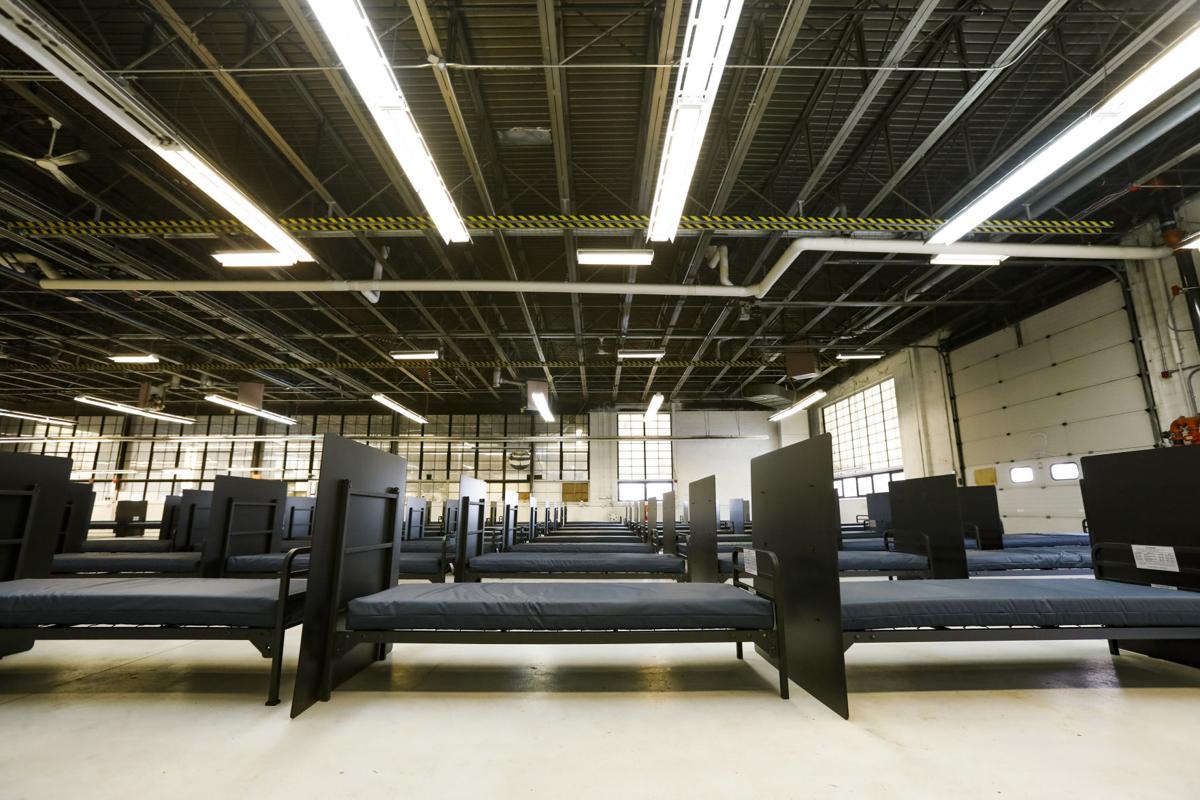 After a previously identified site fell through last October, Madison hopes to create a new men's homeless shelter on a property at Zeier Road near East Towne Mall that houses a vacant big box retail store. 
Mayor Satya Rhodes-Conway said Thursday it's "critical" for the city to have a facility that is meant specifically for a men's shelter. 
"It's important for us to have more space, and it's important that it be purpose-built, so we're not sacrificing functionality by just going along and building in a haphazard manner," she said. 
The city would purchase the 2.67-acre property at 2002 Zeier Road, which includes a vacant 31,550-square-foot retail building, for $2.6 million from BIP Enterprises, LLC, according to a resolution that Rhodes-Conway will introduce at Tuesday's City Council meeting. An estimated $400,000 would go toward environmental studies, closing costs, and architectural and engineering services to prepare to convert the site into a permanent men's homeless shelter. 
According to a city news release, the property provides a structure that can be "fairly quickly" converted into an overnight shelter and is large enough to accommodate laundry and kitchen services. 
Though the city does not yet know the full scope of services that will be offered, Rhodes-Conway said officials will work to create a place that offers more than shelter. 
"It's everyone's intention to create a situation where it's not just a shelter, but rather does offer an array of services to our homeless neighbors to support them in their work and efforts to get housed and whatever else they might need," Rhodes-Conway said. 
Madison and Dane County are collaborating on the project. County Executive Joe Parisi is including $3 million in the 2021 budget to support acquisition and remodeling costs for an overnight shelter serving men in Dane County experiencing homelessness.  
"Dane County is proud to partner on another project that cares for our most vulnerable, building upon our successes with the Beacon Day Resource Center," Parisi said.  
The Beacon, located in the former Greater Madison Chamber of Commerce building at 615 E. Washington Ave., opened in 2017 and offers services and a place to stay during the day. 
Creating a permanent men's shelter is long overdue in Madison. For over 30 years, Grace Episcopal Church, with assistance from St. John's Lutheran Church and First United Methodist Church, has offered overnight shelter space to, in recent years, as many as 175 men per night. 
Karla Thennes, executive director of Porchlight, Inc., said the identified location has potential with a large footprint, access to bus transportation and nearby job opportunities. Thennes said Porchlight, which operates the men's homeless shelter system in Madison, would like to submit a proposal to operate the new shelter. 
"For over 35 years, Porchlight has run the drop-in shelter located in three church basements. We appreciate our church partners very much, but the space was not adequate to fit the need," Thennes said. "The pandemic has shone a light on this need and we are very excited a permanent location has been found."
Since mid-December, men experiencing homelessness have used a temporary shelter at the city's former Fleet Services Building, 200 N. First St. This building is also the future home of the Madison Public Market. 
"We know that that space is still a temporary solution," Rhodes-Conway said. 
Prior to moving to Fleet Services, the city used the Warner Park Community Recreation Center. 
In October 2020, city officials planned to purchase a former child care facility at  4111 East Towne Blvd. for a shelter, but the owner of the site backed out of the offer hours after the announcement and sold it to another party.  
Though not downtown, the identified site is located on public transit routes and will be near a future Bus Rapid Transit stop. 
"The location is less than ideal, but finding a site is much harder than it should be in this community," said Brenda Konkel, executive director of Madison Area Care for the Homeless OneHealth. 
Matt Wachter, director of city planning, community and economic development, said finding a site is a "difficult balance." The site should be near transportation, without tenants locked into leases and be bigger to allow for flexible uses. 
Wachter said the city looked in areas by West Towne Mall to downtown and on the east side and that the Zeier line property checked many boxes: It's vacant, big and open, near transit and amenities in the East Towne Mall area. 
He also said there's potential to add on to the space in the future. 
"Right now, we're focused on the basics of making sure we are replacing the things that used to be done in church basements," Wachter said. 
Share your opinion on this topic by sending a letter to the editor to tctvoice@madison.com. Include your full name, hometown and phone number. Your name and town will be published. The phone number is for verification purposes only. Please keep your letter to 250 words or less.