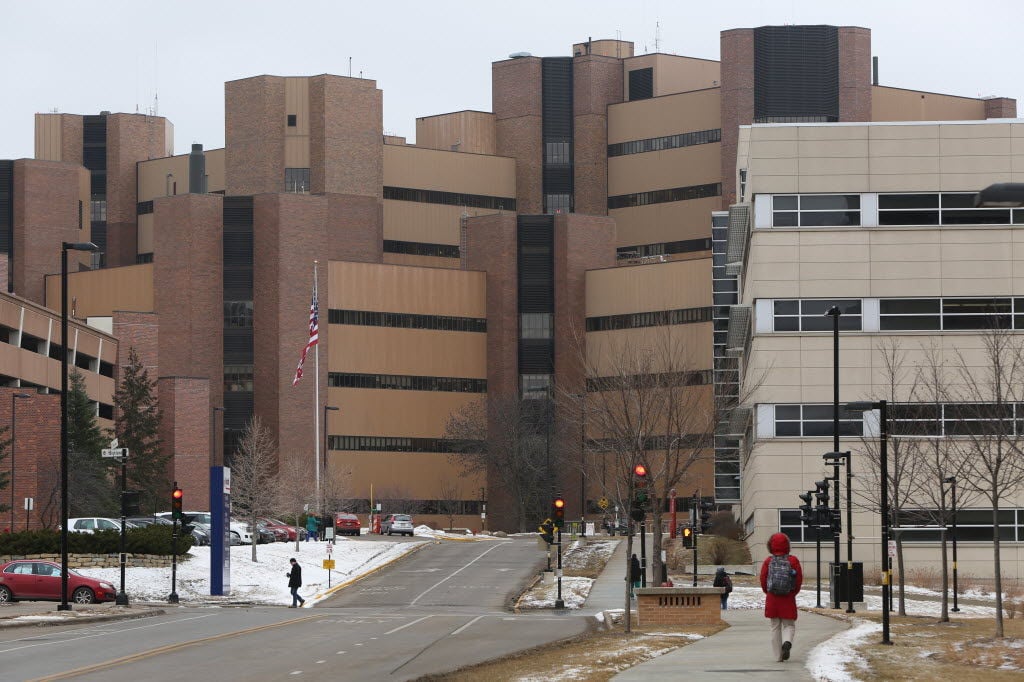 Some Madison-area health care providers have committed to creating a more inclusive environment for their LGBTQ patients, who often experience health care disparities. Last week, the Human Rights Campaign Foundation named two area health care providers "Leaders in LGBTQ Healthcare Equality."
"We really take seriously our responsibility to work to eliminate these disparities for our LGBTQ patients," said Shiva Bidar, chief diversity officer for UW Health and a member of the Madison City Council.
The Human Rights Campaign designation shows that an organization has inclusive practices and policies in place. It doesn't mark the end of the job to create an LGBTQ-friendly healthcare environment, but signifies that an organization has acted, and will continue to act, on a serious commitment to improve.
"It's about health care systems making a conscious decision that (LGBTQ health) is critically important," said Gerald Coon, president and CEO of Diverse & Resilient, a Milwaukee-based organization that aims to improve the health, safety and well-being of LGBTQ Wisconsinties.
Providers elect to participate in the Healthcare Equality Index, and are graded over four areas: LGBTQ patient-centered care, LGBTQ patient services and support, employee benefits and policies, and LGBTQ patient and community engagement.
Three UW Health hospitals (the American Family Children's Hospital, University of Wisconsin Hospital and Clinics, and UW Health at the American Center Madison) achieved the highest possible score of 100. William S. Middleton Memorial Veterans Hospital also received the top designation. Nationwide, 418 healthcare providers scored that high.
Coon said the HEI can help LGBTQ indivduals choose a friendly and culturally competent health care provider, although he added that not everyone has the skills, capacity or resources (like health insurance) to shop around for health care.
The HEI also demonstrates the commitment of organizational leadership to LGBTQ care, Coon said. If leadership takes a strong position, that will filter down to create better health care providers, he said.
Bidar said inclusive care is especially important in light of LGBTQ health disparities. According to the Office of Disease Prevention and Health Promotion, LGBTQ individuals have high rates of tobacco and alcohol usage, and are two to three times more likely to attempt suicide. Lesbians and bisexual females are at a higher risk for being overweight and obese, gay men suffer a higher risk of sexually transmitted diseases, and transgender individuals more frequently experience mental health issues and victimization.
Some of those disparities, Bidar said, are "led by mistrust of the healthcare system because of (past) negative experiences," when healthcare systems didn't understand how to approach or treat LGBTQ indivduals.
A 2014 national survey of the LGBTQ community found over 50 percent had experienced discrimination in medical settings including harsh language, being blamed for their health or refusing to care for the patient.
Those same bad experiences show up in Dane County. In the Dane County 2016 LGBTQ+ Health and Wellness Profile, examples of insensitivity and discrimination included "being chastised for not taking birth control when it is irrelevant to a person in a same-sex relationship," "denial of service due to a person's gender expression or sexual orientation," and "denial of access/visitation of family members in hospital or surgical centers."
UW Health has worked to better serve LGBTQ patients for a long time, Bidar said, and has participated in the HEI for several years in the past. But the organization took a more "comprehensive, system-wide" approach to improving LGBTQ inclusivity about three years ago.
Some of UW Health's initiatives include an internal LGBTQ task force, internal guidelines instructing managers how to support transitioning employees and internal education on providing gender-affirming and inclusive care.
UW Health is working to have single-stall, all-gender restrooms in every building, a practical measure that sends a strong inclusive message, Bidar said. UW Health recently added a "preferred name" field in their electronic record system (a product of Epic Systems), and Bidar is excited to add "gender identity" into the system this year.
"They've been recognized, people hear what they're saying about their identities," Allen said.
While she works at PATH, proper LGBTQ healthcare is not limited to specialty care, she said; it's really acting on an "overall mission of our healthcare system to provide excellent care for everybody."
Allen noted that medical care is just beginning to care for LGBTQ populations in more inclusive ways, especially transgender and nonconforming patients. The bar is set "pretty low" she said, and organizations need to keep raising it.
"I don't think it's something anyone ever achieves," Allen said.
Get Government & Politics updates in your inbox!
Stay up-to-date on the latest in local and national government and political topics with our newsletter.