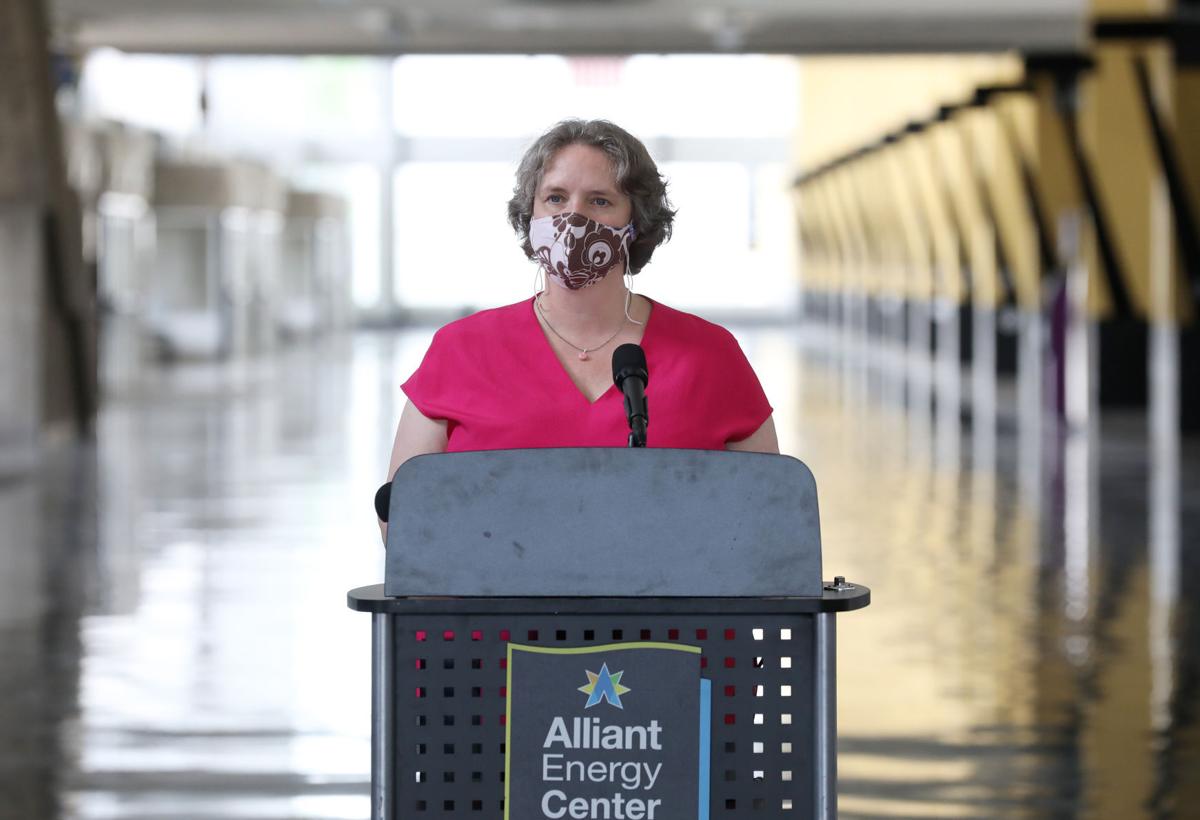 For the second consecutive year, Mayor Satya Rhodes-Conway advised city departments to "focus on the essentials" when creating next year's operating budget in response to an $18 million budget gap and increased costs as the city plans to absorb the town of Madison in 2022.    
Rhodes-Conway said in a memo sent Monday to department and division heads that cost reduction strategies will be needed, and some may need to be permanent. 
"We need to ask ourselves serious questions about whether or not we should be in the business of providing certain services," Rhodes-Conway said in the memo. "We need to ask ourselves what changes we made during the pandemic should become permanent."  
Over half of the deficit stems from one-time measures, including $8 million from the city's rainy day fund and $1.2 million in compensation reductions, to balance the 2021 budget. The city now needs to address the budget gap patched with temporary measures in addition to recurring structural deficits.   
The two-decades-in-the-making annexation of the town of Madison, scheduled for Oct. 31, 2022, will come with an estimated $4 million in annual operating costs on an ongoing basis starting next year. The city expects an estimated $2.3 million in town revenue to begin in 2022. 
The city's Finance Department estimates that general and library fund spending will increase by $15 million, or 4.3%. At the same time, revenues are estimated to increase by 1.5% because of state rules on property taxes and the economic effects of the pandemic, particularly on the amount of new construction in 2020.
"I am calling on all of you to do what families in our community do every day — focus on the essentials," Rhodes-Conway said.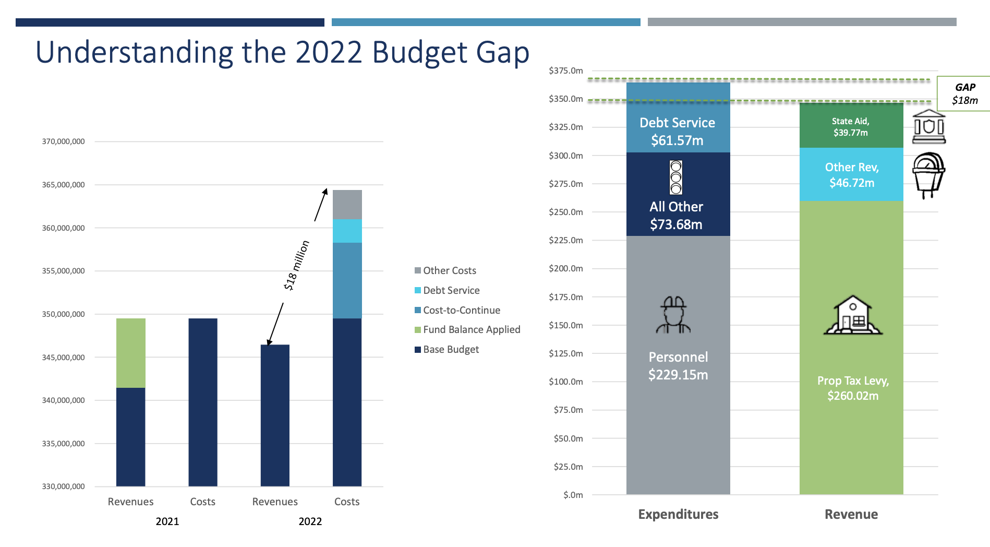 Agencies will receive budget targets that align with the cost to continue services, according to the mayor's guidance. General and library funds, except for Public Health Madison & Dane County, are asked to provide a 5% reduction proposal that includes ongoing cuts. 
"Be creative in developing proposals to reduce costs of your service delivery," Rhodes-Conway said. "If you have ideas that might save money but do not fit in the confines of the budget proposal process bring those ideas to your Budget Analyst so we can explore them further." 
Agencies are allowed to ask for one increase to address "critical needs and service delivery," Finance Director David Schmiedicke said Monday during a Finance Committee meeting.  
Enterprise agencies, like Monona Terrace and the Parking Utility, are asked to submit proposals that are consistent with current revenue projections for 2022. If revenue declines are expected, agencies will need reductions in spending to meet available revenue. 
Also, the mayor asked agencies to focus on racial equity and social justice, consider how reducing strain on the environment can save money and brainstorm "novel" ways to combine services.
"Rising to this challenge is not something any one of us can do on our own," Rhodes-Conway said in the memo. "We have learned much over the past year and worked together and supported one another to accomplish a great deal as #TeamCity." 
Even with an expected $47.2 million in federal pandemic recovery aid through the American Rescue Plan, Madison expects to face significant challenges.  
Rhodes-Conway reminded Finance Committee members that the federal aid is not ongoing and can't be used to establish programs or hire staff that the city will continue to fund without identifying other sources.
"It's a careful balance between filling in the holes that we have, meeting the needs that we have and doing it in a way that doesn't set up a future structural deficit either for us or for the agencies we might contract with on community based programs," Rhodes-Conway said during the meeting. 
The funding is aimed at restarting the economy, supporting small business recovery and promoting housing stability, climate sustainability and comprehensive transit services.
Additionally, the aid could be used to maintain the services the city currently provides in the wake of declining revenues.
"There are some portions of our budget that are in pretty dire straits, and I think it would be irresponsible not to use some of these funds to shore up some of the lost revenue," Rhodes-Conway said. "But there certainly are deep needs within our community that we need to use these funds to address as well." 
Rhodes-Conway also expressed concern that the influx of one-time federal aid could influence state policymakers to cut the city's portion of shared revenue. 
The mayor expects to announce proposals allocating the federal aid sometime in June or July. Any allocations made in 2021 would require the City Council to approve budget amendments, and spending 2022 and beyond would be incorporated into future budget processes. 
Share your opinion on this topic by sending a letter to the editor to tctvoice@madison.com. Include your full name, hometown and phone number. Your name and town will be published. The phone number is for verification purposes only. Please keep your letter to 250 words or less.