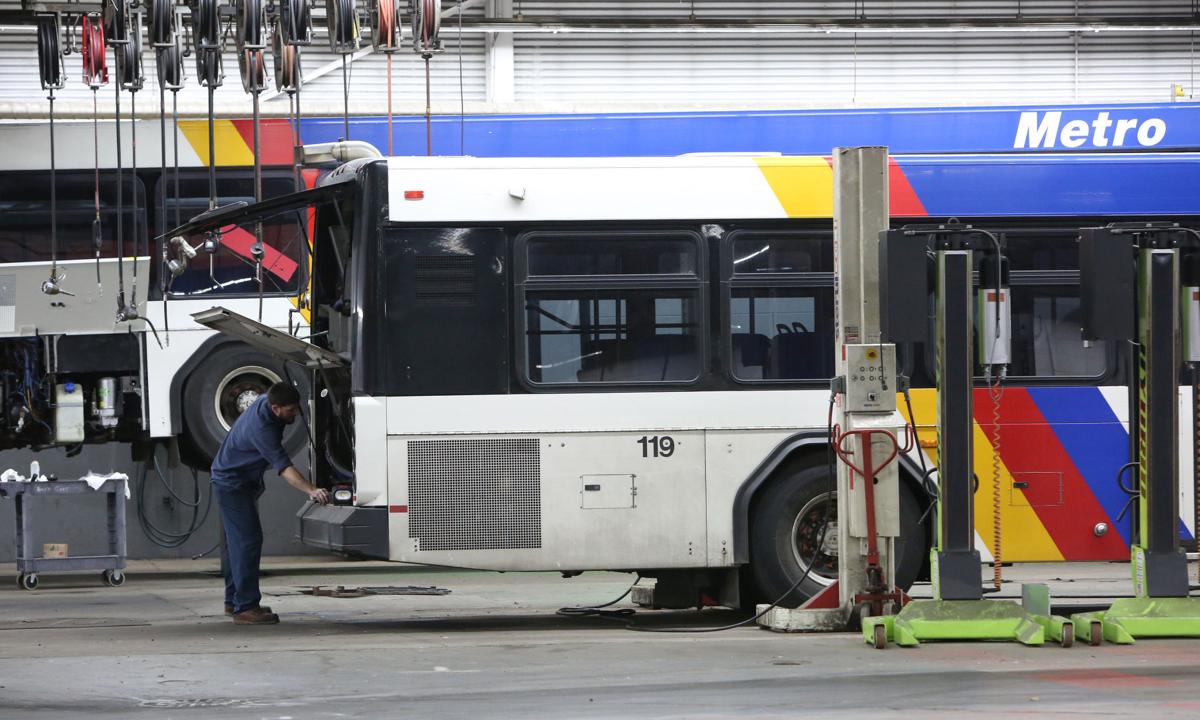 Madison is eyeing a former FedEx facility on the city's east side for a new Metro Transit bus garage rather than buying part of the old Oscar Mayer building.
The city had planned to buy 15 acres of the former food processing plant, which has significant environmental contamination due to nearly a century of industrial use. Now, the city could buy and renovate property at 3901 and 3829 Hanson Rd., owned by McAllen Properties Madison, LLC, to accommodate Metro's needs.
"It is much larger to give us space to grow," Metro Transit General Manager Justin Stuehrenberg said in an email. "Oscar Mayer would also need renovations that would push the cost to be higher than Hanson Rd."
Metro Transit would use the new garage to store and maintain buses, which would alleviate overcrowding at the current facility on East Washington Avenue, and store buses needed for a proposed Bus Rapid Transit system. Some routes and drivers will run from this facility and will start and end their days there, Stuehrenberg said.
According to information Ald. Syed Abbas, District 12, posted on his blog, the Fedex location would be able to store 104 buses, with only 40 to 60 expected to be held at the Oscar Mayer on the city's north side.
Though the Hanson Road facility could add miles for the buses to get into position to start their routes, Stuehrenberg said cost will be less than the savings in debt service to buy the site.
It would cost the city $24.7 million to buy and renovate the Hanson Road facility — an estimated $8.5 million less than the Oscar Mayer site, according to the cost analysis shared by Abbas.
Under a resolution introduced to the City Council Tuesday, the city would spend up to $16.3 million through the capital budget, including $16.2 million to purchase the property, $20,000 for closing costs and an additional $20,000 for "property due diligence work," including environmental site assessment activities.
Ald. Samba Baldeh, District 17, represents the area in which the former FedEx facility is located. He and Ald. Grant Foster, District 15, are sponsoring the resolution.
"This project will allow Metro to grow and better serve the entire region, enhancing economic vitality," Baldeh said in an email. "It also will bring good paying jobs to District 17, since a portion of the bus fleet will be dispatched from this site."
Stuehrenberg noted that no improvements are required before Metro can use the Hanson Road facility, although some incremental improvements will be made over time to make the space fully functional.
"The facility is shovel ready," Abbas said. "It's not going to cost a substantial amount of money to renovate or redo the building."
Also, Abbas said the building does not have a record of contamination whereas Oscar Mayer has a history of documented spills that could require an estimated $22 million in remediation costs. 
Though that problem remains, Chet Hermanson said the east side location will be "3,000% better than what Oscar Mayer could ever have been." Hermanson, who founded Chet's Car Care on Aberg Avenue in 1968, feared that a bus barn at Oscar Mayer would have detrimentally increased traffic in the area.
Hermanson has been an outspoken critic of the city using the Oscar Mayer property for a bus barn, even installing a prominent sign outside of his shop to express his disapproval.
But he said the sign may stay up until the deal is official.
"We'll take the sign down, but we're not going to take the sign down until we have a commitment from the FedEx building," Hermanson said. "I've been had before."
The Finance Committee is expected to review the resolution Feb. 8 with the transportation Commission to follow Feb. 10.
Share your opinion on this topic by sending a letter to the editor to tctvoice@madison.com. Include your full name, hometown and phone number. Your name and town will be published. The phone number is for verification purposes only. Please keep your letter to 250 words or less.