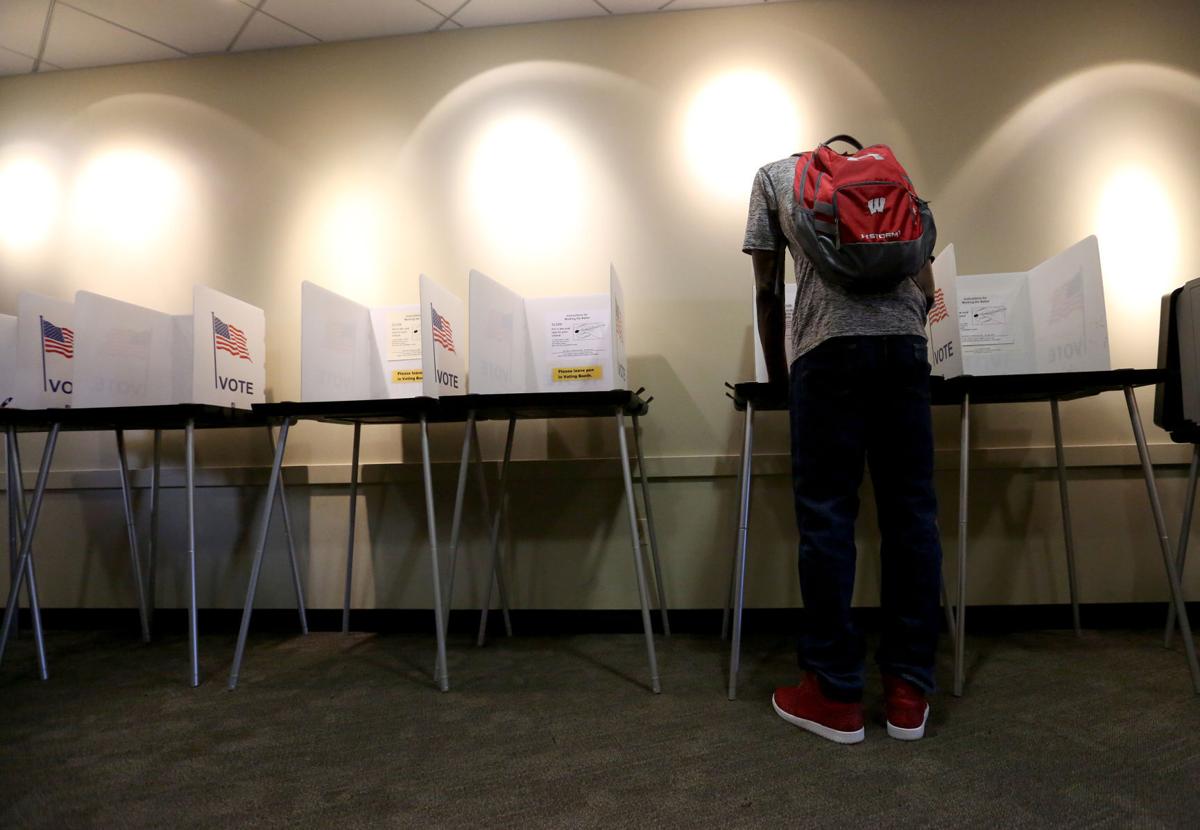 With just two weeks until the Nov. 8 election, a line of early voters typically forms each day outside the clerk's office in the Madison City-County Building.
But this year, early bird voters can choose from a variety of early voting locations throughout the city, thanks to a federal judge's ruling in July. Thousands of voters have already cast their vote for the 2016 election, setting records for early and absentee voting in Madison.
As of Tuesday, 26,527 people had voted early, smashing the previous record of 18,752 absentees cast in person in November 2012.
Madison's city clerk's office has issued a total of 35,497 absentee ballots since Sep. 26, surpassing the previous record of 32,012 absentee ballots issued in November 2008. Those voting early are technically casting absentee ballots in person.
Of absentee ballots issued this year, 31,421 have been returned to be counted. This breaks the previous record of 29,199 absentee votes cast in November 2012. Some absentee voters, 537, submitted their ballots by email out of 1,415 who requested an electronic ballot copy, City Clerk Maribeth Witzel-Behl said.
Absentee ballots must be returned by Nov. 8.
The state Legislature changed voting laws in 2012 to limit electronic delivery of absentee ballots to military and permanent overseas voter. That measure was overturned in July by U.S. District Judge James Peterson in the One Wisconsin Institute case.
The upcoming election marks the first time early voting has been available at locations other than just the clerk's office. Peterson ruled that laws limiting in-person absentee voting to one location, limiting early voting hours and eliminating weekend voting are unconstitutional.
Madison swiftly responded, adding several early voting locations.
"This city is committed to access to the ballot box for everyone," Mayor Paul Soglin said Wednesday.
The in-person early voting numbers as of Tuesday in Madison:
Ashman: 3,510
Central: 2,328
Goodman: 710
Hawthorne: 1,329
Lakeview: 1,873
Meadowridge: 1,892
Monroe: 1,166
Pinney: 3,027
Sequoya: 4,768
Streets East: 548
UW-Madison Student Activity Center: 554
Union South: 760
Clerk's Office: 4,062.
Due to the record-setting numbers, Soglin said he has asked other city departments to send extra staff members to help the clerk's office with data entry and the clerical work behind processing ballots. Witzel-Behl said the clerk's office has had to order more envelopes as requests for ballots are surpassing the initial order of envelopes, which was based on estimates for the November election as well as two elections next year.
Soglin said the Republican-controlled Legislature's attempts to limit early voting and the ensuing court case ended up contributing to the high early voting numbers.
"If we hadn't run into the litigation and the judge had not ordered this period for absentee balloting, it would have been shorter," Soglin said. "(There) probably would have had more compression and we would have had more long lines."
Witzel-Behl has noticed few lines at the early voting locations, with many people reporting that voting at local libraries has been a success.
Dane County Clerk Scott McDonell said more people are voting earlier in surrounding counties, but is not surprised Madison has seen a spike. As a larger city, he said Madison "stood to benefit the most from the change."
Peterson, appointed to the bench by President Barack Obama in 2014, also overturned laws in the July decision that increased the residency requirement for voters from 10 days to 28 days, prohibited distributing absentee ballots by fax or email and required "dorm lists" used as proof of residence to include citizenship information. The judge also overturned a provision of the voter ID law banning the use of expired but otherwise qualifying student IDs at the polls.
Scot Ross, One Wisconsin Institute director, said Madison's proactive approach to early and absentee voting set the city apart as an example for other municipalities.
"Madison is showing that given the opportunity to vote, people will go out and vote," Ross said. "People will see the leadership of Madison in terms of people getting out and make these opportunities available."
"The notion that a local official … would do anything to thwart voter turnout is just repugnant to what we think is the culture and the constitutional standard by which we operate," Soglin said. "That's a standard where we want everyone to vote who is eligible to vote, we don't want impediments, we want access and that's our job."
Emails released Tuesday revealed Green Bay City Clerk Kris Teske was concerned a campus voting location would unfairly benefit Democratic candidates. Student leaders representing a variety of political parties, including Democrats and Republicans, asked Teske in September to open an early voting location on campus after experiencing long lines in the spring primary election.
Emails also show state Rep. Eric Genrich, D-Green Bay, made the same request in August.
"UWGB is a polling location for students and residents on Election Day but I feel by asking for this to be the site for early voting is encouraging the students to vote more than benefiting the city as a whole," she wrote. "I have heard it said that students lean more toward the democrats and (Rep. Eric Genrich) is a democrat."
As a municipal clerk, Witzel-Behl said she did not understand Teske's actions.
"As a clerk, it's not your job to be concerned what the election results are who's going to be elected," Witzel-Behl said. "It's your job to facilitate the right to vote, no matter who your voters are going to casting their vote for."
Share your opinion on this topic by sending a letter to the editor to tctvoice@madison.com. Include your full name, hometown and phone number. Your name and town will be published. The phone number is for verification purposes only. Please keep your letter to 250 words or less.