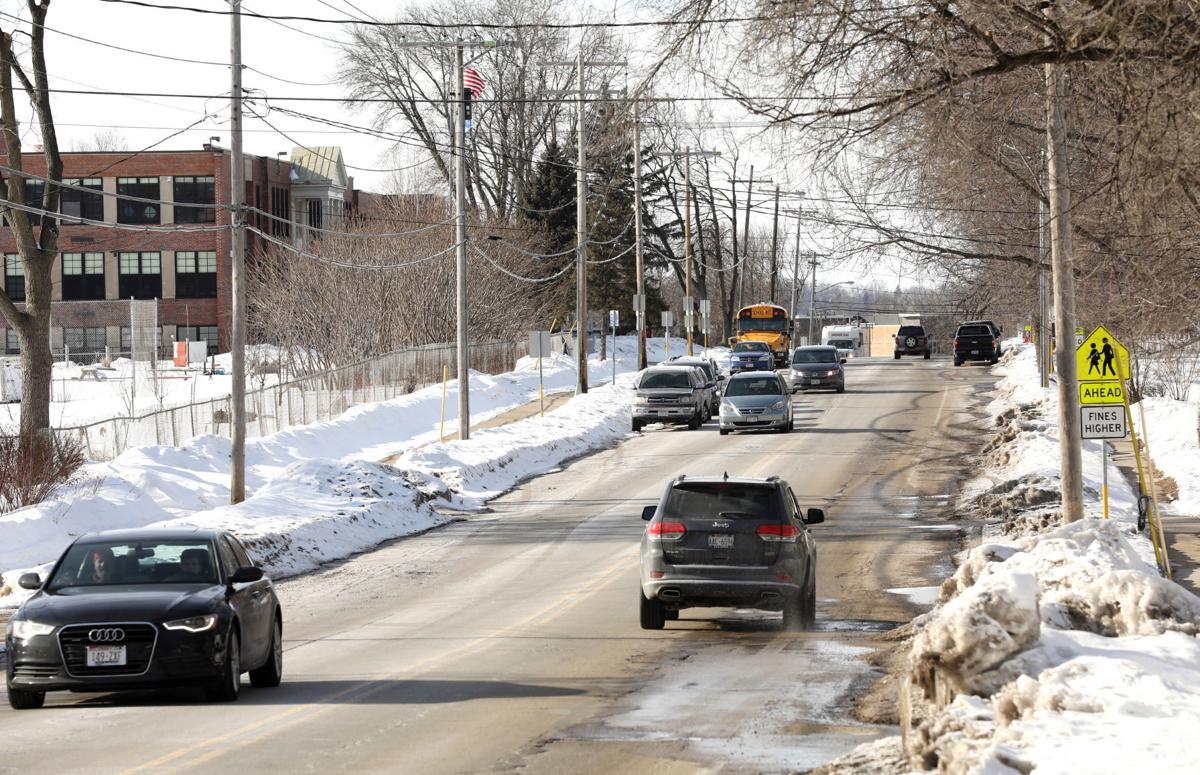 Still at odds over the long-term care of a busy stretch of a main east-side thoroughfare, Madison Mayor Paul Soglin is requesting that Dane County eliminate a policy that allows the county to shift road maintenance responsibilities to a city, town or village as a requirement for funding road reconstruction.
On March 12, the city rejected an offer from the county for the reconstruction of Buckeye Road, which is also county Highway AB. Earlier in the day, Dane County Executive Joe Parisi endorsed Soglin's opponent in the mayor's race, Satya Rhodes-Conway.
Parisi questioned the timing of the two events and said he believes Soglin would like people to think his endorsement of Rhodes-Conway stemmed from disagreement over Buckeye Road.
"If there was a spirit of cooperation coming from the mayor's office and a goal of doing what's right for the people who live and drive on Buckeye Road, we would have a solution today, but we're not there," Parisi said.
Soglin did not indicate the two events were connected.
"I'm certainly the candidate for mayor with the vision to understand what's going on with these manipulations by the county and how all we get on the other side is silence," Soglin said.
Without being involved in the discussions with city and county staff, Rhodes-Conway said she did not want to comment on any specific solution for Buckeye Road. She is not sure if she fully agrees with the county's policy or with the city's requests.
Rhodes-Conway said the resolution calling for eliminating the county's policy is a "a symptom of how much the conversation has deteriorated."
"The whole thing is pretty frustrating for folks who are in the city who just want their road fixed," Rhodes-Conway said. "I have to believe that a lot of the problem here is just a breakdown in communication and there is a solution that can be found."
The city and county have been trading offers back and forth since Tuesday. If no agreement can be reached, the project could be at risk of not getting done in 2019.
"If the city is only interested in trying to change county policy verses accomplishing the project, then the process will take quite a while and most likely not get done this year," said Jerry Mandli, public works director for the county.  
'Incredibly inefficient' approach
Buckeye Road is scheduled for reconstruction this year. Madison and Dane County agree that the road needs repairs and that the city will pay for about 60 percent of the $4.7 million reconstruction cost. But they remain at an impasse over which entity will be responsible for future maintenance and services like snow plowing.
Dane County officials argue that it needs to shift financial responsibilities to the city because of its growth and so it can deliver services in the most efficient manner. As a Madison east side resident, Parisi said he sees county plows driving down the same street that city plows pass through on their way to clean up side streets.
"It's just an incredibly inefficient way to approach our streets," Parisi said.
Dane County's policy is to consider a jurisdictional transfer — when responsibilities shift from the county to a city, town or village — when a roadway segment is improved to urban standards entirely within one municipality. The county could also consider transferring responsibilities when multiple jurisdictions agree to maintain a segment.
City officials assert that the jurisdictional transfer policy has been enacted in an "uncompromising" manner.
"The city of Madison requests that Dane County suspend its practice of requiring cities and villages to take ownership of a county highway as a precondition to any county highway reconstruction projects," according to the resolution sponsored by the mayor and five alders.
The resolution will be introduced to the City Council at its March 19 meeting.
Since March 12, the city and county have traded offers that vary in the division of long-term maintenance responsibilities. The city rejected an offer where the county would maintain jurisdiction and the city would take on all of the winter maintenance, mark crosswalks, pay 100 percent electricity and street lighting maintenance, mark center lines and bike lane lines and pay for signage. Additionally, the city would cover the cost of water and sewer work.
City engineer Rob Phillips estimated that the agreement would have resulted in the city paying for 74 percent of future maintenance and the county paying for the rest.
"The fundamental issue here, in our opinion, is the county is perpetuating a policy that is extremely unfair to municipalities," Phillips said.
Soglin called the county's actions "blackmail," saying that Dane County is not recognizing that the city of Madison is a part of the county. Further, he argued that Dane County's $28 vehicle registration fee, or "wheel tax," enacted last year should be used to take care of county roads within the city.
"After taking that money from us, they're insisting that we dip even further into our own pockets to pay for that small percentage of county roads that are in the city — county roads which are extensively used by county residents coming into Madison," Soglin said.
On March 15, the county offered another option that asks the city to take over snow removal on Buckeye Road. Under this option, there is no transfer of jurisdiction, and the county would maintain its current maintenance responsibilities. The county would share half the expense of resurfacing Buckeye Road in the future and 80 percent of the cost of chip sealing, which is consistent with its cost sharing policy with all municipalities. 
If the road was transferred, these costs would be the full responsibility of the city.
"It's through the spirit of compromise and a desire to get this project moving for families in the neighborhood that we offer waiving this provision in favor of a maintenance agreement with this very limited, defined scope," said Mandli, the county's public works director. 
Parisi's chief of staff, Josh Wescott, said the jurisdictional transfer policy is working and that the county has negotiated successful agreements with municipalities. Since 2013, the county has made agreements to transfer jurisdiction in 36 projects, including two in the city of Madison.
Wescott said determining the most efficient way to take care of public infrastructure is driving the conversation.
"We have one type of equipment and one type of resource that is intended for higher speed thoroughfares to clear roads quickly to keep commuting traffic quickly, and then there's a really different set of equipment that is used to maintain city streets," Wescott said.
Once reconstructed, Buckeye Road will have two travel lanes, bike lanes, a parking lane, curbs and gutters. Sidewalks will be added to the south side and reconstructed elsewhere as needed. To keep the project on schedule for 2019, Phillips said an agreement needs to be made by about mid-April.
Ultimately, Phillips would like to see the county study its roadway system comprehensively to determine which roads are county highways and which are local roads, instead of making decisions on an individual basis.
Local representatives are frustrated and would like to see the project move forward.
"Every resident that I'm hearing from would really like to see this settled," said Dane County Supervisor Tanya Buckingham, District 24. "Not only a smoother ride but a safer environment for the kids who attend school on the street."
In a letter to his constituents March 5, Ald. David Ahrens, District 15, expressed frustration with the ongoing conflict between the city and the county — what he called a "stubborn problem."
A major difference, he noted in the letter, is the county's approval of the $28 vehicle registration fee that went into effect last year. City residents who pay the county tax should benefit from these transportation dollars, Ahrens argued.
"After years of discussion about the poor state of Buckeye Road, I thought that 2019 was going to be the year that the road would actually be repaired. Apparently, that was optimistic," Ahrens said. "The dispute between the city and county that stymied the project last year has continued, which will result in further deterioration of road conditions."
Share your opinion on this topic by sending a letter to the editor to tctvoice@madison.com. Include your full name, hometown and phone number. Your name and town will be published. The phone number is for verification purposes only. Please keep your letter to 250 words or less.
Get Government & Politics updates in your inbox!
Stay up-to-date on the latest in local and national government and political topics with our newsletter.