Using beakers filled with colored water, Madison Mayor Paul Soglin demonstrated at a Wednesday press conference how the rising water level in Lake Mendota causes city storm sewers to fill to capacity.
In the aftermath of flooding from historic rainfall about last month, Madison and Dane County leaders will renew a discussion over how much water to keep in Yahara watershed lakes in an effort to reduce flood risks.
Soglin believes the "one practical solution" is to lower the level of the lakes. The state Department of Natural Resources sets mandated lake levels and Dane County controls the levels using the dam at Tenney Park.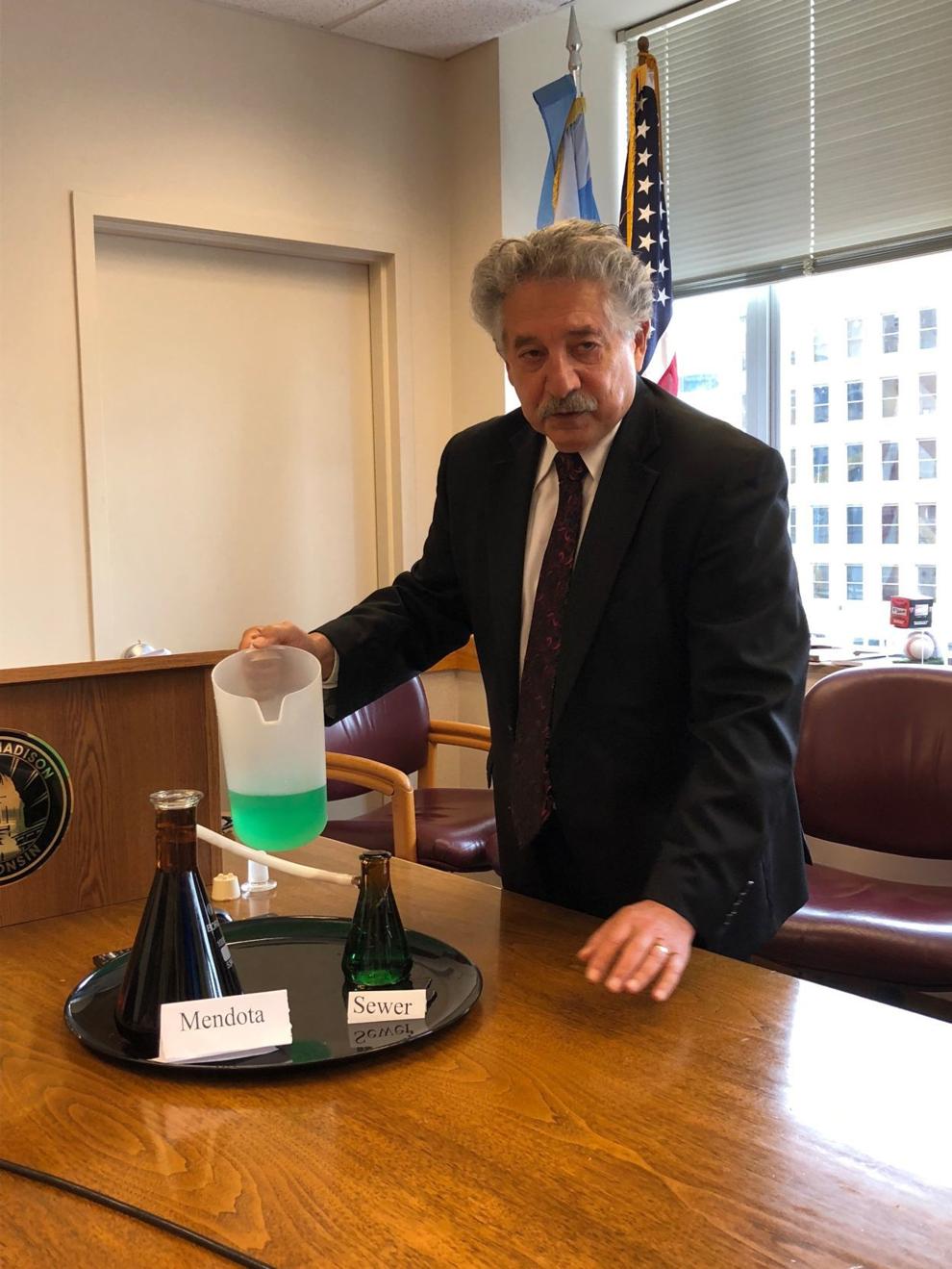 "If no changes are made in regard to the lake levels and we get another downpour as we did on Aug. 20, it's simply a matter of time before the flooding is substantially worse than it was this past month," Soglin said.
The Aug. 20 storm not only caused flash flooding on the west side of Madison, but it contributed to rising lake levels. This caused flooding on the isthmus, east side neighborhoods and in Monona along the Yahara River.
Since 1979, Lake Mendota's elevation has been set at a maximum of 849.1 feet above sea level. However, Lake Mendota was nearly a foot higher than the official maximum before torrential rain fell on the watershed.
In 2012, the Yahara Lakes Advisory Group did not recommend changing the permitted water level ranges of Lakes Mendota, Monona, Wuabesa and Kegonsa. Soglin said the pleasure boating community had too much influence.
"We've got a real simple choice here: Tens of millions of dollars of flooding or some inconvenience in terms of the boating community," Soglin said.
The August flooding caused approximately $4 million of damage to public property and close to $13 million of damage to private property, Soglin said. Officials have initially estimated Dane County damage in excess of $78 million for residents and over $37 million to businesses.
In a Sept. 17 letter to DNR Secretary Daniel Meyer, Dane County Executive Joe Parisi requested assistance to re-examine mandated lake levels for the Yahara watershed and other steps to reduce future flooding.
"As Dane County experiences more days with thunderstorms each year, we think it's appropriate to revisit this conversation," Parisi said in the letter. 
Parisi's Chief of Staff Josh Wescott said there are other solutions the county could look to that would improve water flow through the lake system, like weed harvesting and hydraulic dredging of sediment. These methods would allow more "real-time management given the built-in natural challenges" of the watershed.  
"We think there is opportunity to improve flow in the river so that when water gets into it, we can move it out of it faster," Wescott said.  
The Dane County Board of Supervisors will meet Thursday to hear from county lakes experts and ask questions about the Yahara watershed.
A resolution that calls for convening a group of experts to evaluate the situation and make policy recommendations by March 31, 2019 will be introduced. Those recommendations could include asking the DNR to allow lower lake levels in the near-term and consider longer-term changes.
Supervisor Yogesh Chawla, District 6, witnessed the effects of flooding along the Yahara River and Lake Monona. He said the resolution will help the county bring lakes down to the state allowed minimums sooner rather than later.
"It also provides a framework and timelines for a robust process to determine what the proper lake levels should be given a rapidly changing climate," Chawla said in a statement.
However, Supervisor Chuck Erickson, District 13, is looking for a long-term assessment.
"While lowering the lake levels is a good place to start, we need to closely review the impacts on the flow required to move water downstream and the impacts on the environment," Erickson said in a statement.
The board's discussion on the lakes begins at 6 p.m. in room 201 of the City-County Building at 210 Martin Luther King Jr. Blvd. A regular meeting of the Board of Supervisors will follow at 7 p.m.
Share your opinion on this topic by sending a letter to the editor to tctvoice@madison.com. Include your full name, hometown and phone number. Your name and town will be published. The phone number is for verification purposes only. Please keep your letter to 250 words or less.