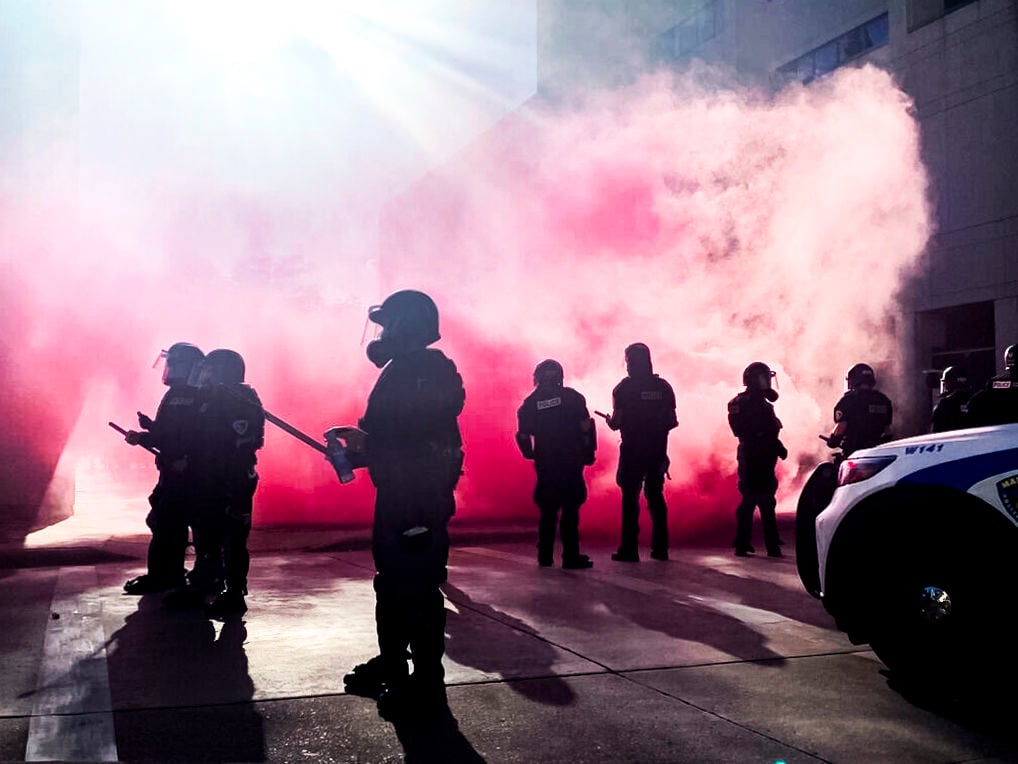 A Madison committee charged with serving as a liaison between the community and the city on public safety reiterated its support Wednesday for a City Council ban on police using tear gas. 
However, the committee wants to reconsider the report following an outside review of the MPD's response, which included the use of tear gas, to three days of civil unrest last summer. 
Matthew Mitnick argued that the committee should send a strong message to the council, especially given the testimony from members of the public who had experienced tear gas over the summer and described choking, vomiting and blurred vision.
"It's our job to listen and take a stance on behalf of the community," said Mitnick, a University of Wisconsin-Madison student and member of the committee. 
The committee passed the measure 4-2 with one member abstaining. 
The PSRC publicly opposed the use of tear gas at its Sept. 16, 2020, meeting. The next month, the City Council tasked the MPD with analyzing the department's tear gas usage from 1990 up to, and including, Aug. 1, 2020.    
The report categorizes 11 events, including MPD's response to protests over the summer, since 2002 in which MPD officers used tear gas.
Mitnick opposed the report because he wanted more information about how many people were affected by tear gas last summer, when multiple protests in downtown Madison were interrupted by law enforcement use of tear gas. However, Assistant Police Chief Vic Wahl said it is difficult to gather that data in crowd control situations when officers are not taking people into custody. 
Other committee members wanted to have a smaller group review the report and discuss what policy recommendations the PSRC could make to the council. That work could precede and then align with the third party report, which the Quattrone Center for the Fair Administration of Justice is conducting. 
"Someone has to dig into this info," PSRC Chair Brenda Konkel said. "We can wait until the Quattrone report comes out or we can start now with the work." 
Wahl said the Quattrone report could be complete this summer. 
During three days of civil unrest last summer, the MPD used 53 hand-thrown tear gas — or CS — canisters and nine 40-mm CS projectiles. In the 18 years prior, over 10 situations, the MPD used nine hand-thrown canisters and 69 projectiles.        
The report clarifies that OC, or oleoresin capsicum, is commonly referred to as pepper spray and that CS, or chlorobenzylidenemalononitrile, is known as tear gas.
In the report, the MPD maintains that its use of tear gas has been "infrequent" and that "it has  been (and remains) a critically important option for resolving certain high-risk incidents."
Of the past 11 incidents since 2002, use of tear gas was concentrated in a handful of situations involving people barricading themselves. Incidents in 2003 and 2016 each involved 15 CS projectiles. In 2017, police used 17 CS projectiles in an incident involving a person who barricaded himself in his residence and was harming and threatening others, according to the report.
The last instance of using CS as a crowd control measure occurred in 2002 over Halloween weekend on State Street. According to this report, people threw projectiles at officers and set fires. The MPD used four hand-thrown CS canisters. 
The report notes that OC was used prior to or in addition to CS and that some of the canisters or projectiles deployed contained a combination of OC and CS. 
The department notes that it did not maintain a use-of-force database "until relatively recently" and has used different records management systems since 1990. MPD spokesperson Tyler Grigg said that database began in 2016, however, use of force has always required documentation in a police report. 
Under the resolution asking for the report, alders also asked for de-escalation alternatives to using tear gas. 
MPD's primary use of CS has been to resolve high-risk barricaded subject incidents without injury, and the report argues there are few options other than chemical agents available to address those situations. According to the report, OC is not considered as a crowd control strategy "unless a significant degree of violence, looting or property damage is occurring."
The report concludes that MPD deployed CS "very infrequently over the last 30 years." 
"However, it has been critical to successfully resolving those instances in which it has been used, and has allowed MPD to safely resolve extremely high-risk incidents without injury,' the report states. "Other options available to resolve these situations are not effective, are not appropriate, or are likely to cause injury."
Share your opinion on this topic by sending a letter to the editor to tctvoice@madison.com. Include your full name, hometown and phone number. Your name and town will be published. The phone number is for verification purposes only. Please keep your letter to 250 words or less.