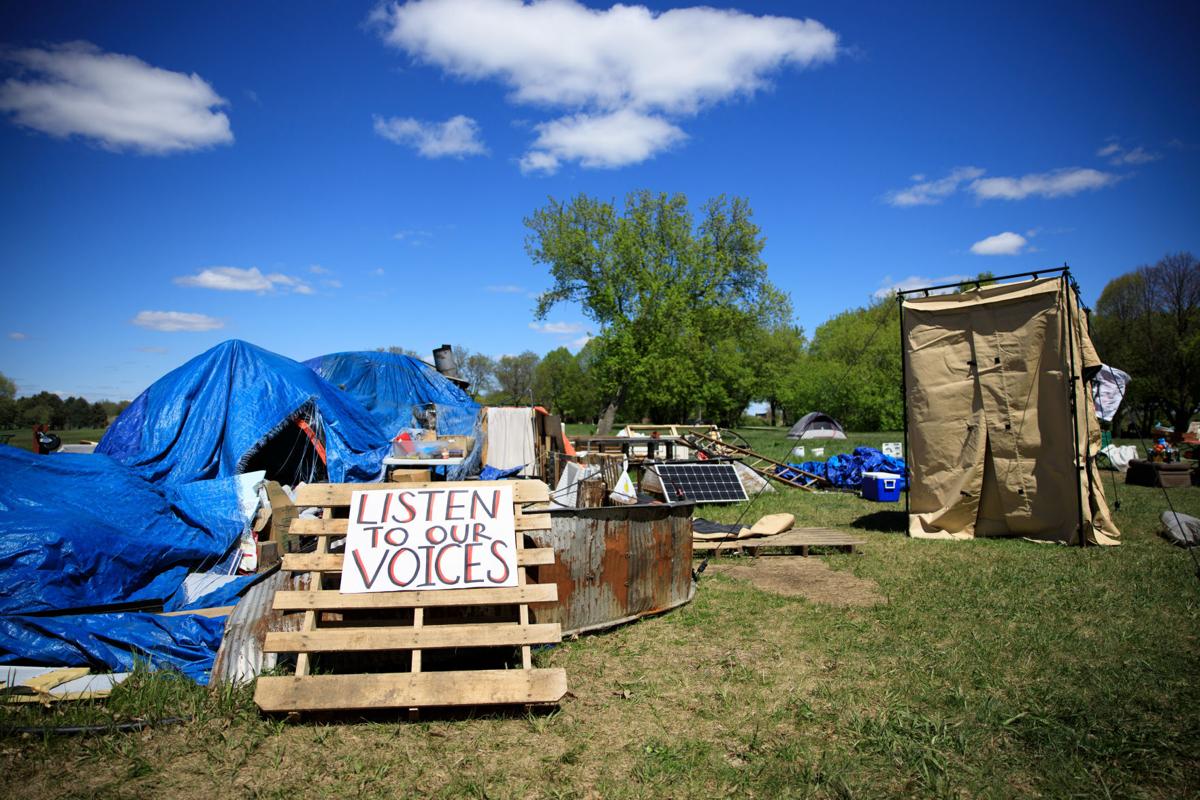 Ahead of the City's Council's final decision Tuesday, a Madison committee recommended ending evictions of people who are camping in Reindahl Park. 
The City-County Homeless Issues Committee voted unanimously in support of a resolution authored by Ald. Juliana Bennett, District 8, that permits the continued use of the east side park until a "suitable site" is identified. 
"It's prudent and necessary for us to be gracious to our neighbors experiencing houselessness especially in this difficult time," Bennett said. "It's an opportunity for us to finally do right by this community."  
Currently, the city allows people to camp at Starkweather Park — located off of Milwaukee Street near the east side Woodman's grocery store and Madison Metro east transfer point. The campsites at Starkweather are the only outdoor living option authorized by the city, and residents can camp there until Oct. 31.
City staff recently added some lighting to the area, which also includes handwashing stations and portable toilets. 
"These are locations that have long been used as encampments which was a factor in their designation as (temporary permissible encampments) last year," Community Development Director Jim O'Keefe said. 
But some, like Bennett who called the option an "insult," say Starkweather lacks enough space and adequate lighting and leaves campers vulnerable to mosquitoes and ticks. Others say the area is inaccessible, with no sidewalk or bike lanes leading to the gravel drive that brings people to the campsite area, and access for emergency vehicles is limited. 
The recommended resolution also adds criteria for temporary permissible encampments, such as being accessible by foot and by bicycle and within walking distance to a bus line and convenience or food store. 
It outlines that these encampments should have basic services like accessible toilets, handwashing stations, drinking water, trash receptacles, lighting and regular visits by outreach workers. 
May 9 deadline, no enforcement 
The city called for campers to leave Reindahl Park by May 9. Officials reported that about 10 people are continuing to camp at the park, but the city hasn't pursued enforcement action.  
"I think that's a sign that we would like to resolve this in a way that works for everybody," O'Keefe said.   
With planned upcoming events at Reindahl, Madison Parks Superintendent Eric Knepp said in a statement May 14 that he's concerned continued encampments will affect programming and the use of the park shelter, athletic facilities, splash park and community gardens.  
Knepp said he hopes the city can find a reasonable solution before events in the park are canceled. 
"I have no desire or plan to forcibly remove campers from the park," Knepp said. "My hope is that similar to situations in the past, we can resolve issues collaboratively working with individuals experiencing homelessness." 
Last March as COVID-19 began spreading throughout the community, the city designated the Starkweather Creek conservation area and Reindahl Park as locations for temporary camping. The Centers for Disease Control recommends keeping encampments intact to prevent the spread of the virus and prevent disconnection from service providers.  
Many people chose to camp at McPike Park on the near east side over the other locations. The city issued an order to vacate at the end of February and moved people out of that park in March. 
Brenda Konkel, an advocate for those experiencing homelessness and executive director of MACH OneHealth, said the situation "feels like a huge mess" and is detracting from the work to find housing for people. 
"We are causing so much trauma to people, and we are just displacing people and creating instability," Konkel said. "It is incredibly difficult to watch how this is impacting people's real lives." 
At the beginning of the COVID-19 pandemic, the city provided Warner Park Community Recreation Center on the north side as a shelter option for men experiencing homelessness instead of the decades-old system of staying in downtown church basements. 
Madison had been poised to move forward with purchasing a $2.6 million 2.67-acre property at 2002 Zeier Road, which included a vacant 31,500-square-foot building, for a permanent men's shelter. On a 14-5 vote May 4, the council failed to move forward on that option. 
The city is now exploring other options for a permanent shelter. These options include, at the suggestion of Council President Syed Abbas, property at 2030 Pennsylvania Ave. that is owned by Hooper Corp.
Share your opinion on this topic by sending a letter to the editor to tctvoice@madison.com. Include your full name, hometown and phone number. Your name and town will be published. The phone number is for verification purposes only. Please keep your letter to 250 words or less.