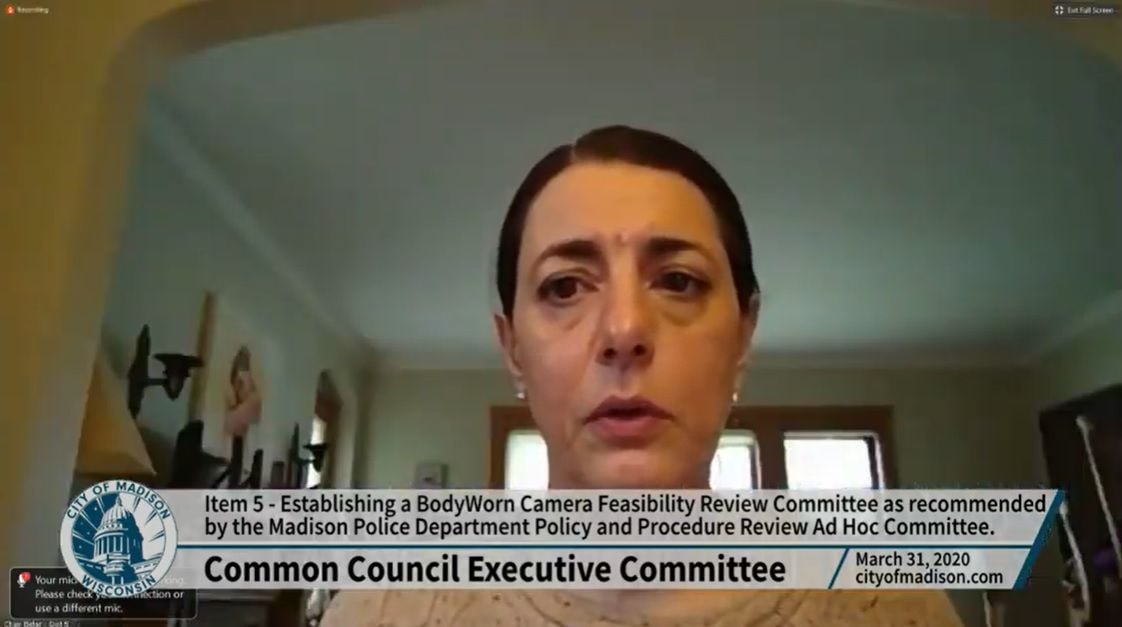 All non-essential city of Madison meetings have been on hiatus during the coronavirus outbreak as city staffers do their best to meet social distancing and proper health practices. 
But this week, Madison's City Council will attempt to hold a meeting using Zoom, a virtual meeting application that will allow alders to "attend" the meeting from home. The City Council, along with select committees like the Plan Commission, has been deemed essential. But taking the meeting out of the council chambers and moving it online is not just as simple as the click of a button. 
The city information technology team has been working with the mayor's office and the council staff to bring virtual public meetings to life in a way that allows Robert's Rules of Order to function, have the ability to incorporate city residents who wish to speak, and allow alders to vote efficiently. 
"I think a lot of people take for granted how complicated it is to translate our in-person meeting into a virtual meeting," Ald. Keith Furman said. "People over the last few weeks are getting used to using video conferencing technology such as WebEX, GoToMeeting, or what we're going to use, Zoom. But none of these have been used to actually hold a council meeting. So what the tech departments are working on doing is trying to adapt the in person experience to the virtual experience."
The city's IT department has been using simulations to try and nail down exactly what needs to happen in an online city meeting. For example, last week they simulated a council vote on what Madison's official cookie should be (Chocolate Chip lost, somehow) and, on Monday, they ran a mock City Council meeting.
Furman said he's been heavily involved in the testing process for the Zoom technology.
"I think it's incredibly important to figure out how things go, what things we need to tweak," he said. "For example, how are we doing votes? What are we going to do for roll call? If you've been to a council meeting you know there's a clerk that stands outside and shows you how to fill out a form and when the form is submitted to the clerk that's working the meeting, when that item comes up they pull up all those registration forms. So staff needed to figure out a way to do that virtually. And so they've developed an online forum where people will be able to register their support or opposition to an item and then say that they're available and wish to speak or don't wish to speak."
Other issues like making it easy for alders to call in and make sure that each alder has the right type of device on which to run the Zoom software have also occupied the IT staff. But Furman said the most important piece is making sure that the public meetings stay public. 
"One of the biggest worries I have is making sure that the public feels like they're heard," Furman said. "One thing to make clear to people is that there are multiple ways to get all this feedback. If you have an item that's on the agenda that you want to give us feedback on, you can send an email before the meeting. You don't have to testify at the meeting. But if that's what you want to do, then you can still do that virtually and I want people to. I want people to feel like they're being heard."
Even before the COVID-19 outbreak, city officials were taking steps to incorporate more public input and feedback into city meetings. The community room at the new Pinney Library branch is equipped with remote TV production to allow the public to participate in city meetings without having to go downtown to the City-County Building.
"I was involved in the task force for government structure," Furman said. "One of the things I was the most hopeful about was changing how we do participation. Because there are so many issues that are interesting or happening in your neighborhood, we need to make it easier for people to be able to give feedback and participate in meetings. And so in some ways I am grateful that we're trying this now. We're doing this.
Assuming all goes well with Tuesday's online meeting, entities like the city's Finance Committee and the Plan Commission will continue their normal operations so that city planning and development can continue. 
Urban Design Commission, which is an essential review entity in city development, has not been meeting during the COVID-19 outbreak. Janine Glaeser, who staffs UDC, said on Monday that the panel will await permission from the mayor and City Council to resume meetings and, at that time, they will move forward with a revised agenda. 
Moving meetings online also opens up questions about legalities and how open meetings laws will be observed or even enforced. How will the public know that votes are legitimate and that alders aren't, for example, texting or emailing one another about topics and votes and violationg what's called a "walking quorum" or meeting. 
Allowing the public to physically occupy the same space as elected officials when the democratic process takes place is the backbone of open meetings laws. But the City Attorney's office says many discussions and a lot of work has gone into making sure that Zoom-based virtual meetings are legal as well as inclusive. 
"The state's open meetings law has not kept up with technology," City Attorney Michael May said Tuesday. "There hasn't been much updating since email."
May said his discussions with the mayor's office and City Council members made it clear that public input and participation was the chief legal concern. 
"The first principle is to give notice to people of how the meeting is going to be conducted and provide the public access because that's required," May said. "The third thing we had to do for Madison specifically was that it is an ordinance that the public have the ability to address the council, so we had to create a registry for people to talk at the meeting."
May said he expects Mayor Satya Rhodes-Conway will seek more unanimous consent on some agenda items in order to make the voting process more fluid. The greater challenge will be if an item is pulled off the agenda and requires a roll call. May said several registrants have signed up to speak on agenda items for Tuesday's meeting and Rhodes-Conway will have the challenge of having to recognize a person, have them mute or unmute their computer's microphone, and figure out how to call on them for further questions from council members if there are any. 
"This is all new, uncharted waters," May said. "As long as there's the pandemic, we'll have to do it this way."
Concerned about COVID-19?
Sign up now to get the most recent coronavirus headlines and other important local and national news sent to your email inbox daily.