Barricades block the lakeshore bike path in front of Monona Terrace. Ducks have taken over about 25 yards of submerged bike path in Brittingham Park. People are literally kayaking over the Wingra Path underpass at Olin Park. And the Yahara Path underpass at East Washington Avenue? Forget about it.
Motorists continue to struggle with clogged arterial streets as a few blocks of flooded East Johnson Street remains off-limits. But Madison bicyclists are forced to overcome several obstacles of their own as the city dries out from heavy rains.
"We've had a lot of people asking how to get around," said Robbie Webber, a transportation analyst and board member of the advocacy group Madison Bikes.
Webber has been biking in Madison for 30 years, and she said in that time the bike trail network has grown immensely. That, she said, has been instrumental in building a biking community dependent on those trails.
"The number of people using their bikes for transportation has grown phenomenally," she said. "That's good. But when the paths are closed we really see how few comfortable links there are."
The biggest obstacle, and one that the city has fought valiantly to keep open, is the Capital City Path in front of Monona Terrace, the only route that allows bikers to get from east to west without subjecting themselves to busy downtown streets.
The path has become such a mainstay in the Madison biking community, some won't even consider an alternate path.
"I still come down this path, but as you can see we get rerouted to the grass and it's a little more inconvenient," said Brian Cech, who commutes on the Monona Terrace path most days. "But there's nothing we can do about it. I think the city's doing a good job doing what they can. It's pretty amazing to see these massive bags of sand basically holding back the lake."
The system of giant sandbags and pumps that have kept Lake Monona from overtaking the path was installed last week. On Thursday, a breach allowed the water to swallow the path, and hastily-assembled iron fencing blocked the path where work was being done.
Since the flooding began, whether the path was closed or not was a matter of interpretation. While the path was closed for real as workers installed the bulwark and again while they repaired it on Thursday, it's been passable throughout most of the flooding ordeal, despite barricades and signage saying it's closed.
In true Madison fashion, those signs were ignored by many.
Webber, a former Madison alder with deep roots in the biking community, said shortly after the flooding city officials asked her to get the word out that the Monona Terrace path was closed.
"I said, 'They know it's closed,'" she said. "But they can get through and they don't have a lot of good alternatives, especially if they're not comfortable biking on streets."
On Thursday, bikers continued to soldier past the iron fencing.
Ryan Schmidt of city engineering and another worker were manning the pumps on the east end of Monona Terrace, trying to clear water off the bike path as legions of cyclists hoisted bikes over a wall of orange barrels.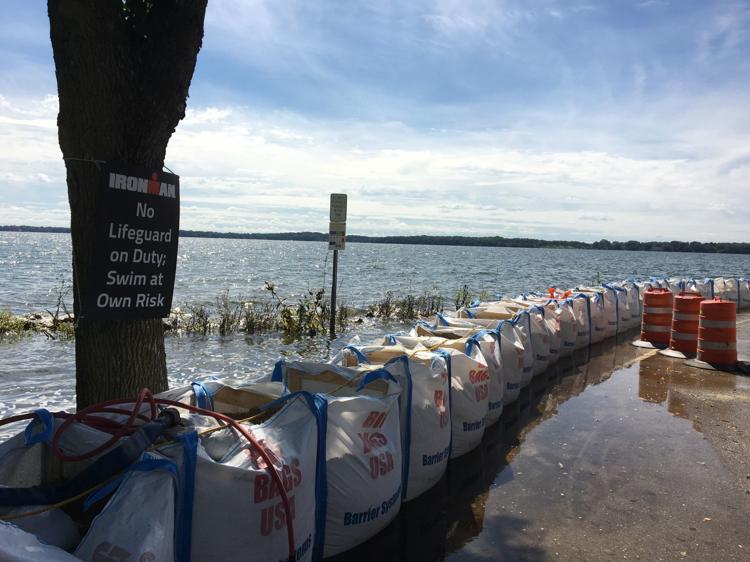 "I get it," said Schmidt. "People commute, and bikes are their main transportation and they want the most direct route."
But it was still "a little frustrating." He said bikers whizzing by while work crews were on the path was a bad mix.
"When we're trying to get things done and have heavy equipment out here, it's a safety concern more than anything," Schmidt said.
He said that "ideally" the path would be open by Thursday afternoon, but he added, "We can't make any guarantees."
While the Monona Terrace stretch might be the most popular bikeway in the city, it's not the only one that's causing headaches.
Those continuing on their commute toward Brittingham Park Thursday were stymied when a once-passable puddle of water grew into a foot-deep pond. The road fronting the park offered no escape — it was under water, leaving bike commuters no choice but to plow through. West Shore Drive a short distance after the bike path outlet was also submerged.
The Olin Park route to the south has been under water since the flooding began.
And west side flooding has washed out the Pheasant Branch Creek bike path in Middleton, a deep loss for commuters and recreational riders trying to avoid busy traffic in northern Middleton.
Webber said the paths are "completely gone and may not be back for more than two years."
Parts of the Capital City Trail west of Fish Hatchery Road have also been washed away.
Webber said the uncertainty surrounding the flooding has raised the profile of the group.
"The subscribers to the Madison Bikes Facebook group has gone up a lot since the flooding started," she said. "I think people know that that is where they can get information, ask questions about detours and generally find out current conditions."