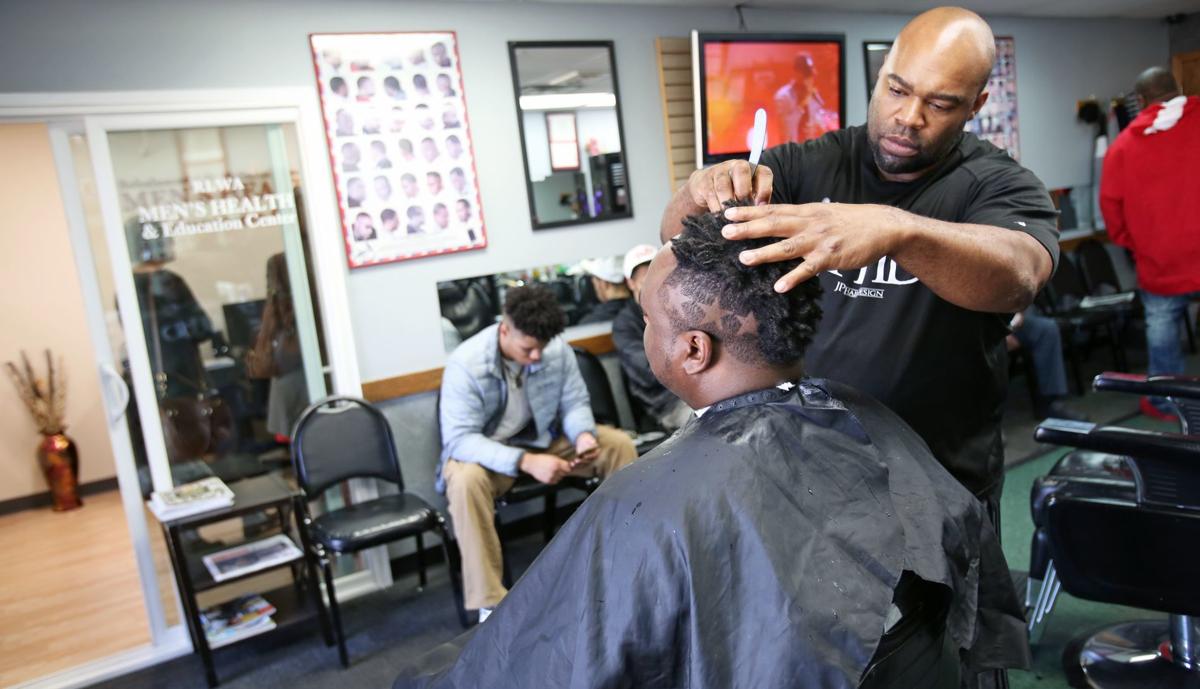 Last week, a man came in to the Men's Health and Education Center on Madison's west side and received a blood pressure screening. His blood pressure was so high that he needed medical attention, but he didn't have health insurance. He mentioned he'd been suffering from mouth pain for over four years.
Just 72 hours later, he had two teeth removed, was loaned the $2 he didn't have for prescription painkillers after the tooth procedure, and was on his way to BadgerCare.
"He had just accepted he was going to live with this pain, and now he's on the road to recovery," said Aaron Perry, who founded the health center. "He even said to me, 'Man, where do you come from?' I said to him, 'That's what we do for one another.'"
That man might never have made it into a doctor's office. That's why Perry's health center, located in JP Hair Design barbershop, exists. African-American men face stark health disparities and battle barriers to health care. The barbershop is a welcoming, familiar place to start a conversation about health.
Now, thanks to a $300,000 grant from the Wisconsin Partnership Program, Perry's initiative will build its capacity and expand to more barbershops throughout Dane County.
Perry is the founder of the nonprofit Rebalanced-Life Wellness Association, with a mission to improve the health of African-American men in Dane County. In Wisconsin, African-American men have a life expectancy 7 years shorter than white men, and African-Americans in Dane County suffer higher rates of cancer, obesity and diabetes as compared to whites.
Just this April, out of 84 blood pressure screenings at Perry's center, 68 percent showed high blood pressure.
Many of those health issues can be helped with better diet and more exercise, but men might not know they have a problem or how to treat it. For African-American men, barriers to health care can include a lack of doctors in low-income communities and unequal treatment from medical professionals, said Jerrett Jones, a data analyst at Public Health Madison & Dane County.
Perry started a health center in the backroom of JP Hair Design, 584 Grand Canyon Dr., to help teach the barbershop customers, who are mostly African-American men, about topics like obesity, diabetes and heart disease. Along with an array of informational pamphlets, visitors can get blood pressure checks, oral health and body mass index screenings.
The idea for the clinic came from Perry's own visits to the shop, where he heard men talk about their health issues like gout and tooth pain. But afterward, "they would pay for their hair cut, and they're gone," he said.
"I'm thinking, men do actually talk about their health challenges, but we have to be better prepared as a community to respond to those," he said.
Clients build up trust with their barbers, said Jeff "JP" Patterson, owner of JP Hair Design.
"We've got to watch what we say because they take our word as law," he said. "It gives us a responsibility to help (with) education."
The merits of using stylists for public health is gaining wider recognition, and Perry was featured on the Megyn Kelly show last year. A separate initiative, organized by University of Wisconsin-Madison students and the Latino Health Council, trained five Latino hairstylists to bring up breast cancer awareness with their clients.
"This is about prolonging lives, this is about having black men live longer," Patterson said. "Knowing is the biggest key. If you know better, you do better."
The RLWA also puts on an annual men's health conference. And Perry is the captain of the local Black Men Run group, a national organization. He took up running after a doctor's appointment he says he'll never forget.
Perry's doctor said he needed to better manage his diabetes, lose weight and exercise. Perry, having recently seen the Ironman Triathlon on television, suggested participating in it.
"He said, 'Ooh wait a minute! I want you to exercise, you can't do that now!'" Perry said.
But 362 days later, Perry said, he ran across the finish line at the Ironman Triathlon.
Joshua Wright, Community Project Coordinator with the UW Carbone Cancer Center, was born and raised in Madison. Growing up, he said people didn't feel comfortable talking about their health. Then he found Black Men Run. The group, which now has 70 members, meets weekly.
Perry's work is "making it easier for men to come together and have these conversations," he said.
Over four years, the Community Collaboration Grant will provide $300,000, training and technical assistance to the RLWA.
"It's just good energy when you feel like someone sees your vision. This has been an effort of blood, sweat and tears," Perry said.
The grant is one of five Community Collaboration grants from the Wisconsin Partnership Program at the UW School of Medicine and Public Health. Another went to the Foundation for Black Women's Wellness, which works to battle health disparities for African-American women. 
The RLWA grant will kick-start Perry's Black Men's Wellness Sustainable Initiative and expand the model to seven other area barbershops: Vernee Nycole House of Beauty, JT Barber Hair Design Studios, B. Right Barbershop, Atwood Barbershop, COG Barber & Beauty Hair Salon, Resilient Hair Designs and Barberstown.
The additional barbershops likely won't each host an entire health center, Perry said, but they will be stocked with education materials. His vision is to eventually pair medical students from the UW and nursing students from Edgewood College with each barbershop, to help shape health initiatives and provide in-shop services like blood pressure screenings.
"Just think about the cultural competency that brings to the med students," he said. "We all benefit from this."
Other future plans for RLWA include a walking group for senior men, a "Brown Boys Read" program and a peer education program, Perry said.
Ultimately, Perry wants Dane County to be the healthiest place for an African-American male to live in Wisconsin.
"We're going to change this community. We're going to move that needle," Perry said.
Get Government & Politics updates in your inbox!
Stay up-to-date on the latest in local and national government and political topics with our newsletter.