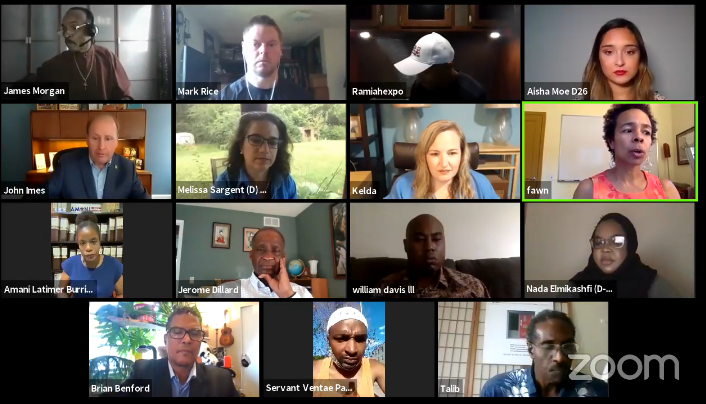 The Democratic candidates running to fill two state Senate seats representing Madison districts pledged to oppose efforts to build new prisons in the state, work to overhaul sentencing practices and more during a criminal justice forum Tuesday. 
The event, hosted by Madison Organizing in Strength, Equality, and Solidarity and Ex-incarcerated People Organizing, came exactly two weeks before the Aug. 11 election. 
Featuring the Democratic candidates running for the 16th and 26th Senate districts, the event sought to get the contenders' perspectives on a host of issues ranging from closing the more than 100-year-old Green Bay Correctional Institution (which was supported by all) and directing additional funding for treatment and diversion programs while also expanding them to include mental health and community restorative courts (again backed by everyone). 
All seven candidates running to replace retiring Sen. Fred Risser participated in the forum, while Rep. Melissa Sargent was the only one of the two candidates running in the 16th District to join. Monona Grove School Board President Andrew McKinney was not present.  
The candidates were aligned on all the issues moderators quizzed them on during the two-hour event that largely featured yes-or-no questions on issues that have long been discussed in the state, such as raising the age to charge juvenile offenders as adults from 17 to 18. 
Wisconsin is one of a few states that treats 17-year-old offenders as adults. Though previous efforts to raise the age have earned bipartisan support, Democratic Gov. Tony Evers' attempt in his state budget proposal last year to do so was rejected. All the candidates participating in the forum, though, agreed they'd get behind legislation to move 17-year-olds out of the adult system and back into the juvenile one. 
The field also addressed the importance of working to bring change to the corrections process. Amani Latimer Burris, who noted in a closing statement that her brother has been in and out of the system for 40 years, argued the current structure not only costs a "a lot of money; it's destroying communities and me, people like me." 
"I may not be able to save my brother but I can guarantee you as an advocate, I may be able to save yours," said the small business owner and daughter of the late, celebrated community leader Milele Chikasa Anana. 
Fellow 26th District Democrat John Imes, highlighting his own working class roots as the son of a window cleaner who didn't finish high school, pledged that he would work to enact progressive policies to "create a more just, equitable, sustainable and inclusive economy that works for all." 
"We can't achieve that goal amid the ongoing problems of unequal justice and police misconduct that is often racially motivated," said the Wisconsin Environmental Initiative head who unsuccessfully ran for state Assembly in 2018.
Pardon power 
Other candidates, when addressed by a reporter during a news conference after the debate, called on both the Legislature and Evers to do more to address these issues. 
Asked specifically about how much they'd like to see the Democratic executive use his pardon power — which he first employed last fall following an eight-year period under former Gov. Scott Walker in which the Republican declined to issue a single pardon — Sargent and 26th District candidate Nada Elmikashfi called on Evers to prioritize that power. 
Since October, when he announced his first pardons, Evers has issued 47 in all, including 18 earlier this month. As of mid-June, the governor's office had received more than 600 pardon applications, a spokeswoman said, though that figure doesn't include which applicants were eligible and how many applications were completed.   
Pardons restore certain rights to individuals, such as voting privileges, but they don't expunge or erase a conviction or record. Under the process, those who were convicted of a felony in the state can apply for a pardon if five years have passed since their sentence was completed. An eight-member review board then oversees pardon applications and makes recommendations to Evers. 
Sargent, who has served in the state Assembly since she was first elected in 2012, called the topic "a moral issue" that should not see any limits to the number of people Evers would pardon. 
"There are an awful lot of people we should be allowing to raise their hand and say they want to be considered," she said. "The bar has been set a little bit too high; it's been a little bit too hard for people to be considered." 
Elmikashfi, a recent UW-Madison graduate who worked with NextGen America in the 2018 midterms and briefly for former Senate Minority Leader Jennifer Shilling and Evers, called on the governor to look closely at marijuana-related and drug-related crimes when making considerations, areas where "we really need to show our humanity."
"I think when we look statistically at the ... rates of incarceration in Wisconsin, it's not a far off thing to say the governor could be pardoning every day and we still wouldn't make a dent in how many lives that have been taken by the criminal injustice system," she said. "Every single day we have a chance that should be taken." 
Youth prisons
Candidates also grappled with a potential new timeline to close the state's two, troubled youth prisons, Lincoln Hills and Copper Lake, after some of the proposed replacement facilities were never funded, jeopardizing the state's plan to shut those prisons down by July 1, 2021.  
Evers in his budget proposal last year sought to delay the timeline indefinitely. Asked about that possibility now given the barriers to closing the prisons on time, former Rep. Kelda Roys, recent UW-Madison graduate Aisha Moe and others lamented the position the state is in. 
While Roys, a former unsuccessful gubernatorial and congressional candidate, said the sites aren't safe for youth or staff and "should have been closed a long time ago," she noted she was concerned the state was just going to "replace them with mini prisons." 
"I think we have to urgently address these facilities for the safety of everyone but we don't want to just replace them with a more failed model that's going to cost us money and take more time when we could be just moving people into small, group home-like settings," the attorney and business owner said.
Under the plan, more severe offenders would be placed in "Type 1" facilities (which lack the state-supported borrowing needed for construction) and county-run locations. Since last session when lawmakers passed a bipartisan bill to replace the youth prisons, the fraught process has faced setbacks, cost concerns and more.   
Moe, who served as a 2016 fellow and 2018 field organizer with the Wisconsin Democratic Party, stressed the importance of setting a new deadline if necessary to close the prisons rather than moving it back indefinitely. 
"Leadership in our government has not set this as a priority, which is really disgusting and unnecessarily disappointing," she said, later noting: "I think it's very important that we create a new deadline and stick to it." 
Former Madison Ald. Brian Benford, now a success coach for the UW-Madison Odyssey Program, said he's worked with former youth who had been housed at the prisons. He condemned Democratic and Republican policymakers who "perpetuated the systemic racism and the conditions that led to Lincoln Hills."
Urging lawmakers to come together and "find alternatives to wasting lives," he said a number of things have to happen in tangent and that while a candidate could name a deadline, "we all know it should have been eliminated years ago." 
Also calling for the closure of those facilities, former 2018 write-in candidate for lieutenant governor William Davis III separately pushed for new bills to allow citizens to legally carry up to an ounce of marijuana, ensure drug addicts are placed in proper treatment facilities and more. While he touted compassionate approaches in some areas, he pledged to "be harsh towards rapists and murderers." 
He also pushed to combat "domestic terrorist acts" and address other criminal activities, though he wants to see "a fair criminal justice system where our citizens are not antagonized."
Most of the Democratic candidates featured in Tuesday's event are set to participate in a Cap Times debate on Wednesday at 7 p.m. 
Share your opinion on this topic by sending a letter to the editor to tctvoice@madison.com. Include your full name, hometown and phone number. Your name and town will be published. The phone number is for verification purposes only. Please keep your letter to 250 words or less.
Get Government & Politics updates in your inbox!
Stay up-to-date on the latest in local and national government and political topics with our newsletter.