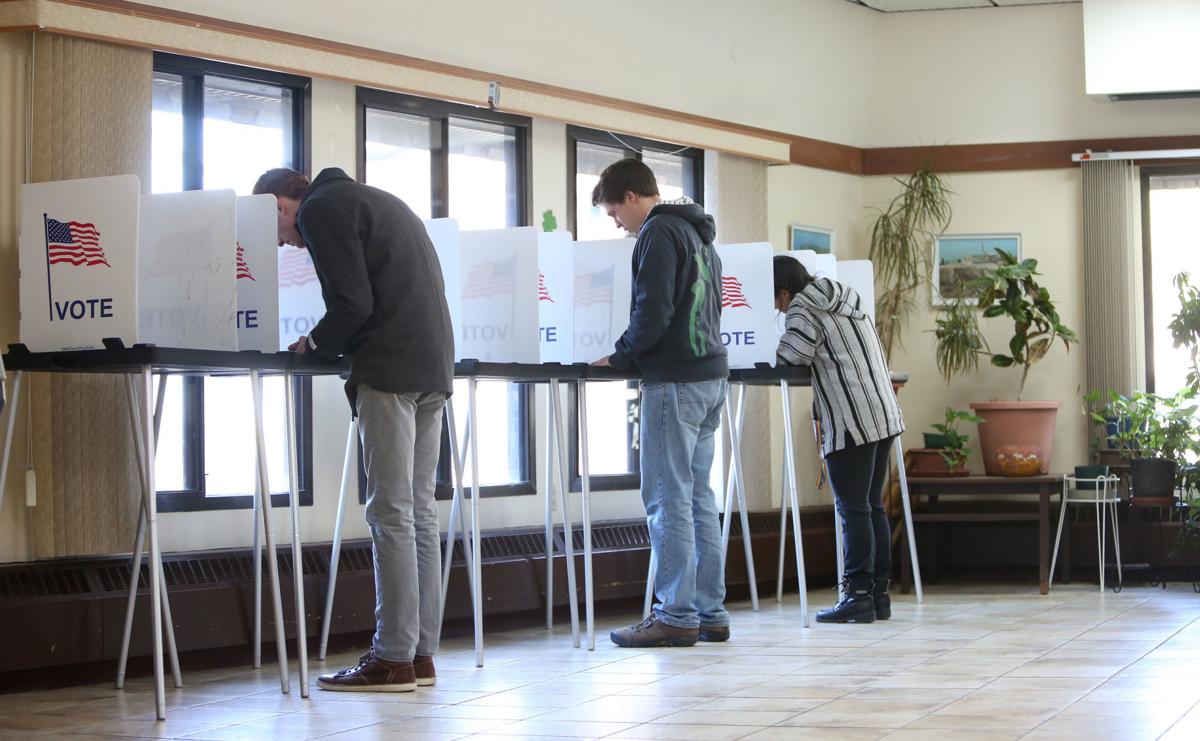 Madison has already issued more absentee ballots for Tuesday's primary election than last spring's primary, which saw record-breaking numbers.
So far, the City Clerk's Office has issued 7,562 absentee ballots. This includes 3,250 people who voted absentee in person and 5,165 absentee ballots that have been returned to be counted. 
"We're not even at the end of the week," City Clerk Maribeth-Witzel Behl said Thursday, noting that absentee voting ends Sunday. 
Last February, the clerk's office issued 7,438 absentee ballots, a record number for a non-presidential February primary. Last year's primary election featured candidates in a hotly contested mayoral election, which typically drives turnout.  
"We definitely need more envelopes for the April election," Witzel-Behl said. "It's a pleasant surprise that people are voting."  
The primary election Tuesday will narrow contested races for the Madison School Board and state Supreme Court ahead of the April 7 general election. For voters who still wish to submit absentee ballots, Witzel-Behl said they should consider that there is no mail delivery on Monday because of President's Day.
"If someone has not yet mailed back their absentee ballot, they might want to drop it off at the nearest absentee voting site, or have a friend drop it off at an absentee ballot site or at their polling place on Election Day," Witzel-Behl said. "Absentee ballots need to be received no later than Election Day in order to be counted."
Dane County Clerk Scott McDonell said absentee voting has been trending upward since a federal judge struck down Wisconsin's restrictions on early voting, allowing clerks to offer in-person absentee voting earlier and at more locations.
Madison offers 17 early voting locations, including at the City-County Building, libraries and sites on the University of Wisconsin-Madison campus. 
"It's not clear to me that we'll have higher turnout than last time, but we'll have more people voting absentee early," McDonell said. "It's just more convenient." 
The higher interest in absentee voting can make things hectic on Election Day for local clerks. At the end of each day of early voting, clerks collect absentee ballots but cannot count the "avalanche of envelopes" until polls open on Election Day, McDonell said. 
"We're having a full-on Election Day with polls open everywhere and then we're running one or two weeks out of early voting," McDonell said. "We're sort of running two systems at the same time." 
Wisconsin Elections Commission vote 
Both McDonell and Witzel-Behl applauded the Wisconsin Elections Commission's 6-0 decision to delay enforcing a state law that would have required local clerks to send two separate absentee ballots to Wisconsin voters ahead of the general election in April. 
"In this situation, the Republicans and the Democrats on the elections commission agree that the confusion was a bigger priority," McDonell said. "I think the way they handled it was just right."
State law requires local election officials to send out ballots to voters that involve federal races, like the presidential primary, no later than 47 days before the election. Under this rule, clerks would need to send out ballots for the April 7 election by Feb. 20 — two days after the Feb. 18 primary, which determines local candidates for the April 7 ballot. 
The commission initially told local officials to send out "A" ballots to absentee voters no later than Feb. 20 with just the presidential preference primary. Then, clerks would send out a "B" ballot that would include both the presidential primary and state local candidates advancing from the primary election. 
"We were very pleased that the commission voted to avoid the confusion of the A, B ballots," Witzel-Behl said. 
Witzel-Behl feared that the commission's original proposal would raise suspicion and confusion among voters.
"Anything out of the ordinary is going to raise concerns," Witzel-Behl said. "Voters are used to getting ballots in a certain way, and they know the rules, especially voters who vote absentee on a regular basis." 
Voters can find out more information about absentee voting and voting on Election Day on the city clerk's website. They check the status of their registration online at My Vote Wisconsin. 
Share your opinion on this topic by sending a letter to the editor to tctvoice@madison.com. Include your full name, hometown and phone number. Your name and town will be published. The phone number is for verification purposes only. Please keep your letter to 250 words or less.
Get Government & Politics updates in your inbox!
Stay up-to-date on the latest in local and national government and political topics with our newsletter.