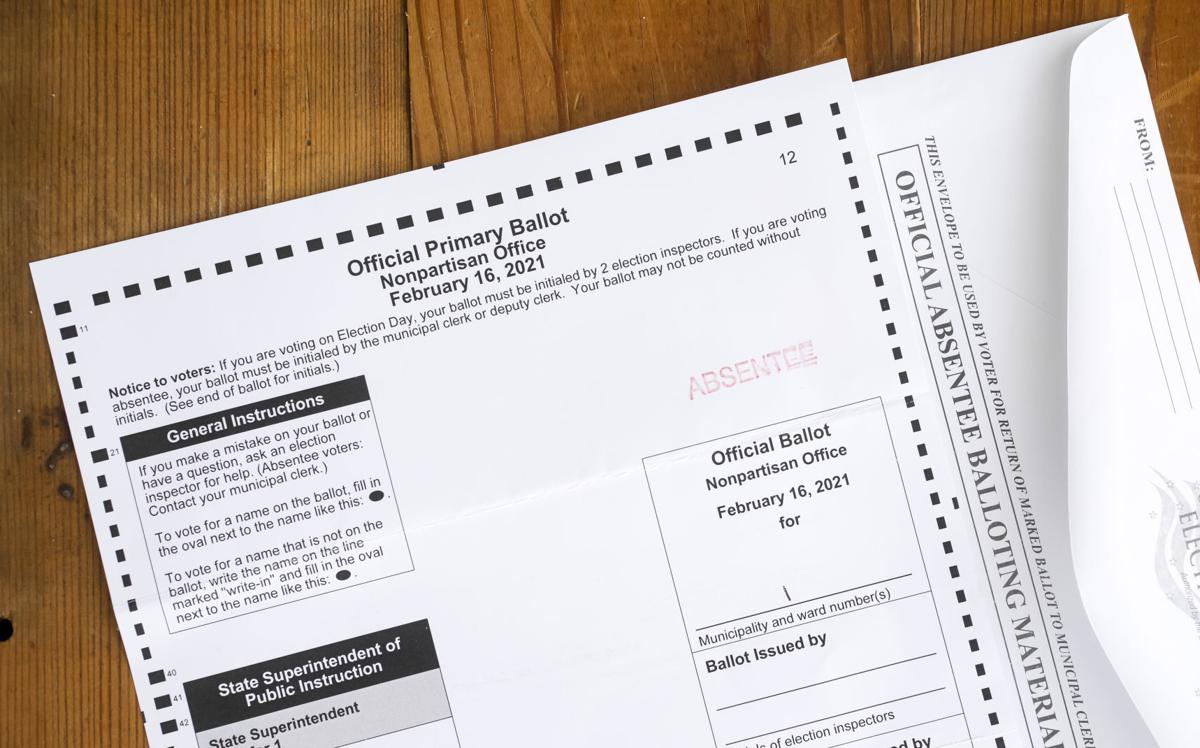 With Wisconsin's spring primary election a week away, the state's top election official expects voter turnout will be on par with past February spring elections outside presidential election years. 
As of Monday, the Wisconsin Elections Commission reported that 38,154 absentee ballots out of 293,724 absentee ballots sent to voters have been returned and 1,704 ballots were cast in person. A total of 304,698 absentee ballots have been requested. 
"February elections, especially in an odd-numbered year, always have unfortunately very low turnout, and it looks to be that case for this one as well," WEC Administrator Meagan Wolfe said Monday. "I expect that this will be a very low turnout election." 
The Feb. 16 primary election features a statewide race for the superintendent of public instruction, two legislative district races and 101 primaries for county, school district, city, village and town officials. Three Madison City Council districts and one Dane County Board of Supervisors district have primaries. 
The top two candidates will advance to the general election April. 6.
Madison City Clerk Maribeth Witzel-Behl said her office has issued 24,549 absentee ballots, as of Monday. Of those, 3,908 have been returned to be counted and 96 were cast in person at one of Madison's 14 early absentee voting sites. Also, she said there are 193,208 registered voters in the city.
That election was the last held prior to the coronavirus pandemic, which upended how elections are conducted safely. At the start of Election Day in November, nearly 2 million voters across Wisconsin had already voted, either via an absentee ballot sent in the mail or by filling out an absentee ballot at an early voting site.
Wolfe said forecasting trends based on absentee voting behavior in the 2020 elections is difficult, with thousands of ballots still in the hands of voters. 
"We'll have to see what that means in terms of in-person voting at the polls on Election Day if we return to some of the more typical behavior that we saw prior to 2020 or if there's still sort of balance across the three options for voting," Wolfe said. 
Historically, Wisconsin has been a state where a majority of voters cast their ballots in person on Election Day and about 6% use absentee ballots. The pandemic affected voting behavior last year with the state seeing 60% of people vote absentee by mail in the April election.
Witzel-Behl said COVID-19 is affecting the number of absentee requests the city is receiving, but there are still over 20,000 outstanding absentee ballots. 
"Whether voters will return those absentees ballots to be counted is yet to be seen," she said in an email.  
Elections officials recommend voters return absentee ballots as soon as possible. Absentee ballots must be returned by 8 p.m. on Election Day. If voters are dropping them off with less than a week to go before the election, Wolfe recommends taking them to an absentee ballot drop box or to the polls.
Share your opinion on this topic by sending a letter to the editor to tctvoice@madison.com. Include your full name, hometown and phone number. Your name and town will be published. The phone number is for verification purposes only. Please keep your letter to 250 words or less.