Widespread flooding in Madison and across Dane County in 2018 highlighted the effects of a changing climate and brought environmental concerns into focus for policymakers and area residents.
Dane County and the city of Madison included funding in 2019 budgets to deal with flooding prevention and mitigation. Dealing with climate change is a central focus of the Madison mayor's race, which is down to incumbent Mayor Paul Soglin and Satya Rhodes-Conway. The election is April 2.  
Worries about Madison's lakes, water quality and the impacts of increasing development on the land are not lost on community members conversing through the Local Voices Network —  a project conducted in partnership between the Cambridge, Massachusetts' MIT Media Lab and Cortico, a nonprofit organization that works to foster constructive public conversation in the community and media.
Over the past several months, small groups of residents have been gathering together in conversation to listen to and learn about each other's lives. The idea is to create a unique listening channel that lifts up the voices of community members to local policymakers and the media.  
The conversations are led by volunteer facilitators, recorded on a "digital hearth," then transcribed and posted on the LVN.org website. In Madison, University of Wisconsin-Madison political science professor Kathy Cramer, author of "The Politics of Resentment," is a partner in the effort.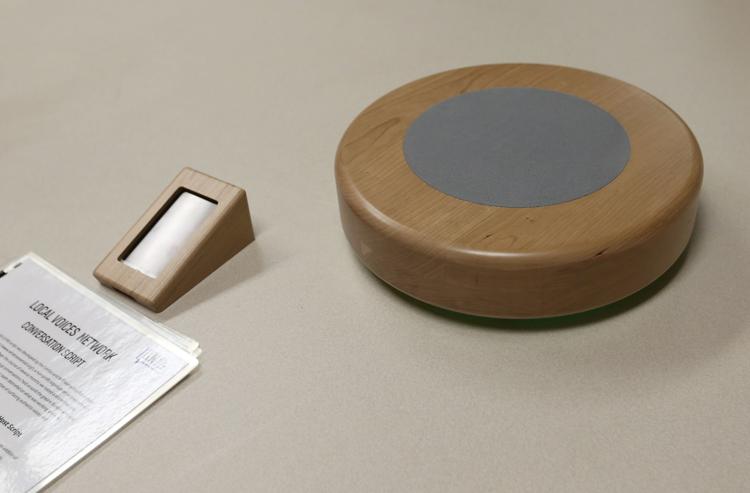 Carl, recorded in downtown Madison in a conversation with Evan Genest
I'd like to see the city partner with the county and the state to clean up our watershed through reducing agricultural runoff, reducing urban runoff, implementing lots more rain gardens, to be able to buffer the system, so that we're not shocking the system as much with our impermeable surfaces. Funneling all of the rainwater directly to the lake. Also, the rain gardens would help out with filtering out lots of excess nutrients that contribute to the algal blooms and reduce the scuba dive-ability of the lakes, among other things.
Robin, recorded at UW-Madison in a conversation with Kathy Cramer
I think one of the things that concerns me most about being in Madison, it is really a countrywide concern, but when I come to Madison I just see how much it's growing and environmental concerns. My office overlooks Lake Mendota and in the summertime it's just an algae pit out there and you see that, it's just not gonna quit growing. You drive home up north and all the farm fields, this has disturbed me since I was a child and I'm still crying about it.  
It's just, everything is just being eaten up. Such a beautiful place with so much to give in terms of food and recreation and just beauty and it's just one building after another. One community after another.
Claire, recorded in Madison in a conversation with Mindy Habecker
I do hear that one of the things that will happen with climate change, those inequities in our society will be exacerbated because of that differential access to privilege and resources. So, that's one component of it for me, and then the other piece around climate change is simply around what do we do on these farms? I'm talking specifically about farms that produce food,so fruits and vegetables and grains, not so much feed to feed animals. What do we do on those food-generating farms that helps ... makes them more resilient to that climate change?
Mary, recorded in Spring Harbor in a conversation with Erik Beach
For everything that I love about this area, it has a flip side. So I absolutely love the lakes. When I first came to Madison in the '70s you could swim in the lakes. You can't swim in the lakes anymore, at least for 9/10 of the summer you can't swim in the lakes.
You can swim in maybe, if you go out way in the middle of the lake and jump off somebody's boat, you could swim. But you can't swim in the beaches most of the summer.
Oscar, recorded in Greenbush in a conversation with Sue Robbins
My bias of course is toward trying to do something about climate change, but I don't see it as this huge existential threat so much as I see it as an opportunity, as a unifying principle. That is to say everything is affected by our environment one way or another. And because it is global there's so much that we can learn by opening ourselves to what other people are doing everywhere to try to re-imagine lifestyle, re-imagine how we live in a more sustainable way that has a beneficial effect on climate change.  
Teresa, recorded in downtown Madison in a conversation with Evan Genest
We have top notch lake scientists at the UW, and there's non-profit and conservation groups as well. The issues are difficult because people are living right around them, and their roads are right along the lakes, and the salting, and the runoff.
It becomes problematic for what's living in the lakes then. The system is not healthy anymore for the fish. It's pretty unpleasant.  
Harry, recorded in Westmorland in a conversation with Darin Harris
I don't even use the term climate change anymore, I use climate breakdown. We are in the midst of that.
Eric, recorded on the near east side in a conversation with Kathy Cramer
We live in a community that seems very focused on being aware of things like climate change and water quality. And yet, nobody will clear their walks, they'll just throw salt on it. And it's just so frustrating to see so many people who I know care about the planet make those kinds of choices and not sort of make those connections. And that concerns me when you multiply it across municipalities and states. 
Maryanne, recorded in Greenbush in a conversation with Sue Robbins
I think about how much I value, how beautiful I think Madison is and how I want to maintain that beauty and I want kids to appreciate nature. I want a big part of that education to be in the outdoors, and that they learn to… to appreciate nature so much that they will be our stewards for the planet in the time to come. I wanna have that kind of faith.
Sue, recorded in the Capitol area in a conversation with Erik Beach
I love to be in the water and I will not go into the lakes here because they're so dirty and so contaminated with the blue algae and all that kind of thing. And with the flooding we had last year, what's going on here and what can, if anything, can we do to mediate the natural moral that the changes that are happening to the natural world so quickly. 
Conversations in the Local Voices Network are happening across Madison. If you would like to participate in a conversation or learn how to host a conversation, please visit lvn.org/madison.