Two weeks ago, women across the country followed the example of actor Alyssa Milano and used the nationally trending hashtag "#MeToo" to share that they had been a victim of sexual assault or harassment.
But Milano wasn't the originator of the Me Too movement. That distinction belongs to Tarana Burke, a black woman who has worked in social justice and youth leadership for over 20 years.
"Lo and behold, you dig a little bit below the surface and you find some chocolate there," said Lilada Gee on a WORT FM radio show. Gee is the founder of Lilada's Livingroom, a local support program for African-American victims of sexual abuse, and interviewed Burke on the show.
In the wake of the allegations that Hollywood producer Harvey Weinstein sexually harassed and assaulted numerous women, Milano posted: "If all the women who have been sexually harassed or assaulted wrote 'Me too' as a status, we might give people a sense of the magnitude of the problem."
Black women pointed out that Milano didn't come up with that idea herself.
"It was black women who rang the alarm and said, 'Wait a minute, we know this sister, we know this work ... we are not going to let it be erased,'" Burke said on WORT.
Gee has seen that same dynamic play out many times over.
"It's indicative of the black woman experience in America: we just get buried," she said in an interview with the Cap Times.
That's especially true in the case of sexual violence, she said. It's a pervasive issue for black women, but "we are not well served in your mainstream sexual assault agencies."
Gee interviewed Burke in a Oct. 18 appearance on the 89.9 FM WORT community radio show "A Public Affair." Gee gave Burke her deserved credit.
"My sister, you are the one who started the Me Too campaign," Gee said. "I honor you."
In 2006, Burke founded Just Be Inc., a nonprofit organization promoting the well being of girls of color. With Gee on the radio, she talked about her motivation for starting Me Too.
In the mid-1990s, Burke heard the confession of a girl at a youth camp who was experiencing horrific sexual abuse at the hands of her mother's boyfriend. In that moment, Burke couldn't summon the strength to deal with the information, instead cutting her off and directing her to another counselor.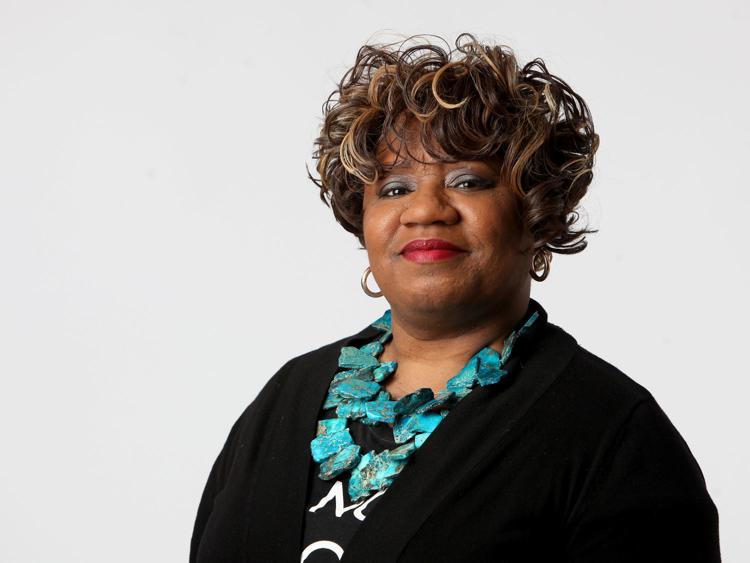 "I watched her walk away from me as she tried to recapture her secrets and tuck them back into their hiding place. I watched her put her mask back on and go back into the world like she was all alone and I couldn't even bring myself to whisper…me too," Burke wrote on the Just Be Inc. website.
She was committed to never letting that happen again, she said in the WORT interview.
In the following years, Burke and a friend worked with young women of color in the south, where they were "constantly encountering" girls who told them about experiences of sexual violence.
Burke and her friend were both survivors of sexual violence, and they grappled with what to do, she said. Burke started looking for resources in the community. She went to a local rape crisis center in Selma, only to be told that they only accepted referrals, so any prospective clients would need to first file a report with the police.
"I thought to myself, 'What child is going to do that?'" Burke said.
So Burke went "back to the drawing board," she said. Thinking back to her own healing process, she realized that what she needed most was empathy. The pair started going into schools and community centers, hosting workshops and conversations to give girls the vocabulary to deal with sexual violence.
"Our entry point with young people was like, 'This is not just us coming to you to talk to you about something we don't know about,'" Burke said. "We experienced this thing, we get it, we know that kind of pain and trauma."
That was the intention of the movement, Burke said: to help people heal, not "mass disclosure on social media."
"Me Too is not really about talking to the world, Me Too is about talking to each other. It's a conversation between survivors," she said. "In its origin it was about, 'Hey this happened to me too, and I get it and I understand you and I'm here for you.'"
But Burke wasn't angry about the direction the social media movement took a few weeks ago.
"How do you feel that it went from a movement to bring attention to the forgotten black and brown girls who have been sexually assaulted to having the face of a rich and famous white woman of Hollywood?" Gee asked.
"In some ways it doesn't matter, right? I don't think that it was a malicious intent to like erase me," Burke said. "But I do think that, you know, folks don't do things in a vacuum. So I think nobody checked to see, 'Is this work happening out there already?'"
While Burke said she's glad the movement has been amplified in a positive way and given her a bigger platform, she wants to shift the conversation towards entry points for healing and the place of sexual violence in the "broader context of social justice." 
Gee said the origins of the Me Too movement are important to understand because they highlight a population often unacknowledged and underserved: black and brown girls and women who are victims of sexual violence.
Part of that is due to the nature of service providers in Dane County, where many providers are run by white women but service primarily black women and families, she said.
"I think often because there is not a language barrier between black women and white women, there's an assumption that white women can just as well serve black women," Gee said. "What we miss out on is the fact that there is still a great divide between black and white women that needs a lot of healing and a lot of understanding."