Pat Schneider, a longtime Capital Times reporter who spent much of her nearly 30-year career doing trailblazing work spotlighting the plight of Madison's marginalized and dispossessed, died Sunday at Agrace Hospice Care after a protracted battle with cancer. She was 65.
Schneider was known as a dogged reporter whose best moments came when she butted heads with policymakers and others in authority, often over issues concerning the city's poorest inhabitants, or challenging the powers-that-be on behalf of ordinary people who struggled to air their concerns. Her many awards included stories about the city's homeless, funding for nonprofit groups and an east side neighborhood's battle with a manufacturer over contaminated soil.
She also won awards with other Capital Times staffers for stories on affirmative action and the state of Madison's lakes. Over her years with the paper, Schneider racked up nearly 5,000 bylines, won numerous awards from the Wisconsin Newspaper Association and the Milwaukee Press Club and ticked off countless local officials.
"She paid attention to people who felt they weren't getting a fair deal," said Phil Haslanger, a managing editor who worked with Schneider for nearly 20 years before leaving The Capital Times in 2008. "She tried to give voice to their concerns, and she did it in a way that was good, solid journalism, finding out what their concerns were, then taking those concerns to people who were either answerable or might be able to do something about them."
Mike Verveer, the city's longest serving alder, often worked with Schneider when she covered City Hall in the 1990s.
Among City Council members, he said, she had a reputation as a high-intensity journalist who gave no quarter.
"I thought the world of Pat, although, like many others, she roasted me at times," he said. "She was clearly a hard-hitting journalist, always seeking the truth."
He said he had hundreds of interactions with Schneider over the years and was always impressed with the energy she brought to the job.
"She was always on the go," he said. "No matter what the story was, whether it was breaking news or something as boring as a city meeting, she treated every story as equally important in terms of her passion."
Her in-your-face style rankled some.
"Not everybody in City Hall loved Pat," he said, "which I think is a great tribute to any journalist."
After she left the city beat, Verveer said, "She did so much excellent reporting on matters of importance to the community." He listed Schneider's focus on the city's homeless and people "doing good work in the community, particularly nonprofit organizations and other advocates."  
Former Madison Ald. Brenda Konkel, a homeless advocate who is also the former executive director of the Tenant Resource Center, said Schneider was one of the city's first reporters to take up the issue of homelessness, and "not just at the surface level, but in depth."
She noted Schneider's watchful presence at rallies, protests and homeless encampments, "always looking for an angle that others missed and to humanize the story."
"Without her work, we wouldn't have been able to build the momentum to make many of the changes and progress that we have in the past few years, from passing the Section 8 and minimum wage ordinances to more funding for affordable housing and getting a day resource center."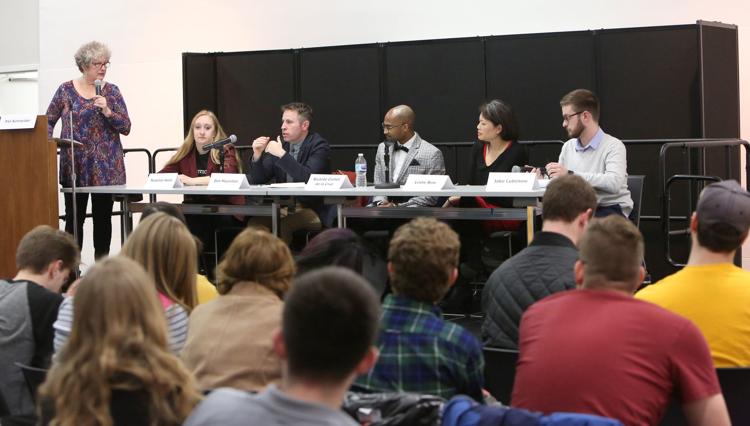 A frequent source for Schneider over the years, Konkel said Schneider wasn't afraid to ask tough questions, and didn't suffer evasive answers.
"I just loved it when she got that look on her face when she knew that she wasn't getting a straight answer and was determined to get to the bottom of things," she said.
At the same time, she said, Schneider's reporting was marked by compassion.
"While she may have appeared a bit tough, she was as sweet and caring as anyone I know," she said. "And, she always made me laugh."
Capital Times Editor Emeritus Dave Zweifel said Schneider challenged him to "think beyond common assumptions and not accept the status quo."
"She never liked to take announcements or explanations by public officials at face value because she believed that the real story could be found only if you looked more deeply," he said. "And that's what she so often did, whether it was a complicated investigative piece or a simple story about one of the neighborhoods she covered."
Paul Fanlund, editor and publisher of the Cap Times, said Schneider had a gift for putting authority figures in the hot seat.
"Pat was a tenacious and conscientious journalist who loved the craft of holding powerful people accountable," he said.
Schneider formulated her reporting priorities even before starting work at the Cap Times in 1989 as an assistant news editor. In her cover letter for the job, she described the city in a way that showed an awareness of the racial disparities that weren't largely reported on until two decades later. While working for a suburban Chicago newspaper group in 1989, she aptly described Madison as a beautiful and flourishing city "facing some real challenges as it grows in population and diversity."
In recent years, Schneider wrote about higher education, covering issues like student hunger, sexual harassment and student debt, at times rankling University of Wisconsin officials with the same kind of persistence and impatience with bureaucratic inertia that she had previously taken to City Hall. For instance, in 2018 she battled UW-Madison officials to obtain information connected to the decision, later rescinded, to eliminate the university's MBA program.
"When she was assigned to cover the university, she found stories that others could not," said Zweifel, "simply because she asked the right questions and wouldn't give up until she found the answers."
Fanlund said Schneider had a "profound and positive impact" on younger journalists in the newsroom as a "mentor and a friend." Those impacts were on display in a book of testimonials Cap Times staffers put together after Schneider's departure in mid-2018.
"It was truly touching and reflected the relationships she had built," Fanlund said.
Schneider didn't restrict her impatience with injustice and incompetence to her beat. She could also be a vocal critic of Cap Times management.
"She was not only concerned about fairness in the world, she was also concerned about fairness in the newsroom," said Haslanger. "She was always a voice for trying to make sure that people in the newsroom were being treated well."
Zweifel said Schneider's advocacy in the newsroom left a lasting legacy.
"Pat early on opened my eyes to the institutional stereotypes that had historically prevented women from being full-fledged partners in the newsroom," he said. "She was indeed a pioneer and we're all so much better off because of her tenacity and willingness to make us think and act differently."
Schneider grew up in Chicago with two older brothers. She embarked on her journalism career after graduating from the University of Illinois in Chicago. Over the years, she spoke sparingly of her job, even when pressed, said her brother, Tim Schneider, who only recently became aware of how far-reaching Schneider's work was.
"I never knew she had so much of an impact," he said.
A celebration of Schneider's life will take place on Nov. 16 at 11 a.m. at James Reeb Unitarian Universalist Church, 2146 E. Johnson St.