Two fires that sent large black clouds of smoke into the sky over downtown Madison Friday morning caused thousands to lose power and led to major traffic delays throughout the isthmus.
At about 7:40 a.m., a fire broke out Madison Gas & Electric's main power center on the near east side. The fire occurred at a facility containing equipment belonging to MGE and American Transmission Company.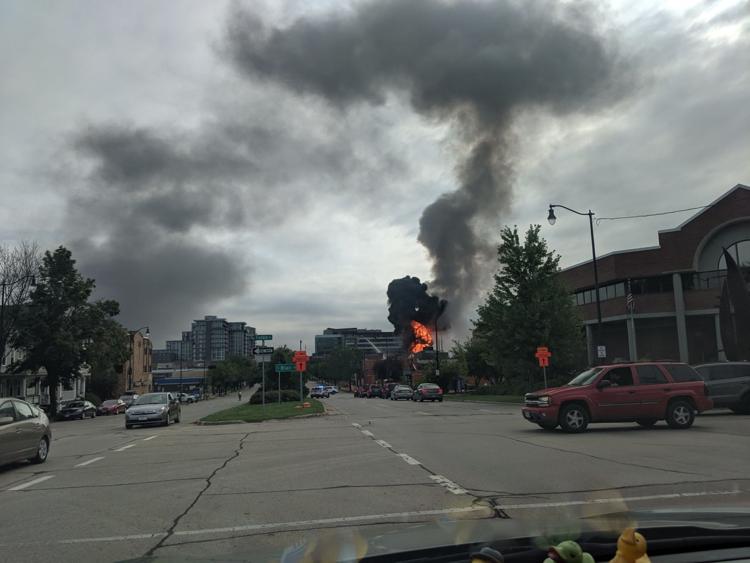 The Madison Fire Department responded to 722 E. Main St. with seven engines and ladder companies, which is 28 firefighters, two ambulances with another four responders and also called in the Truax Fire Department from the Dane County Airport. 
Subsequently, a second fire broke out at an MGE substation on North Park Street near the University of Wisconsin-Madison's East Campus Mall. An evacuation order for Ogg Residence Hall, 835 W, Dayton St., was lifted after the fire was extinguished at about 9 a.m.
No injuries were reported.
Madison police closed streets within a two-block radius of both fires, causing major traffic jams and delays for commuters making their way across the isthmus. 
MFD spokeswoman Cynthia Schuster said at 9 a.m. that all fires were out and MFD was shutting down the scene.  
As of 10 a.m., about 11,600 homes were without power as an excessive heat warning was expected to send the temperature above 95 degrees. Public Health Madison & Dane County shut down licensed establishments, including restaurants, swimming pools and retail food stores.
BREAKING: For those in need of a place to stay cool downtown, the Kohl Center is now open as a public cooling center.

— Joe Parisi (@DaneCoJoe) July 19, 2019
"We have no estimated time of restoration but will issue updates as we do our damage assessment and get more information," the statement said. "Crews are working as quickly as possible to safely restore service. We have no reason to believe the cause of the fire is due to excessive usage from today's high temperatures."
Police closed off several blocks of East Washington Avenue during rush hour while crews doused the fire stabilized the scene. Side streets, meanwhile, were clogged as police directed traffic through intersections with non-functioning traffic lights.
The City-County building, which includes the MPD's Central District, at 210 Martin Luther King, Jr. Blvd, is also without power. 
"We've lost a lot of our ability to function at City Hall," MPD spokesman Joel DeSpain said. "It's pretty much dark."
DeSpain said some MPD operations have been moved to an outlying district.
'Like a giant, humongous ball of orange flame'
Jonlyn Anderson saw the explosion from her workplace at Artisan Dental on the third floor of the Constellation Building, right across the street.
"It sounded like a thunder crash initially, and then our power flickered and it kind of rumbled the building," she said. 
She and her coworkers ran to the large windows fronting East Washington Avenue in time to watch the transformer explode.
"It was like something you'd see in the movies," she said. "It was like a giant, humongous ball of orange flame. It was massive, way up in the sky."
Without hesitation, she said, people in the building began to evacuate.
"It was so scary," she said. "The first thing that we did was just look at each other and ran out of the building."
Her coworker, Emily Berggren, said once outside, some became concerned with the BP gas station across the street, adjacent to the property on which the transformer exploded, and decided to leave.
"I was a little nervous to stay in the area," she said, "so we just went home."
State government shut down
Wisconsin state government effectively shut down for the morning, with Gov. Tony Evers announcing over Twitter the closure of state offices.
"We are asking non-essential state employees headquartered downtown to go home for the day and asking folks to please avoid the downtown area," he wrote.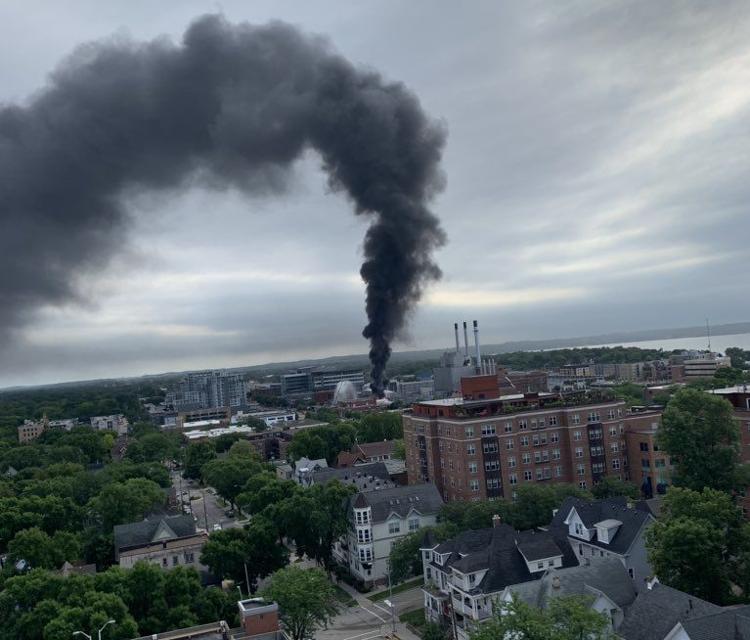 Meanwhile, the Capitol building remains closed until further notice, according to a sign affixed to one of the entrances.
Department of Administration Assistant Deputy Secretary Tia Torhorst said the "situation still being assessed at (the) state level" when asked which office buildings would be closed and for how long.
Businesses closed, restaurants worried about food storage
Lindsey Lee owns Ground Zero Coffee at 744 Williamson St. and Cargo Coffee East at 750 E. Washington Ave. Both locations were closed with no power Friday morning.
He saw the smoke billowing from his home on Williamson Street, and his employees at Cargo felt the impact of the nearby explosion, he said.
It's "hard to say in 90 degree weather" when the power outage will become a major problem for refrigeration, he said. He immediately told his employees not to open the refrigerator, and when they can open it again, they will check the temperature of the food.
Friday is "the worst day that things can go wrong," Lee said, because "we can't order products to replace spoiled products."
Jonny Hunter, owner of Underground Butcher at 811 Williamson Street, estimated that the butcher shop's refrigeration units could keep food cold for four to six hours, but the business has never experienced a power outage that lasted that long.
Hunter said his main concern is the "incapacity to run production" to prepare for two big events (a wedding and a fundraiser) this weekend. He sent about 30 employees home, in part because having too many people in the store will raise the temperature. As of about 10:35, the catering business had no power at any of its facilities.
On a lighter note, he said he was able to charge his phone with his electric bike.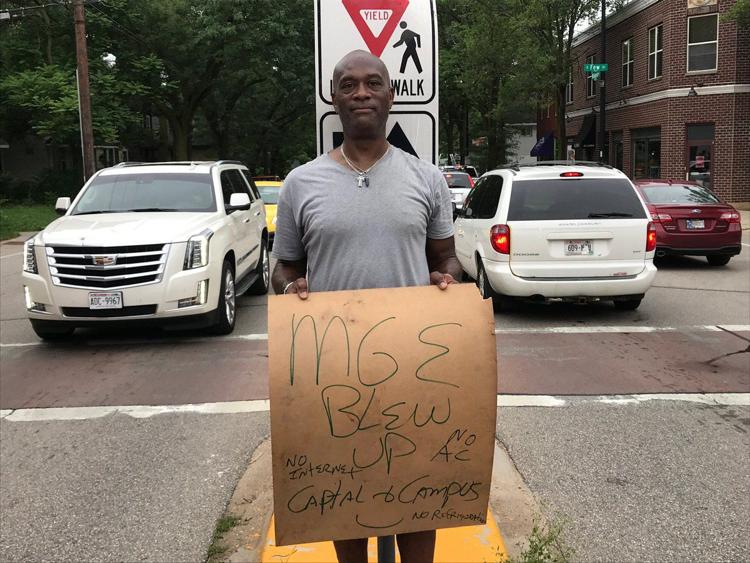 Downtown workers, residents cope
When he learned of the two fires, Victory Smith headed to the Madison Social Justice Center at 1202 Williamson Street where he held a homemade sign to alert drivers to the news. Traffic was backed up for blocks on the east side street at 9 a.m.
Smith's sign read: "MGE blew up, Capitol and campus, no AC, no internet, no refrigeration."
"I would want to know, so I did what I would want," he said. "That's who I am."
He said drivers asked him for information and thanked him for the updates. He figured some may have been listening to music and were unaware of outages that interfered with their routines.
"I wouldn't want to drive miles and miles to have to turn around and go back again," he said.
Rick Roseneck, an employee of internet retailer Shopbop at 1301 East Washington Ave., said he was sent home from work when the facility lost power. The power was also out at his apartment building a few blocks away and he didn't have much confidence in the elevator. He planned to take the stairs to his 14th floor apartment.
"It's gonna be a good workout," he said.
Kevin Rose wasn't able to check many items off his to-do list Friday morning. He went to QTI staffing agency at 1010 E. Washington Ave. to do some job searching on the computers and found "they had no power, no nothing." Then he headed to Festival Foods grocery store, 810 E. Washington Ave., to grab some tomatoes, but the store was closed.
UW campus takes precautions
UW-Madison temporarily evacuated several campus buildings, including Ogg Residence Hall, Newell Smith Hall, LaBahn Arena and the Nicholas Recreation Center, according to spokeswoman Meredith McGlone. There were also some temporary road closures on Park and Dayton Streets.
The university posted an update stating that "as of 10:30 a.m., UW-Madison is open, campus operations remain normal and campus power has been minimally affected."
"Campus at this point is largely unaffected, but of course we're aware of the broader Madison community issues with power outages," McGlone said, adding administrators will continue to monitor the situation closely.
The Kohl Center will be open as a public cooling center from 11 a.m. to 6 p.m. Friday. According to the UW-Madison Twitter account, summer term classes and campus activities will proceed as scheduled.
McGlone said the UW-Madison Police Department lake rescue station is the only campus building she is aware of currently affected by power outages, thereby suspending lake activities.