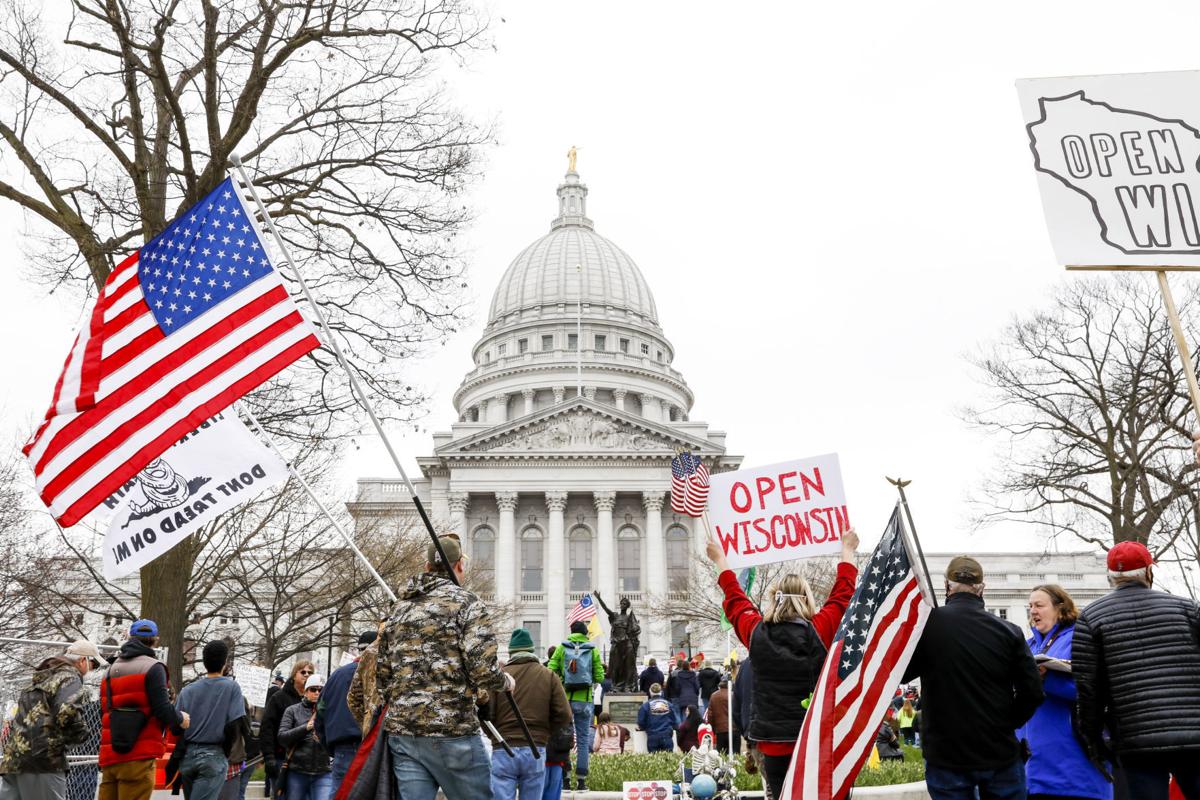 Carolyn Warnke stood apart from the crowd at the Wisconsin Capitol Friday afternoon. Unlike many of her fellow protesters, rallying against Gov. Tony Evers' order to keep state residents at home until the end of May, she wore a protective facemask with "Open WI" written on it.
Warnke, who drove to Madison from Mukwonago with her husband, said she was keeping her distance because she has asthma which, according to an advisory from the Centers for Disease Control and Prevention, could put her at higher risk of getting "very sick" from COVID-19, which attacks the respiratory tract and can lead to pneumonia or acute respiratory disease. Despite those concerns, Warnke believes the state can open up if people adhere to guidelines meant to limit the spread of the novel coronavirus which causes COVID-19.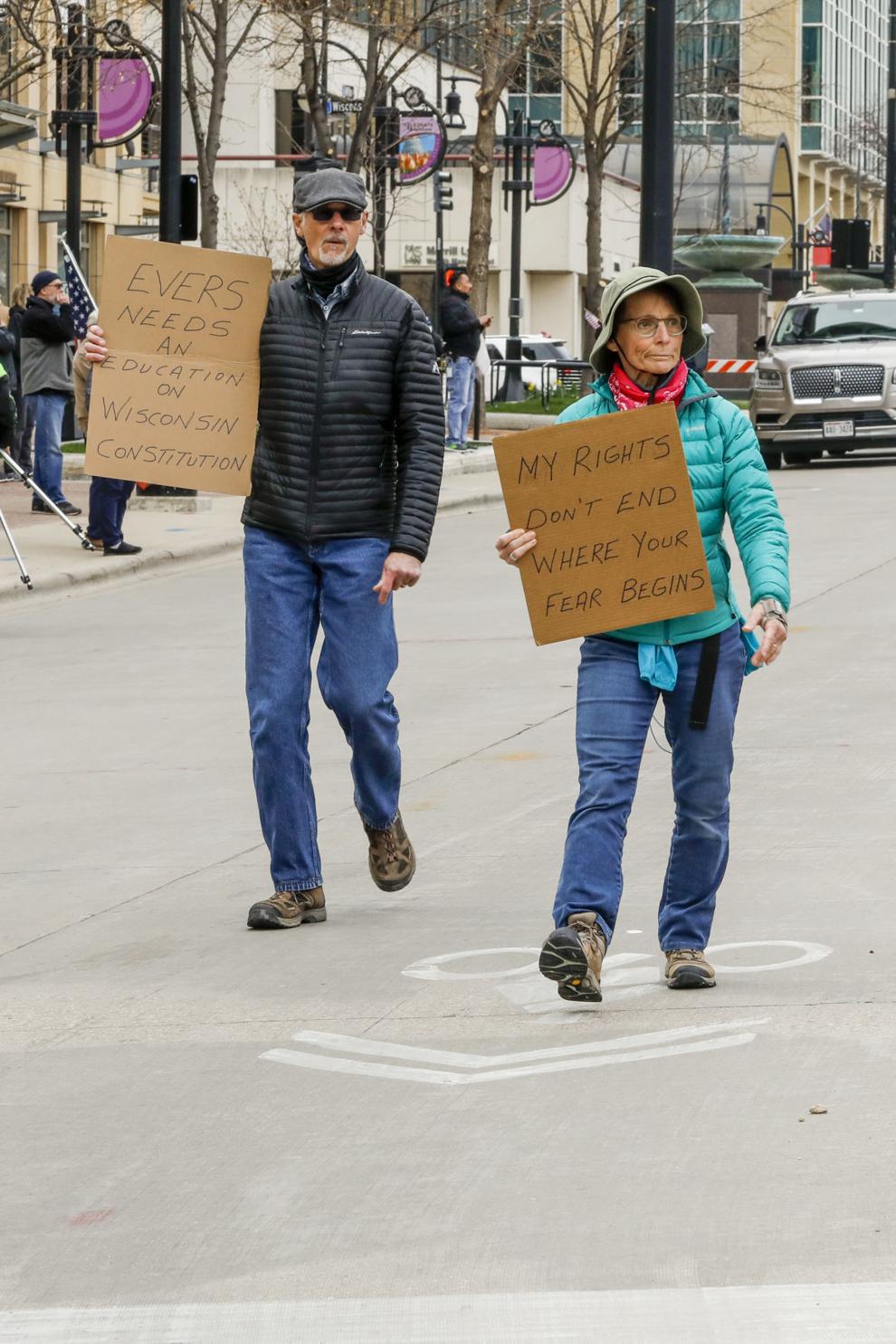 "We can still get back to work and social distance," she said.
She's concerned about the virus, "but I'm not going to stop living." She has been unable to visit her mother, who lives in a senior center closed to visitors since the spread of the coronavirus led to social distancing measures in March. And she's skeptical about epidemiology models, some of which have been inaccurate or have changed.
"Hard to know what's true," she said.
Warnke's views were echoed by many of the protesters who stood at the State Street corner of the Capitol Square in brisk spring conditions Friday to express their desire to "Reopen Wisconsin." Capitol Police estimated the crowd at 1,500. The majority were not wearing face masks or gloves and did not remain six or more feet away from each other. A few came dressed in tactical camouflage garb, armed with long guns.
There were no arrests or citations issued.
The rally came the day Evers' first stay-at-home order barring nonessential travel would have lifted, though he has since extended the directive through May 26, with some loosened restrictions — even as some Republicans have pushed for more flexibility. 
While state officials denied a permit request for the event, organizers (who said in a now-deleted Facebook event it was filed "as a courtesy to not ruffle feathers") pushed ahead and Evers said Thursday that Capitol Police would likely not enforce social distancing.
Many in the crowd were there to protest measures they felt threatened their economic survival. Protesters held signs urging Evers to allow businesses that have not been declared essential to resume operations. Some were more pointedly critical of the governor — "Tony the Tyrant," read one sign — and at least two compared the first-term Democrat to Nazis. Others addressed what they think is an unconstitutional overreach by Evers, in line with a Republican lawsuit asking the state Supreme Court to overturn the extension of his "safer at home" order.
And, as has been the case at similar rallies held in Michigan, Minnesota and other states, red "Make America Great Again" hats and Trump 2020 flags and posters were plentiful. A truck towing a trailer with several Trump flags was blasting a Village People disco hit with the letters "M-A-G-A" replacing the famous YMCA chorus. The owners rewarded protesters who danced along with Trump stickers.
Some speakers and protesters invoked misleading and controversial information to understate the threat posed by the virus. 
Among the speakers addressing the crowd was Dr. Timothy Allen, a family physician who has continued to see patients at his Cudahy clinic during the pandemic.
"I'm very concerned that more people are dying from this quarantine than are dying from COVID," he said, citing an April 17 article in the New England Journal of Medicine. No article published by the journal that day equated the impact of COVID to quarantine.
Allen said he's practicing psychiatry because he's worried about patients struggling with mental illness who are having a hard time dealing with staying home, losing jobs and being unable to seek support from friends and family members.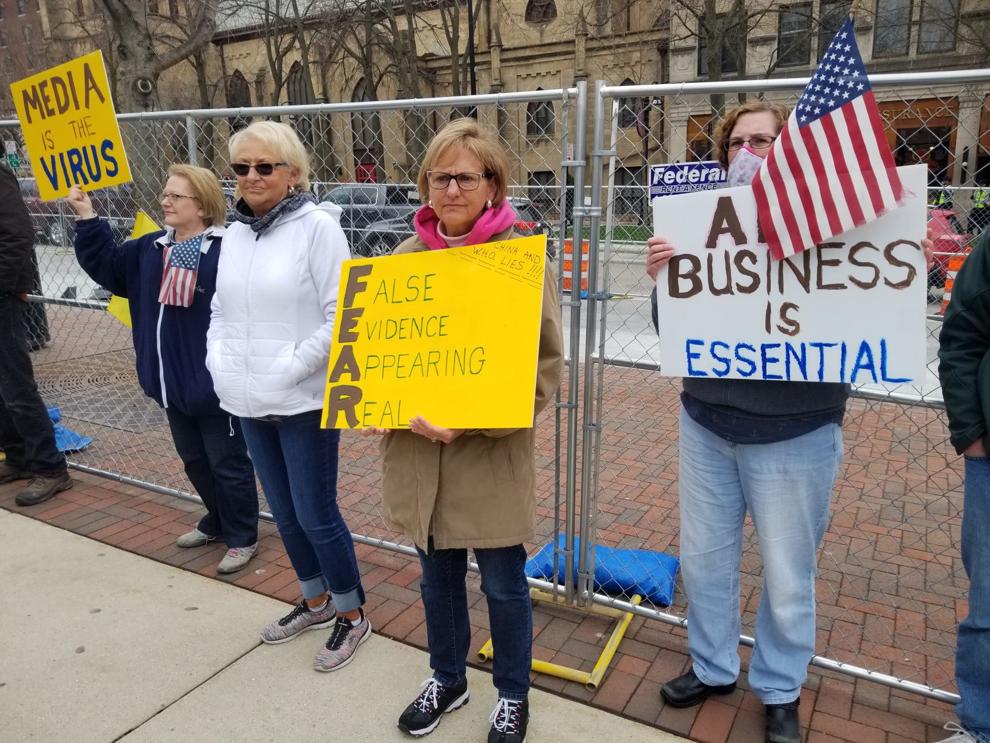 Some in the crowd felt they were being subjected to a misinformation campaign designed to enhance Evers' powers.
"We would hope that the government listen to the people and quit spreading fear and falsities to everybody in this state," said Karen Panka, from the Waukesha area. "It's a dangerous virus, yes. But all the conflicting information you're getting, you don't know really what to think."
Panka, who wasn't wearing a face mask, was standing at the edge of the Capitol grounds with a small group, where she said it was safer. She pointed out that the deaths health officials warned of at the outset of the safer-at-home order never materialized.
On March 25, state Department of Health Services Secretary Andrea Palm predicted that 22,000 Wisconsinites would contract the disease, and 440 to 1,500 would perish if a stay at home order was not enacted. As of Thursday, 5,356 had tested positive for the illness and 262 had died.
Asked if Evers' order deserved any credit for the lower numbers, Panka said, "Maybe, maybe not. How do we know?"
Panka conceded that the virus was a threat, but likened it to the risk of driving a car.
"We are not given any credit for having a brain cell," she said. "That we can do the things that could keep us safe. That's called freedom."
Safety measures were in little evidence near the top of the State Street steps, where the crowd became more tightly packed as it neared the podium.
"We're saying open up business today, and we'll social distance today," said Mark Swanson of Milwaukee. "Let us make our own decisions."
Swanson works for a fire protection company, an essential business under Evers' order. But one of the main sources of the company's business are restaurants, which have been closed for a month.
"It doesn't matter if you're an essential business if your customers are non-essential," he said.
A woman from Rhinelander who asked to remain anonymous heard about the rally on conservative talk radio, like many others. She echoed the inaccurate view that COVID-19 is not much different from the seasonal flu. Among other differences, each person carrying the coronavirus infects 2 to 2.5 others, on average. A person with the flu infects about 1.3 others. And while the flu kills about one in a thousand people who get sick from it, COVID-19 is currently estimated to kill at least 10 people per thousand infected.
But her chief concern was the loss of freedom and constitutional rights through government control of the economy during the pandemic.
"They're calling the shots and dictating to us where we can go and where we can eat," she said.