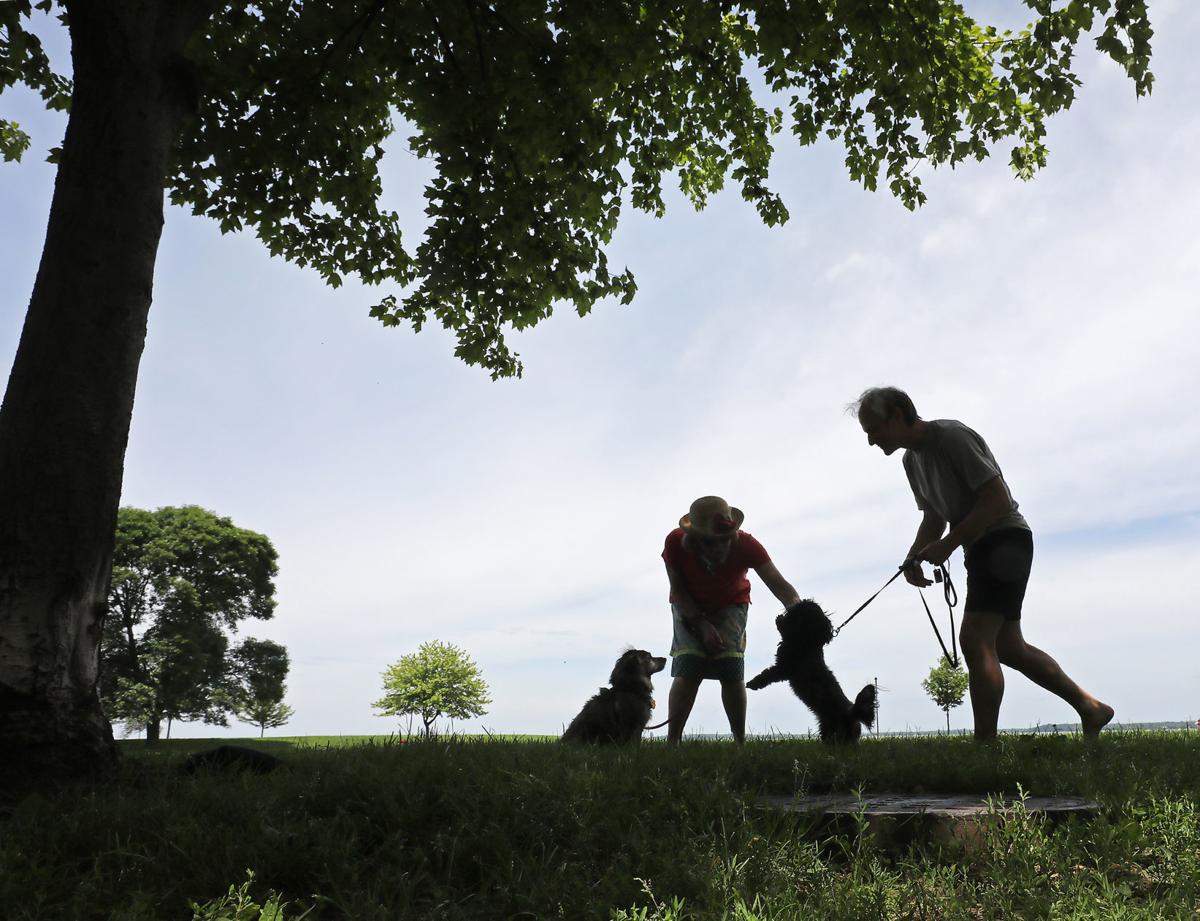 Dogs on leashes are now welcome in most Madison parks following the City Council's approval Tuesday of a new ordinance that overhauls a patchwork system of policies addressing man's best friend.
The new ordinance, adopted by alders on a voice vote with two opposed, presumes leashed dogs are welcome in city parks unless otherwise specified, which is different than the existing model where dogs are banned unless allowed.
Under the city's longstanding policy on dogs, Madelyn Leopold, president of the Board of Park Commissioners, said dog walkers routinely violate the rules. Leopold said the city has received complaints for years about wanting to see both more and less of dogs in parks.
"Rather than stepping up enforcement to try to address an epidemic of violation, it seemed to make better policy sense to change the rules," Leopold said, "and to change the rules in a way that did not sacrifice the needs and desires of people who are averse to dogs, but to come up with a policy that balances the people who care about dogs and the people who would rather not see them."
Madison's old system on dogs' use of city property prohibits them in most Madison parks, even if dogs are on a leash, licensed and have up-to-date vaccinations.
Under the new policies and guidelines, dogs on leashes would be allowed in city parks but banned in several specific properties, including municipal golf courses, conservation parks, burial mounds, Olbrich Botanical Gardens, Goodman Pool and Breese Stevens Field.
Also, dogs would be banned from programmed sports fields, non-fenced fields that are used for soccer or ultimate Frisbee, cross-country ski trails and in the water or on beaches.
Those opposed to changing rules regulating dogs expressed concern over what they view as a lack of enforcement.
"It's bedlam out there," Karen Matteoni said.
Superintendent of the city's Parks Division Eric Knepp said he does not expect the number of irresponsible dog owners to dramatically decline because of this ordinance. But he said the department is expanding the hours of rangers to be more present in parks.
"We're acutely aware of making this successful," Knepp said. "This has been an ongoing issue for the past 10 years."
Dog owners who repeatedly violate the policy may receive a ban from city park rangers. Also, the parks superintendent can issue a temporary ban to make a park dog-free for up to 90 days.
In parks where dogs are allowed, owners must comply with the following rules:
Dogs must be under the immediate physical control of a person at all times.
Dogs must be on a leash that is no more than six feet long, non-retractable and held by a person at all times.
Dogs must be licensed and must have an up-to-date rabies vaccination.
Dogs must have a dog park permit.
Dog handlers are required to pick up waste and have bags or scoops when in the park.
Dogs must not dig, chase or harm wildlife, damage park property, or interfere with other park users.
Ald. Grant Foster, District 15, attempted to pass an amendment that removed the stipulation that dog owners use non-retractable leashes. His concern is that the city can't handle enforcement.
"Passing this additional restriction is not going to change anything on the ground," Foster said. "It's just going to create another ordinance we're not enforcing and people are not obeying."
Others, like Ald. Zachary Henak, District 10, said a balanced response to the city's rules should be taken to educate residents. He said additional funding support for rangers in the 2021 budget cycle will be "paramount" to the long term success of this "additional layering" of park uses.
"As our city grows and residents' expectations and the diversity of uses expands, we will need to continue to establish etiquette, education and enforcement," Henak said.
Share your opinion on this topic by sending a letter to the editor to tctvoice@madison.com. Include your full name, hometown and phone number. Your name and town will be published. The phone number is for verification purposes only. Please keep your letter to 250 words or less.