The day after Wisconsin Gov. Scott Walker won his third gubernatorial election in four years – Nov. 4, 2014 – his ascent toward a presidential candidacy (however short-lived) began. Walker cheerfully addressed reporters and talked about being "even more aggressive" in his second term than he was in his first.
When Mary Burke woke up that morning, she felt like she had been "hit by a truck."
"I didn't know how I was going to move forward," Burke, the Democratic candidate who lost to Walker by six points, said. "Not only did I lose after dedicating every single waking moment of 13 months to this challenge, but I had let down hundreds of thousands of people who had put their hopes and their dreams in me. I felt more than a little humiliated."
She didn't want to talk to anyone. She didn't even want to see anyone. She decided to pack up some supplies and head to a cottage she owns in the country. She wasn't sure how long she'd be gone, so she stopped at the grocery store. The woman working behind the meat counter recognized her immediately. She'd voted for her and was sorry she'd lost.
The tears came without warning and the woman at the meat counter came around to give her a hug. With that hug, Burke's recovery process began. She calls it a "trampoline effect" — an energy has come from the support and encouragement from those surrounding her.
A little more than a year later, Burke, 56, says she has never felt stronger or more confident in her life. She has made news recently with her philanthropic work and continues to support efforts to expand access to education. She's also working on launching an organization devoted to an issue she has new passion for: empowering women.
For Burke, the experience of running for governor was "transformational." But don't expect her to do it again.
Her efforts now are focused on empowering others, particularly women and young people.
"There is no greater asset in this community than Mary Burke, when you look at women and leaders that are really contributing to building a condition in our community that allows people to thrive and grow," said Lisa Peyton Caire, assistant vice president at Summit Credit Union and founder of the Foundation for Black Women's Wellness.
Peyton Caire introduced Burke to a group of women at Brava Magazine's Thrive Conference in downtown Madison earlier this month. In her speech, Burke shared lessons she learned while running for governor and previewed her goals for the future. She plans to submit her speech to be considered for a TED Talk, at the suggestion of Brava publisher Michelle Reddington.
Burke has taken on a lot of challenges at the urging of others, including that decision to run against Walker in 2014. She said that's how she's found her way into most of the leadership roles she's held throughout her life. And now she wants to be that force for others.
Before running for governor, Burke was hardly a household name. Her father, Richard Burke, founded Trek Bicycle Corporation "in a red barn in Waterloo," as she would say on the campaign trail. She served for a while as an executive at Trek, and for two years as secretary of commerce under former Gov. Jim Doyle. Dane County residents may have recognized her from her involvement with the Boys & Girls Club or from her spot on the Madison school board.
But taking the leap to running against an incumbent governor was a decision Burke could only make with a healthy dose of encouragement.
"I would've never gotten into the race," Burke said. "It was other people seeing the potential in me that I didn't see in myself. And that's actually been every single leadership position I've had, is because other people came up to me and said, 'Mary, you should do this — you'd be really good.' So that got me out of my comfort zone and into the race."
Burke said she would not have entered the race if she had seen another Democratic candidate who could mount a formidable campaign against Walker, who by then had a national profile and donor base after becoming the only governor in U.S. history to survive a recall election.
The learning curve was steep. Press conferences, debates, editorial board meetings, attack ads – it was all uncharted territory for Burke and she wasn't sure her skin was thick enough to withstand the pressure.
She knew she could improve at public speaking and interacting with reporters. But something she lacked in abundance and wasn't sure she could learn was confidence. It was a "fake it 'til you make it" scenario from day one.
"I gained some skills and knowledge, but the biggest change was in confidence, and my abilities and who I was," Burke said. "And that confidence is something I now carry with me every single day. I realize I have actually played small most of my life compared to my abilities, and what the campaign really taught me is I can do anything. And I should."
Burke is no longer afraid of failing. She laughed as she pointed out just how publicly she failed in 2014 — how "every single" one of her flaws was exposed, "along with dozens that aren't even true."
Campaigns are subject to ups and downs, and Burke's was no exception. Republicans quickly stuck her with the moniker "Millionaire Mary" and criticized her family's business for having outsourced jobs to China. Her campaign fired a consultant after it was discovered he had copied sections of her jobs plan from other campaigns he had worked on. And days before the election, it fought against rumors she had been fired from Trek — allegations both she and Trek CEO John Burke, her brother, said were politically motivated and untrue.
She had been warned it would get ugly.
"Enough people were honest with me before getting into it that I knew exactly what I was getting into," Burke said. "They said, 'You know what, if they didn't find stuff on you, they'd just make shit up.' And that's true."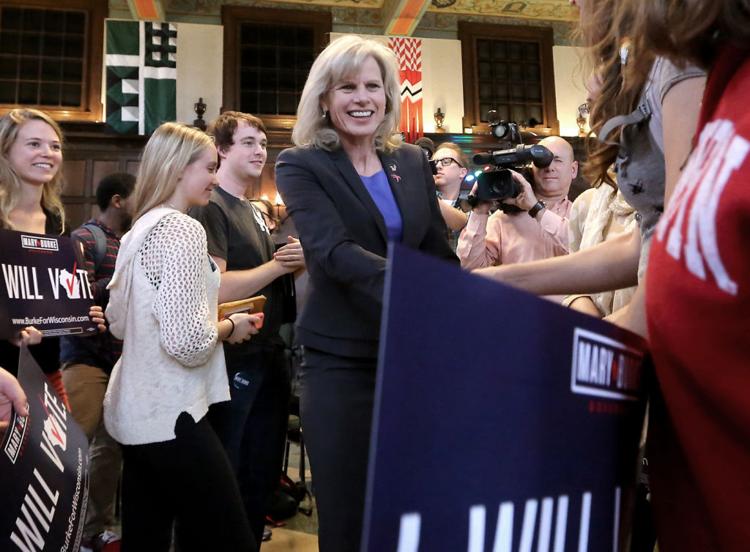 She quickly learned to block out the negativity, knowing it would undermine her confidence if she let it in. Today, Burke says there are a few things she wishes she would have done differently — she would have been more assertive from the outset about establishing her credentials and she wishes her campaign would have pushed back harder against some of the "ridiculous" attacks leveled against her. But besides losing, she said, she has no regrets.
After that experience, she's not interested in holding back anymore.
Politics didn't come naturally to Burke, who was raised to "work hard, don't ask for help, be independent and definitely don't toot my own horn" — rules she had to ignore on a daily basis as she sought money, support and votes. She started the race shaky, dreading small gaggle sessions with reporters. Eventually, she relished the opportunity to be grilled on debate stages and in editorial board meetings.
The support she received along the way has left her with an acute sense of gratitude. The race changed not only the way she viewed herself, but her perceptions of those around her.
After being buoyed by her supporters, Burke wants to do the same for others, particularly women, who she says far too often do not recognize or reach their full potential. Her awareness of that was "really low" before she ran for office, she said.
"I always knew growing up I wanted to be a businessperson. My dad was a businessperson. I wanted to be just like him," she said. "I went to business school in the '80s. We thought everything was good. Just keep your head down, work hard. Thirty years later, progress for women actually has really slowed, and even stalled in certain areas. I wasn't aware of that."
Burke read Facebook executive Sheryl Sandberg's book "Lean In: Women, Work, and the Will to Lead" prior to launching her candidacy. In fact, the book played a small role in her decision to run.
"I've always felt that so many women went before me and blazed the trail for me to do what I've been able to do," Burke said.
Another book further shaped her view on the gender gap after the campaign: "The Confidence Code: The Science and Art of Self-Assurance — What Women Should Know," by Katty Kay and Claire Shipman. The book discussed a "confidence gap" between men and women. Learning that gap existed and that confidence can be learned, Burke started to think about how she could apply that knowledge.
A responsibility to help others was instilled in Burke at a young age, along with a reverence for education.
"My mom and my dad have always taught us that the more you have, the more you should give, and that we're incredibly blessed to be in the position that we're in," Burke said. "I certainly feel incredibly blessed to be able to look at my life and my future and to see that I can look at where my passion is. I can look at how that aligns with what the community needs from me, and to follow that."
Eight years ago, that mindset led to the creation of the AVID/TOPS partnership, which combines a national college readiness program — Advancement Via Individual Determination — with the Madison-based Teens of Promise program. The partnership between the Madison school district and the Boys & Girls Club of Dane County is designed to help students who may not otherwise be on track to attend college. Most participants come from low-income backgrounds or are students of color.
AVID/TOPS launched at Madison East High School and is now offered at four high schools and 11 middle schools in the district, serving more than 1,200 students. They take an elective course that focuses on study skills and time management, and are connected with internships to prepare them for college and careers.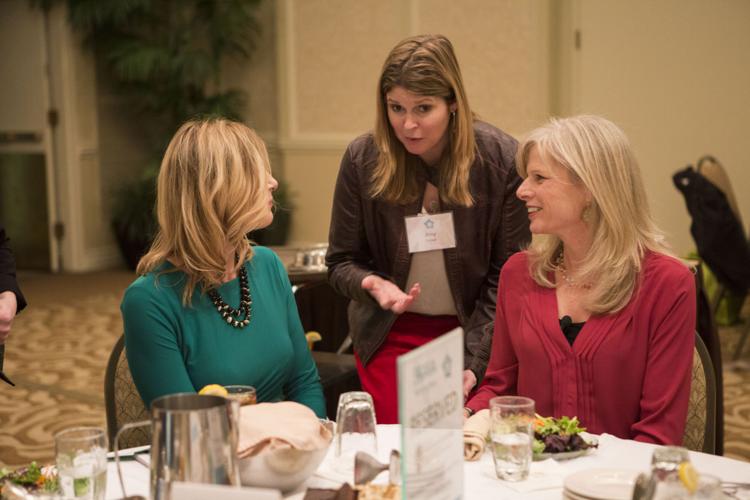 "It helps to make a difference in kids' lives, and the fact that kids are getting paid internships and going to college, particularly low-income kids of color, I think is a difference maker for a bunch of kids in this community," said Michael Johnson, CEO of the Boys & Girls Club of Dane County.
A study conducted by the Wisconsin HOPE Lab found participants achieve better grades, attendance and enrollment rates in Advanced Placement and honors courses than their peers. Ninety-four percent of AVID/TOPS students graduate high school and 73 percent go on to college, compared to 62 percent of qualified students who aren't in the program.
With her own money and a grant from her family's Burke Foundation, Burke provided the funds needed to launch the program and partnered with teacher Kate Brien to make it happen. She has remained involved ever since, both financially and in its operations.
"It's basically my child," Burke said, noting that students in the program she met as high school freshmen and sophomores are now graduating from college.
Burke has also maintained a long-standing relationship with the Boys & Girls Club as a mentor, donor and, for several years, its president.
"Mary is, she's one of those coaches that want to see results, is very hands on. Very creative in her thinking," Johnson said. "She is very data-driven. Everything is about data and moving the needle, which I think is a good attribute for a volunteer to have."
In January, the Burke Foundation announced it will donate $2.3 million to the Boys & Girls Club over the next three years to help expand AVID/TOPS. Along with that, the American Family Insurance Dreams Foundation pledged $1 million over the next five years.
"If there wasn't a Mary Burke, I don't think there would be a successful Boys & Girls Club," Johnson said. "There's a lot of projects that she supports behind the scenes. I think that there would be a lot of projects in this city that probably would not have come to fruition without her leadership and her support. And she's been a trailblazer."
Burke is also serving her second term on the Madison school board, which allows her to focus on K-12 education, which she said is "the most important driver of not only an individual's success and satisfaction in life, but the future of our community."
Shortly after the 2014 election, she joined the board of directors for Great Lakes Higher Education Corporation, which administers student loans. Chairman and CEO Dick George said he had long sought Burke for the position.
"Mary is one of those unique individuals who not only is a philanthropist in her own right, in terms of monetary contributions to this objective, but spends an enormous amount of time and personal energy directly involved in supporting these programs," George said.
Burke has a strong understanding of gaps in access and achievement, George said, and she boasts a "rich understanding of financial operations and management."
Burke's latest venture is similar in many ways to running for office. She is raising money, building a team and creating a network of supporters. But she insists she's not interested in mounting another campaign for governor.
"It was the right decision at that time, given that no one else was really stepping up to run who could mount, I think, the type of campaign that was needed to win. But I don't think that'll be the situation in 2018. And I am really focused on the work I'm doing in building this new organization, and that's where my passion lies," Burke said.
She's referring to Building Brave, set to launch next fall. Burke is vague on details about how it will work. "You'll have to stay tuned," she said coyly.
"The mission of Building Brave is for women to realize and believe in their potential. And to have the courage and the support to get out of their comfort zones, to take risks and to have, frankly, the skills and the knowledge to feel confident in their efforts," Burke said.
Burke worked with Kelly Ehlers, president and founder of the Madison-based agency Ideas That Evoke, to develop a branding strategy for Building Brave.
Ehlers said she met Burke after receiving an email out of the blue this fall. Ehlers had been on the cover of Brava magazine for her entrepreneurial efforts and Burke sent her an admiring note. She thought she could benefit from Ehlers' expertise and guidance on her new project.
They started with Burke's ideas and whittled them into a concept and a name. Ehlers described Burke's approach to work as "very collaborative," recognizing her strengths and weaknesses and seeking experts in other areas to round things out.
They arrived at the concept for Building Brave after Burke held a series of focus groups with women in Madison and Milwaukee, seeking ideas for how she could best make a difference for women and girls throughout the state.
At its heart, Building Brave is about confidence. It's a word Burke uses a lot.
Men are four times more likely than women to ask for pay raises and she wants to change that. Studies show that men will apply for a job if they meet 60 percent of the qualifications listed while women tend to do so only if they are a 100 percent match. She wants to change that, too.
The goal of Building Brave is to empower women, both personally and professionally, to encourage them to take more risks and to help them find the confidence to bounce back from failures.
"I think what Mary is doing is absolutely bold, but it's incredibly doable," Ehlers said. "I think that she is stepping out of the norm. She's creating an organization that there is a great need for, and I think it's disruptive and it's different."
Burke believes the organization could not only benefit the lives of individuals, but improve a society that's held back by an entire gender not realizing its potential.
Building Brave will "change the conversation about women and stepping out of their comfort zones," Ehlers said.
Another lesson Burke said she learned during the campaign is that overcoming setbacks is a choice.
"I wish I had understood that when I was 28 years old," she said.
At that point in her life, Burke had graduated from Harvard Business School and asked her dad for a job. He didn't have anything for her at the time, which was annoying but not surprising to her. She worked elsewhere until Trek's vice president of finance left and she was offered that job.
About a year later, she found a letter her father had written to his board of directors, to be opened in the event of his death. It said the company should be left to her younger brother, who had started working for the company right out of college.
"I was mentioned as a footnote. Something to the effect of, 'If Mary wanted to stay, it'd be good to find something for her,'" Burke said. "I was devastated. And I was shocked. This was coming from my dad, who I adored. I had put him on a pedestal. What he thought mattered more to me than anyone else in the entire world. And it was a blow to my dreams that I had been dedicated to and worked hard for as long as I could remember. I saw it as a judgment of who I was and my potential."
All her life, she had wanted to follow in her father's footsteps. After reading the letter, she felt ashamed and embarrassed — and she wanted to hide that shame. So she didn't talk to anyone about the letter for 20 years.
In hindsight, she knows that handing down a company from father to son was normal for someone of her father's generation. But for two decades, she let the letter undermine her confidence and her aspirations. She wishes now that she would have used it as an opportunity to bounce back, even more determined than before.
Thirty years later, not only does she feel like she's capable — she wants to help women and girls see that in themselves.
She was aware of that responsibility and opportunity as the first woman to win a primary election for governor in Wisconsin, and her sense of it continues to grow.
"Every little girl or little boy should believe that they can aspire to that, and not to see it be based on a certain gender," Burke said. "So I was definitely aware of a role that I could be playing to help inspire young girls. And I want to continue to provide that. It doesn't matter to me whether it's a young woman or a girl who's on the Republican or the Democratic side. It's about seeing yourself and believing and going after your dreams, and it shouldn't matter based on gender."