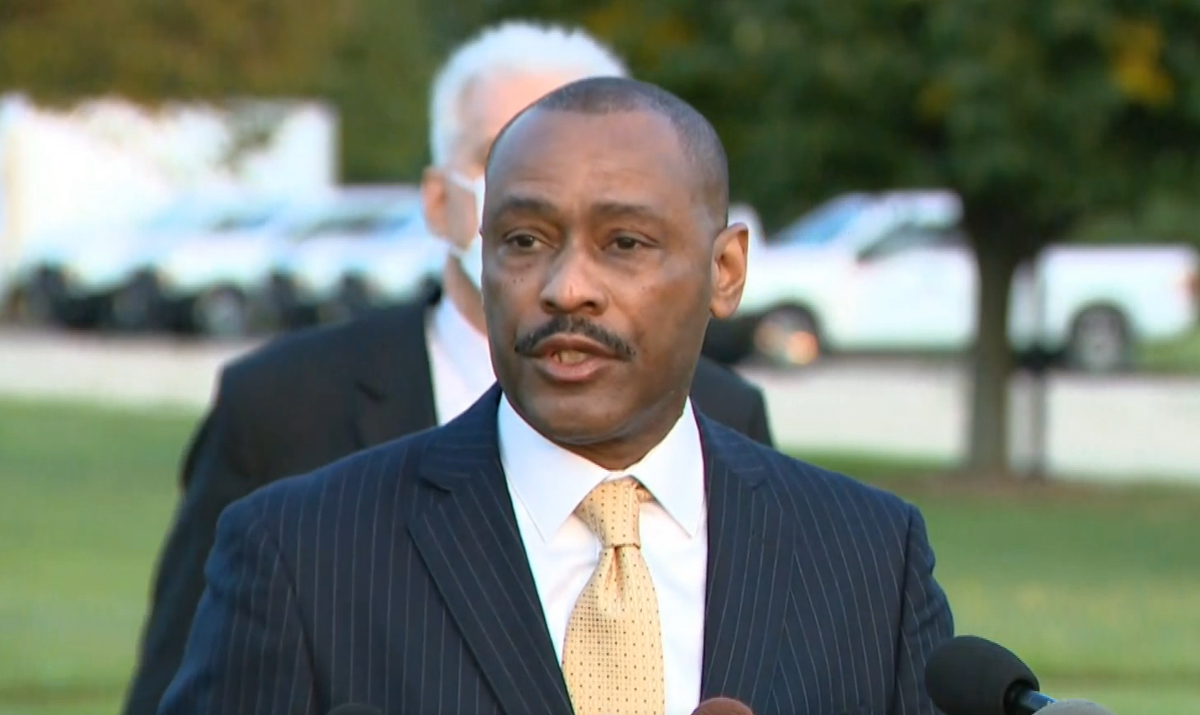 The Wisconsin Department of Justice has announced a former Madison police chief will review the agency's investigation into the Kenosha police shooting of a Black man, adding another layer to the ongoing probe.
The news, announced Monday, means retired Chief Noble Wray will consider the DOJ report before it's sent on to Kenosha County District Attorney Michael Gravely, who will ultimately decide whether to pursue charges against the white police officer who shot 29-year-old Jacob Blake in the back seven times on Aug. 23.
But before it heads to Wray, the DOJ will need to wrap up its investigation into the high-profile incident that left Blake paralyzed from the waist down and sparked renewed protests against police violence across the country. The probe, Attorney General Josh Kaul said, is "in the final stages" and he pledged the file would be "turned over soon," though he didn't give a specific timeline.
Both Kaul and Gravely in a Kenosha news conference praised Wray's nearly 30-year-long career with the Madison Police Department, including his tenure as chief from 2004 to 2013, and his time spent at the federal Department of Justice pushing for law enforcement overhaul measures. 
"I have the utmost confidence both in Chief Wray's expertise and the fairness with which he is going to approach this," said Kaul, who hand-picked Wray for the role.
Blake's shooting drew international attention as outrage spread and demonstrators and counter-protesters spilled into the city. A 17-year-old Illinois resident, armed with an AR-15 semi-automatic rifle, was charged with killing two protesters and injuring a third, professional athletes refused to compete in the wake of Blake's shooting and both President Donald Trump and his Democratic challenger, Joe Biden, visited the city.
Wray's selection, which came at Gravely's request, leaves the former Madison chief with the responsibility of reviewing the investigation report and providing analysis to the Kenosha County district attorney as he makes a charging decision. He's also able to serve as a consultant for the DA as needed. 
Speaking at the news conference, Wray, said he was "honored" to be brought on to a case as an impartial consultant, adding that he wants "the best for this state and the people of this state." 
"I have not prejudged the case, and I know as an experienced investigator that you may hear something or see something or someone may report something to you and then after you look at the full weight and body of the investigation, you realize that it may not be exactly what you thought at the beginning," he said. "So I have not prejudged this." 
Going forward, it's unclear how long the review process could take or when any potential charges could be revealed.
While the DOJ shared details gleaned during the course of its investigation into that shooting, Kaul was tight-lipped Monday, declining to provide "any further factual updates at this point."
Information that is and has been shared, he said, seeks to "give a basic description of the facts" without aiming to resolve any areas of dispute but instead "identify the different versions and the different statements that have been provided" and forward it to the DA.  
Kaul had previously identified Blake's shooter as officer Rusten Sheskey, who served on the force for seven years and was the only individual to fire his weapon during the incident. The agency in a separate updated reported that two other officers, Vincent Arenas and Brittany Meronek, were also on the scene.
The shooting occurred after officers were dispatched to a home on the 2800 block of 40th Street in Kenosha after a female caller reported her boyfriend was present and was not supposed to be on the premises, according to DOJ.
Officers then tried to arrest Blake. Sheskey and Arenas attempted to use their Tasers, but DOJ said they were unsuccessful in stopping Blake. Blake walked to his vehicle, opened the driver's side door, and leaned forward. While holding onto Blake's shirt, Sheskey fired his gun seven times into Blake's back.
The ensuing investigation found Blake acknowledged at one point that he had a knife in his possession, and agents recovered a knife from the driver's side floorboard of Blake's vehicle. No other weapons were found. 
It's unclear whether officers saw a knife or whether Blake had been holding one during the incident; DOJ in its updates never provided clarification on that point.
The lawyer representing Blake's family, Ben Crump, disputed that account in a statement after Kaul's initial update last month, saying that witnesses had confirmed Blake wasn't in possession of a knife and didn't threaten officers. 
"Jacob did nothing to provoke police," the statement said. 
The Kenosha police union in its own statement last month alleged Blake held a knife in his left hand and ignored officers' orders to drop it. It also said Blake "forcefully" resisted arrest and fought with officers, putting one in a headlock. 
If the DA's office decides not to file any charges, the DOJ's Division of Criminal Investigation, which has been conducting the probe with the help of the Wisconsin State Patrol and the Kenosha County Sheriff's Office, will likely make its report of the incident publicly available. 
The U.S. Department of Justice has launched its own federal civil rights investigation into Blake's shooting, officials confirmed last month, in a parallel probe that's led by the Federal Bureau of Investigation. A spokesman, reached earlier Monday, said he couldn't comment on the status of any ongoing investigations.
Sign-up here for the Campaign Notes newsletter to get important Wisconsin politics updates in your inbox each Thursday, now through Election Day. 
Get Election 2020 & Politics updates in your inbox!
Keep up on the latest in national and local politics as Election 2020 comes into focus.