Members of Wisconsin's juvenile corrections panel peppered Milwaukee County officials on Monday with questions over their plan to obtain state dollars for facilities to house youth inmates. 
The proposal, which carries an unknown price tag, could include leasing spaces in the city and expanding or remodeling the Vel R. Phillips Juvenile Justice Center to add 32 beds for a secure residential care center in light of the closure of the state's two youth prisons by mid-2021. 
Still, Milwaukee County officials said during their presentation in Madison that they expect the overall project will cost less than the $41.8 million figure they initially included in their proposal submitted to the state earlier this summer. That's because they're looking at serving fewer youth than they first anticipated. 
But they noted they wouldn't be able to get more concrete cost estimates to the panel until next month, when members are required to finalize recommendations to the Legislature's budget committee surrounding which of the projects should get the green light. 
Department of Corrections Secretary Kevin Carr told Milwaukee officials that without "any solid numbers, we're not going to be able to move forward with this." 
"We can't fund an idea," he said. "We have to fund a project."
Milwaukee County is one of four in the running to obtain funding for a facility. Its initial prospective costs of around $40 million were on par with plans from two other counties: northeastern Brown and southeastern Racine. Officials from those areas presented their proposals to the committee last week.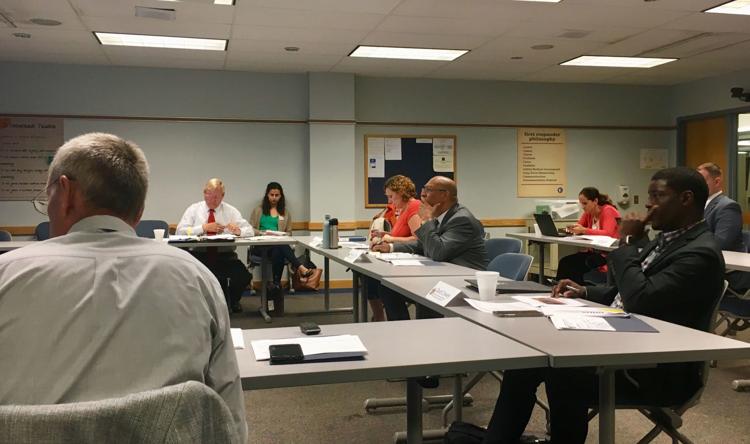 Dane County, whose representatives also presented to members Monday, is carrying the lowest costs, at between $3.5 million and $5 million to update the downtown Juvenile Detention Center. 
The counties officially submitted their application materials to the state in early July to construct facilities for the inmates, who are to be displaced from the two state-run youth prisons, the Lincoln Hills School for Boys and Copper Lake School for Girls in Irma in the wake of allegations of misconduct and abuse. 
Lawmakers and former Gov. Scott Walker last year approved a plan to replace the youth prisons with smaller, regional facilities, an expanded youth treatment center at Mendota Mental Health Institute in Madison and a few state-run facilities for youth who have committed more serious crimes.  
Dane County's plans include adding space on the west side of the City-County Building. It also includes using a vacant housing pod in the detention center for an 18-bed program for boys and about five beds for girls.  
The county included $3.96 million in its 2019 capital budget for renovations to the detention center, which would be mostly reimbursed by the state. In the application, officials said Dane County would need $4.5 million to safely budget for the project. 
Dane County Juvenile Court Administrator John Bauman, who said the county could begin construction on the building in February, with the facility ready to occupy in April 2021, added officials could do little to further reduce costs in their plan. 
"We don't have a lot of fluff built into this," he said. 
The biennial budget allocated $80 million in borrowing for county-run facilities, though altogether, the four applicants are seeking $130 million. The two-year spending plan, which Evers signed in July, also includes $47 million in funding for state-run facilities for more serious juvenile offenders and $59 million in borrowing for an expansion of Madison's Mendota Juvenile Treatment Center.  
For Milwaukee County, Health and Human Services Deputy Director David Muhammad said officials could get cost estimates to committee members by Sept. 26. But members pushed back on the timeline and urged the county to get them figures ahead of their planned Sept. 16 meeting, when the commission is seeking to finalize its statewide plan ahead of the Oct. 1 deadline. 
Muhammad also noted the county's modified approach came about because officials wanted to be "faithful to the outcomes we want to see happen," as well as ensure that the proposal complies with the Legislature's intention in its bill closing Lincoln Hills and Copper Lake and setting up the process. 
GOP Sen. Van Wanggaard, of Racine, said even if the cost estimates aren't available doesn't mean officials couldn't reconsider the county's proposal at a later date. 
"It doesn't mean that, if somebody's not right where they need to be, we don't expect you to rush through it so that you don't get it right either," he said. "Because there is going to be a need and there is going to be additional funding that's going to be need to be derived to make this happen to begin this, so we're all aware of that."