On a Friday night in May of 2015, Rev. Alex Gee and a group of community leaders stood on a stage at the Alliant Energy Center in front of 700 people. Representing the Justified Anger Coalition, they presented to the public "Our Madison Plan," a document outlining what it would take to narrow the intense racial disparities in Dane County.
"It's African-Americans coming together in ways I've not seen in my 30-plus years in this community to lead," Darrell Bazzell, then the vice chancellor for Finance and Administration at the University of Wisconsin-Madison, said of the effort. Bazzell left Madison for the University of Texas in early 2016.
"I found the solution to our racial disparity issues," Gee said, indicating the crowd. "We are the solution to this problem."
The plan identified areas of focus: education, economic development, mass incarceration, family and community wellness and leadership development. The coalition planned to raise $1,575,000 to train staff and start community initiatives. 
In the two years since, Justified Anger hasn't hit the news much, leaving some to wonder what the organization has been up to.
"My first thought when I'm thinking about Justified Anger is, I wonder where all that money went," said Ja'Mel Ashely Ware, founder and CEO of Intellectual Ratchet, a company that aims to build diverse networking spaces and events. "I think a lot of people have those thoughts." 
It's a particularly potent concern because competition for funding can be fierce in Madison, he said.
"It's disheartening to see so much financial backing behind something that I personally cannot see in action," he said. 
A recent Facebook post by Michael Johnson, CEO of the Boys and Girls Club of Dane County, contained a similar criticism. 
"I don't (want) to fight you publicly but you raised a half of million dollars for Justified Anger and have not reported ONE outcome to the community," Johnson wrote. 
The post was later removed and Gee and Johnson publicly made up, but it may have been reflective of a broader sentiment.
"We keep our ear to the street. I've heard good and bad things about it," said Caliph Muab-El, a local community organizer and member of the Focused Interruption Coalition. "I know there's a lot of people angry at Justified Anger. I know Alex Gee is a good guy."
A PROCESS, NOT A PROGRAM
Gee, pastor of Fountain of Life Church and leader of Justified Anger, has heard the criticism and thinks much of it comes from a misunderstanding about what the organization is and was meant to do.
 The coalition grew out of a 2013 essay Gee wrote for the Cap Times titled "Justified Anger." The piece detailed his frustration with ongoing disparities and racism in Madison.
"I feel that at this juncture in my life and career I have the responsibility to voice the concerns that many of Madison's disenfranchised African-American residents experience regularly," Gee wrote. He said Madison was capable of addressing those issues and he challenged the entire community to become involved in the effort.
Readers responded enthusiastically to the call, tweeting, texting, calling and emailing Gee to ask how they could get involved. In response, Gee held a town hall meeting in February 2014.
That town hall led to the formation of the Justified Anger Coalition, with a stated mission to "eliminate racial disparities and create opportunities that empower the African-American community to achieve its full potential and prosper."
A year later, Justified Anger published "Our Madison Plan" which outlined strategies and timelines to eliminate local racial disparities.
That's where people start to get confused, Gee said. That plan was a recommendation for the broader community. But people tend to read it like a personal plan, he said.
 "They read 'Our Madison Plan' and think,'Thank God, Alex is going to fix this for us. The black community is going to fix this for us,'" Gee said.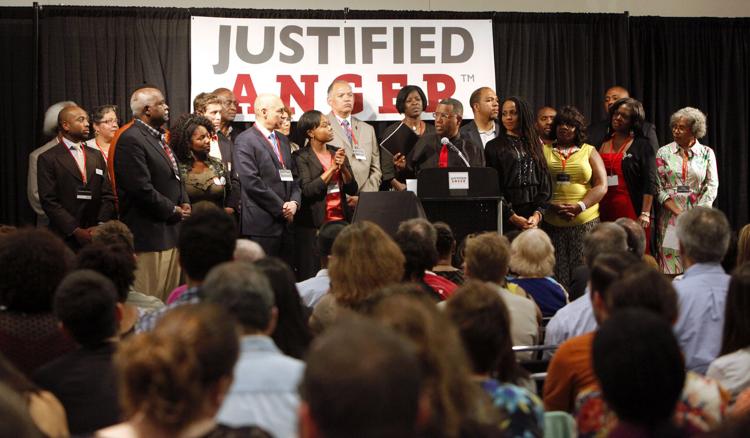 Eliminating disparities is a group effort, he said.
 "The 'Our Madison Plan' came from listening to African-Americans saying, 'In an ideal world, this is what would move the needle,'" Gee said. "But that's assuming Department of Corrections moves, the school district shifts, funders shift, the university shifts."
 Justified Anger is doing its part to move the needle, Gee said, but while people expect that to take the form of programs, Justified Anger is meant to be a mobilizer. 
"We made a conscious decision as a coalition that the goal of Justified Anger was not to be another provider of programs and services," said Kaleem Caire, founder and president of One City Early Learning Centers and one of the original coalition members.
There are enough programs in the community, Gee said, and they're doing a good job. Justified Anger isn't here to replace the Urban League or the Boys and Girls Club, he said.
Instead, Justified Anger's product is a process, said Karen Reece, director of research and program evaluation at Nehemiah Center for Urban Leadership Development, Justified Anger's nonprofit partner.
"Programs are great, we need programs, we need direct services to people," Reece said. "But the missing piece in this puzzle is how do we coordinate all these things and how do we take the entire community and move the needle on racial disparities? Individual programs can't do that."
You can have all the programs in the world, Gee said, but they won't do any good if people don't have hope, inspiration, purpose or social support to take advantage of them.
"You can't ask someone who's comatose to swallow tablets. So why deliver programs to people who are culturally and emotionally comatose?" Gee said. "We're not working magic, I just think we're doing some of the groundwork that makes the programs that are already funded work and stick."
 That process is currently taking three forms: educating and recruiting the white community to take part in the effort, empowering African-American leaders in the Meadowood neighborhood and organizing "tables" of experts on topics like education and incarceration to push for collective policy change.
 But process is harder to track than programming, Reece said.
 "If trying to describe this is tricky, measuring it has got to be tricky as you-know-what," Gee said. "How do you measure the eradication of hopelessness and the presence of hope?"
Justified Anger is not alone in this struggle to communicate with funders and the community. Nonprofits routinely face funders who want numbers when their questions may suggest qualitative approaches to an evaluation, said Lori Bakken, an associate professor at UW-Madison who studies evaluation of nonprofits.
"A lot of people underestimate and misunderstand how difficult it is to track some of that info, measure it, assess it," Bakken said.
 Justified Anger hasn't given up trying to measure results, Reece said, it will just take longer to determine the appropriate metrics.
 In the meantime, Justified Anger is in the business of changing hearts and minds, said Harry Hawkins, director of operations.
MEADOWOOD: ADDRESSING HOPELESSNESS
Daphne Maymon lives in Meadowood, where Justified Anger chose to start its community work. She's an example of how the group can create hope, Gee said. 
Eighteen months ago, Justified Anger hired Jackie Hunt, a professional substance abuse counselor, as a community organizer for Meadowood. Her job was to listen to community members and identify and empower leaders.
"I was met with a lot of resistance: Who was I to come to the community? Who was Justified Anger?" Hunt said.
 She understood the pushback. The community had seen plenty of organizations and nonprofits come in with promises to fix things and create programs that didn't match needs or failed to follow through, she said.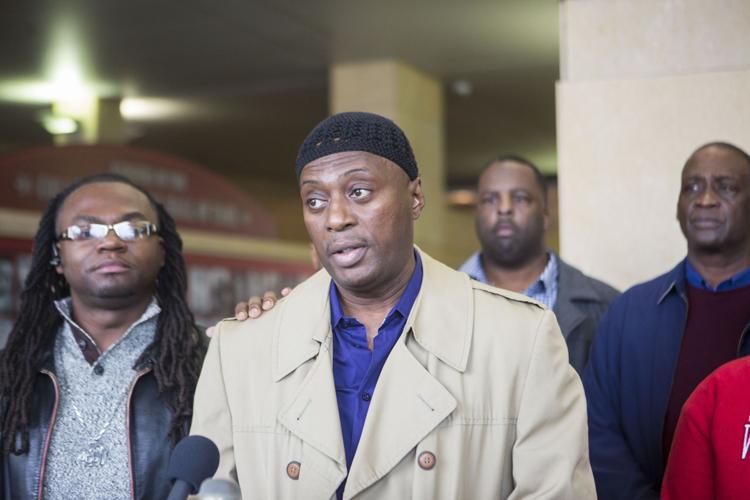 After building trust, she found people who had potential to lead, so she hosted a free one-week workshop called "Exploring the Principles of Leadership."
"If they say they want to be community leaders, let's make them community leaders," she said. "Most of them were doing things already, you know, but it just kind of helped put a name to what it was they were doing."
Maymon was one of the students in the class. She loved to cook and she was always doing it: barbecues, picnics, her house, wherever.
"I just get a thrill out of cooking, that's all," she said.
 Maymon had an idea to create a soul food social night for African-American elders in the community. Hunt helped Maymon pull it all together and even dished out plates when the event became a reality. More than Hunt's logistical help, Maymon said Hunt inspired her. 
"It's just her demeanor, it's like she has a halo over her head," Maymon said. "She don't try to tell you what to do or nothing like that. She just puts some inspirational things within you."
Gee said that's the type of model Justified Anger is hoping to replicate in three neighborhoods over the next several years. The group expects to release literature for the model in three months.
 "You look at (Maymon) and just think, well, you can cook, you've got an oven, you've got 10 pans, just do it," Gee said. 
But Maymon didn't know that people would accept the idea and cheer her on, he said.
 "What gets me up each day is that people believe in me," Gee said. "That didn't get Daphne up before because people didn't."
 Sabrina "Heymiss Progress" Madison, creator of the Black Women's Leadership Conference and Black Business Expo, said she doesn't know much about Justified Anger's other efforts, but when she looks at Hunt's work in Meadowood, she likes what she sees: building relationships and empowering women.
 "How I work with women, she does the same thing," Madison said. "I see her on a regular basis working with those women and creating programming from their perspective."
 Empowering women creates ripples of positive effects, she said.
"When you impact women, you really can shift the dynamics of an entire neighborhood," Madison said. "I think that in five to 10 years, it will be a safer, different neighborhood.
Not everyone has been as impressed.
"Alex Gee, quite frankly, has had no impact on the Meadowood community," said Tutankhamun "Coach" Assad, founder of the Mellowhood Foundation, an organization that aims to empower youth in Meadowood.
 While Justified Anger is critical of previous efforts that came into the community without listening or galvanizing local leadership, Assad said Gee is guilty of the same things. Hunt was brought in instead of hiring someone from the neighborhood.
They get away with it, Assad said, because Justified Anger is a black-led organization. Assad said he believes this extends to funding; Justified Anger is spending money, but nobody is asking how they're spending it. 
"Some of the white progressives are driving this disparity," Assad said. "A lot of the people who drop scads of money on Alex Gee don't ask for accountability."
Assad said he respects Gee as a pastor and father, but Justified Anger's work in Meadowood has been disruptive rather than productive. 
"This is not some sour grapes. I'm happy, blessed, slowly working at what I do. But I'm getting sick of watching children I could help if I had more funding go by the wayside."
SHOW ME THE MONEY
Caire said Gee has been careful with money, but finds Assad's criticism fair.
 "It's a nonprofit, ask him where has the money been spent and how much is left," Caire said. "(Gee) hasn't spent as much as they think he has. He's very cautious about that." 
Gee agreed that Justified Anger's finances are fair game. 
 "If my books are cooked, you need to do a story on that," he said.
 While Justified Anger planned to raise almost $1.6 million, it only received about $500,000, $150,000 of which came from the Evjue Foundation, the charitable arm of the Cap Times. 
In January of this year, Justified Anger had just over half of that money still available, Hawkins said. The rest has been spent on staff (two full-time employees and three part-time employees), stipends for community volunteers and instructors, pilot programs like Maydm (a coding class for youth in Meadowood), office expenses, software, meetings and advertising.
 Hawkins and Gee accept the criticism about their lack of transparency about money and messaging in general.
  "We've been so cautious about not wanting to mis-message," Gee said. "I acknowledge, I accept, that we probably have not communicated as often, as frequently as we might."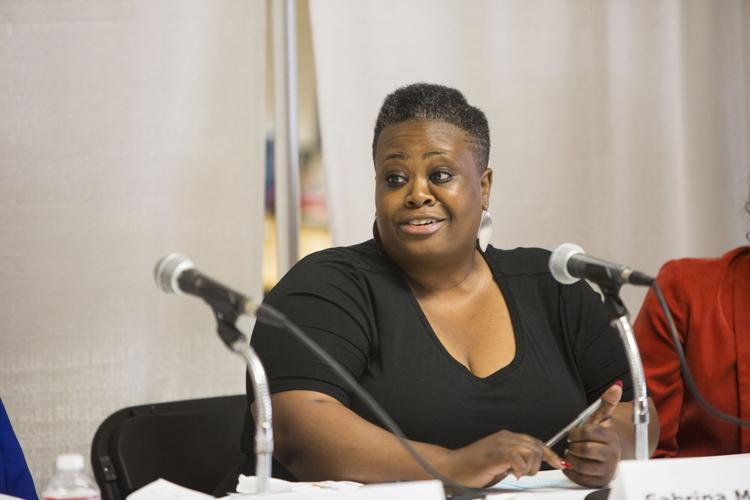 Gee also noted the minefields around messaging.
 "If we're too abrupt, I'm an angry black man and I'm muted. If we're too slow, I'm a sellout," Gee said. "If we celebrate ourselves as black saviors, we'd be crucified."
Pia Kinney James, a retired crime scene investigator and member of the original Justified Anger incarceration workgroup, points out that criticism has to be directed at the whole Madison community. While Justified Anger has been doing what it can since the beginning, others haven't been taking the effort as seriously, she said.
WHITE MADISON: ADDRESSING CLUELESSNESS
Gee has always said Justified Anger was meant to be black-led, but community implemented. To make that a reality, Justified Anger is working to get the white majority on board, Gee said.
 If many in the black community are hopeless, many would-be white allies are clueless, Gee said.
"Can I do anything? Can I say anything? Can I help? Am I part of the problem? Am I bad because I'm white? Am I racist because I'm white?" Gee said.
 To help answer these questions, Justified Anger started Black History for a New Day, a multi-session class with over 400 participants.
 The class traces systemic racism throughout the history of the United States, and it aims to motivate participants to do something about it, Gee said.
 "If you think you've watched 'Roots' and seen 'Get Out,' and you're good, that's how things stay the same," Gee said. "What's going to be your role in dismantling the systems?"
 Madison said education is crucial.
 "I can't tell you how many white people in Madison don't know things," she said. "Did you grow up in a bubble or a box? And actually they did. The bubble or box has been Madison."
Participants said they were often surprised at what they learned, and called the class eye-opening and heart-wrenching. Sometimes they were angry that they went through high school, college and even graduate school without learning what the class covers. 
Ron Konkol thought he understood racism until he took the class with his wife. 
 "We're liberal, and we thought this wasn't an issue for us," Konkol said.
 The class forced Konkol to acknowledge how much he didn't know as it traced the far-reaching effects of the slave trade, systemic housing discrimination and intentionally racist government policies.
"My degree and majors are political science and history, so I had it nailed, so I knew all this stuff," he said. "(But) I was seeing these same facts, dynamics and mechanisms of government from a black perspective." 
One of the last classes discussed next steps participants could take, one of which was a simple directive to tell others what they had learned.
That was easy for Adam Wood, who found he couldn't stop talking about it.
 "I talk about race a lot more, probably to the point of being, 'Oh gosh, here comes another conversation about race,'" he said.
 Wood works in grassroots political organizing and the class has changed the way he works to engage African-American communities. Other class participants signed up to get involved with Nehemiah and one member started thinking about recruiting African-American women to a Certified Nursing Assistant program.  
 Jackson Founder, CEO and president of Catholic Charities Madison, took the course. He read the original Justified Anger essay, knew things had to change and contacted Gee.
 As a result, Catholic Charities hired someone to help with diversity and inclusion, and changed recruiting and hiring practices. They also started to develop partnerships with organizations of color like Justified Anger, the Latino Professionals Association, Madison Network of Black Professionals and the Urban League of Greater Madison.
"It's not rocket science, when we approach the issue of race and equality really from the standpoint of curiosity and compassion," Founder said.
BRIDGING THE GAP: ADDRESSING POLICY
Once you address cluelessness and hopelessness, real change can happen, Gee said, because then black and white can effectively work together. 
 "As long as you've got white Madison and black Madison, and no one's bridging it, we're going to keep having two Madisons," Gee said.
 In Meadowood, Hunt's work with African-American leaders is only one side of the story. Justified Anger is also working with three predominantly white churches in Meadowood: Good Shepherd Lutheran Church, Madison Mennonite Church and Orchard Ridge United Church of Christ. Justified Anger recently hosted a five-week course for the congregations on cultural competency. 
The class looked at past ministries in the Meadowood area, analyzed which were successful and whether race played a role in that success. 
Joe Brosious, an associate pastor at Good Shepherd, acknowledged that congregations often jump in and offer services without asking what the community needs.
"We're Lutheran. We can organize and plan and run a great food pantry and serve a meal with five types of Jell-O," he said. "But how well do we know our neighborhoods?"
 White leaders can't put the impetus for changing the entire city on Gee, he said.
 "It's way too big of a problem for any one person," Brosious said.
Justified Anger members know the problem is bigger than them and are working at a policy level, creating "tables" of experts on topics like education and incarceration to try to get the community on the same page to strategize.
 Jerome Dillard, state director of Ex-Prisoners Organizing (EXPO), said the diversity of incarceration table members at the table, including those working in criminal justice and formerly incarcerated individuals, gives him hope about the potential to create change in the criminal justice system. 
"I think it's pretty unprecedented as to those we have on the team," he said. "I know some constructive action and recommendations will come out of this team."
 Ezi Adesi, director of adult basic education at the Literacy Network, is on the education table. 
"I came with the expectation to (be) proactive and productive in manifesting some solutions," he said. "So far it's been great, it's been everything I've expected."
'WE'VE ALL GOT TO WORK AT IT'
Gee understands the questions about Justified Anger's progress, and expects to be held accountable as a nonprofit. 
But he also wants people to examine their expectations.
"As soon as you just say, 'What are you going to do?' then you're talking to the hired help," Gee said. "Then I work for you, and you have no responsibility.
"The true question has got to be, 'What is Madison doing?' Because what 'Our Madison Plan' indicates is it's going to take a multi-agency, multi-municipality, multi-neighborhood approach to make this all work." 
Racial disparities were created on the collective watch of the school districts, university, mayors, county executives, foundations and nonprofits, Gee said. So ask Justified Anger what they're up to, but ask other organizations, programs and leaders as well, he said. 
"We've never said, 'Stop, we're here, we got this, we have $500,000,'" Gee said. "We've all got to work at it." 
That means other organizations and individuals have to help carry the financial load of change, Michael Johnson said.
 "Justified Anger can't do it by themselves," he said. "At the end of the day, if the resources are not there, we'll be talking about these issues for years to come."
 Gee said he wants people to take another look at "Our Madison Plan," explore Justified Anger's website, consider donating to Justified Anger, ask themselves what they can do and do it.
 "This will not work without the participation of the white community," Gee said. "I will serve this city, but I will not be a scapegoat for its racism. And when we eradicate it, I will not be the posterboy for that either."
 But even though he knows the road ahead will be hard, Gee is hopeful.
"I'm staking a lot on the fact that this will work; my reputation, my energy," he said. "I know what human nature is when it's at its worst. I've seen it, my family's lived through it. But I believe there's got to be a flipside to that … We can still call out the best of us as individuals, and I think that's a part of Justified Anger's work."