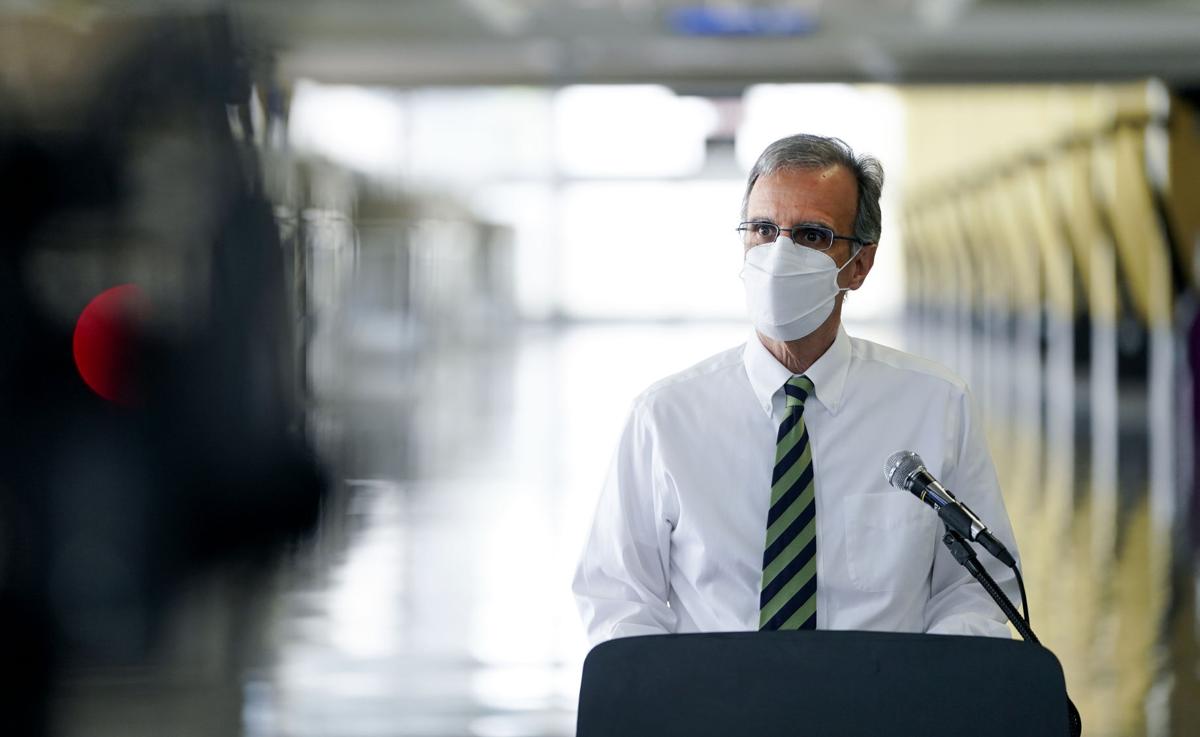 Unlike past budgets, Dane County Executive Joe Parisi's proposal for 2021 is light on new policy initiatives, but this is also the first spending plan crafted during an unprecedented global pandemic. 
Parisi said in his budget memo that the $615.5 million operating budget and $71.6 million capital budgets buffer county services and employees from the "greatest financial losses county government has experienced since the national Great Recession." 
"My focus is placed squarely where it needs to be: protecting what we've worked so hard to establish," Parisi said in his budget memo. "Deep reductions to critically needed services that comprise our safety net would be counterintuitive to what our community needs right now."     
If adopted, the budget would increase property taxes on the average home by $30.18, stemming from a 3.4% levy increase. 
Parisi said any changes to the 2021 operating budget are funded through existing revenues and that his initiatives did use reserve fund dollars. He urged the Dane County Board of Supervisors to consider this strategy as they make changes to the executive's proposal. 
The board will begin budget deliberations during the week of Nov. 9. 
"Increases in spending without a way to pay for them will deplete our reserve at an inopportune time, potentially jeopardizing our bond rating and ability to manage future deficits we should anticipate as a result of COVID," Parisi said. 
Magnified challenges 
Parisi said creating the 2021 budget was "deeply challenging." 
Dane County's budget typically plans for approximately $68 million in sales tax revenue, or about a quarter of the county's budget. But this year, sales tax collections are expected to end the year down almost $12 million.
"My budget offsets these short term losses through use of $15 million from our rainy day fund," Parisi said. "These reserve fund dollars will sustain county government services largely as we know them for 2021, continuing our robust commitment to our community." 
$9 million from the Human Services reserve fund would be used to sustain hotel housing for individuals well into 2021.  
Unlike the Great Recession, this budget does not include across-the-board wage reductions or furloughs. Earlier in the summer, Dane County implemented a hiring freeze to mitigate some financial effects of the pandemic. Parisi said the hiring freeze is "indefinite" For now and depends on the longer-term effects of the pandemic on the county's overall revenue streams. 
"Steps such as furlough days or even rolling back a year's worth of wage reductions could have saved this budget upward of $5 million and reduced the extent to which we dip into our reserves," Parisi said. "To me the prospect of those savings, while significant at a timely juncture, would have been entirely inconsiderate of the difficult work our staff faced this year. Again, our budgets put people first." 
Noting that the pandemic has "magnified our underlying challenges," Parisi said the county's past work set a solid foundation for responding to the public health crisis. He noted Dane County's eviction prevention fund, the countywide school-based mental health network and a partnership with Second Harvest to provide food for those struggling in the community. 
To assist in pandemic recovery and ongoing response, Parisi is including $50,000 for the regional economic development organization MadRep. Also, he slated $150,000 to study the feasibility and benefits of longer-term remote work assignments and $2.5 million to acquire personal protective equipment and cover the ongoing expenses associated with contact tracing and testing.
Parisi announced his proposal at Dane County's emergency management office in the town of Blooming Grove on Stoughton Road. The budget also includes $4.4 million to upgrade a former Fitchburg fire station to be the new location for county emergency management offices.  
Parisi's 2021 budget proposal expands the county's training work with Operation Fresh Start — an alternative education program that helps students gain a high school education and job training in construction or conservation — by adding $50,000 to create a new crew that will prepare youth for potential careers with Dane County. 
Human services 
Funding for human services typically makes up the largest share of the entire county budget. In Parisi's proposal, funding for human services totals $239.5 million.  
The 2021 budget proposal includes over $900,000 to cover the cost of staffing a new  Behavioral Health Resource Center, to be located at  818 West Badger Rd., with clinically licensed behavioral health resource specialists, case managers and a peer support specialist.
"As County Executive, I believe it's critical we "go bold" and demonstrate decisive leadership when opportunities like this emerge to address disparities and improve economic justice,' Parisi said. 
Share your opinion on this topic by sending a letter to the editor to tctvoice@madison.com. Include your full name, hometown and phone number. Your name and town will be published. The phone number is for verification purposes only. Please keep your letter to 250 words or less.
Get Election 2020 & Politics updates in your inbox!
Keep up on the latest in national and local politics as Election 2020 comes into focus.