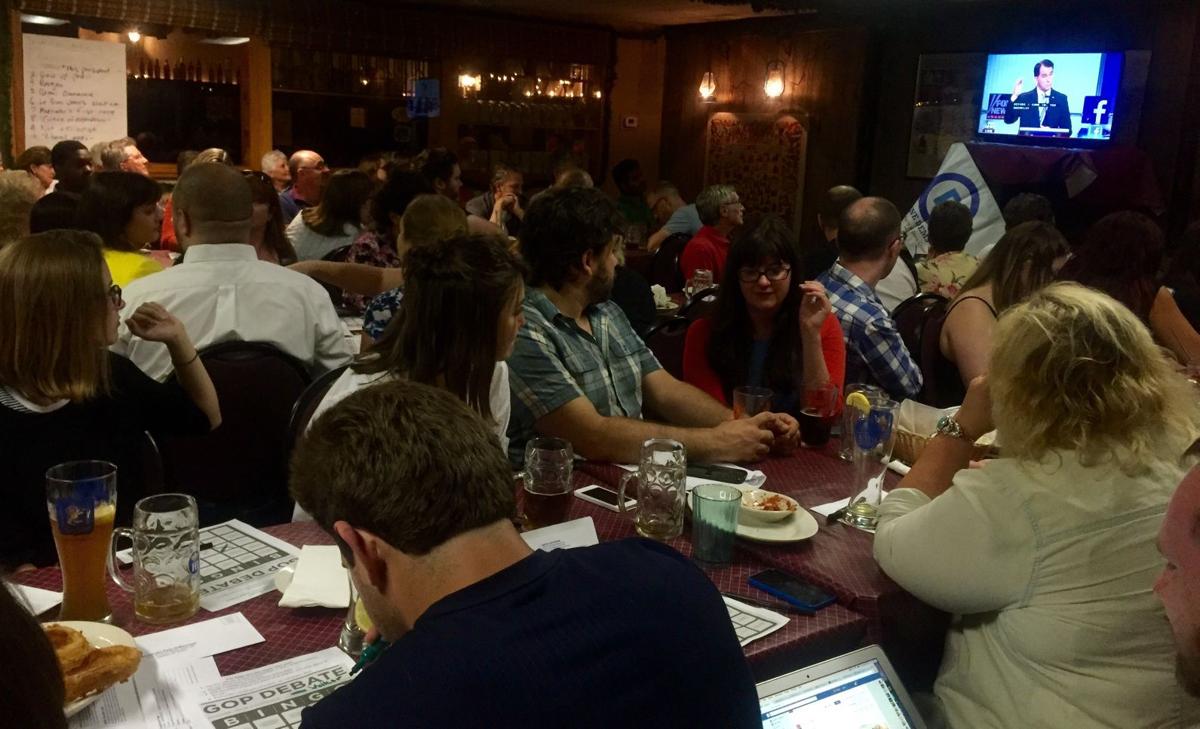 About a hundred people, some wearing "Solidarity" t-shirts, others sporting Hillary Clinton stickers or Russ Feingold buttons, packed into a room at the Essen Haus in Madison on Thursday night to watch Gov. Scott Walker participate in the first Republican debate of the 2016 presidential campaign.
Carmel Assa, situated with nine friends at a large round table, predicted that Walker would "talk about how he was able to stay strong and resolute against 100,000 teachers."
Becky Eastram, seated nearby, predicted the governor would quickly reference his cuts to Planned Parenthood.
But, admittedly, Gov. Walker wasn't the only Republican attendees were clamoring to see.
"I want to see Donald Trump attack other Republicans," said Joshua Sanchez, who had a "GOP Debate Bingo" card ready to go on the table in front of him.
Shortly after the debate kicked off at 8 p.m., with a rousing first few minutes courtesy of Donald Trump (the businessman told moderators right out of the gate that he would consider running as an independent if he doesn't win the GOP nomination), attendees settled in for the long haul: two hours of verbal fisticuffs from the top 10 candidates in the crowded Republican field.
"It's better than any sporting event I've ever attended," said Richard Slone, who was seated with his family.
"I'm just expecting them to be piranhas and eat each other up," said Sandi Penzkover. "Their egos really get in the way. They're making a mockery of the presidency. I just view them as little boys, adolescents arguing."
Gov. Walker didn't make an appearance, minus his introduction, which drew rolling boos and then laughter from the crowd, until 16 minutes into the debate. He was asked about his opposition to exemptions on abortion restrictions if a woman's life is at risk.
He responded, "I'm pro-life, I've always been pro-life … I believe that that is an unborn child that's in need of protection out there."
"That was hard to laugh at," said watch party attendee Ross Daniels, calling Walker's answer "morally repugnant."
"He really deflected," Daniels said.
As the debate continued, Gov. Walker fielded questions on his changing public opinions regarding immigration reform, his failed promise of bringing 250,000 new jobs to Wisconsin and foreign policy — but he wasn't racking up much time compared to other candidates.
By 9 p.m., an hour into the debate, Gov. Walker had only logged one minute and 54 seconds of speaking time, the least of all 10 candidates on stage, according to NPR.
The crowd, wedged into the Essen Haus meeting room and nursing their beers and eating cheese curds and onion rings, came to attention for each of Walker's turns, however. There was an especially loud response to the question about the governor's failed jobs pledge.
Attendees were also keen to point out when any of the 10 drinking game buzzwords surfaced during the debate — mentions of "Benghazi" or "repealing Obamacare," or use of the phrase "this president" all elicited murmurs, snickers and raised beer glasses.
During the second hour of the debate, commercial breaks allowed attendees to reflect on the performance of candidates — and moderators.
"The moderation is terrible," said Steve Arnold. "They're just trying to throw questions to roil the waters."
"I think anyone in this room could answer these questions more intelligently than any of the men on stage," added Nancy Arnold.
In the second hour, Walker fielded questions about racial inequality (he said officer training is key to addressing unnecessary force in policing) and foreign policy ("If I am president, he won't think about that," he said of Russian president Vladimir Putin's controversial interactions with Ukraine). Those statements earned several eye rolls and a smattering of boos and hisses from the crowd.
The arguably biggest reaction of the night, however, was when, nearing the end of the debate, the governor mentioned his face-off with "100,000 protestors."
At that point, cheers echoed through all of the Essen Haus.
His closing statements were met with mostly silence from the crowd.
After candidates' closing messages were complete, watch party attendees began packing up and filing out of the Essen Haus meeting room and adjoining bar areas.
"Honestly, I just got real sad," attendee Andrew Bennett said of the event. "I think (Walker) is probably going to read well to people who haven't been living in Wisconsin."
"I'm incredibly overwhelmed in many ways," said Dorothy Krause, reflecting on the debate.
She said the camaraderie, the sense of watching the debate and its accompanying spectacle with a like-minded crowd, made it bearable.
"I wouldn't have watched if I couldn't be in this room," she said. 
Share your opinion on this topic by sending a letter to the editor to tctvoice@madison.com. Include your full name, hometown and phone number. Your name and town will be published. The phone number is for verification purposes only. Please keep your letter to 250 words or less.