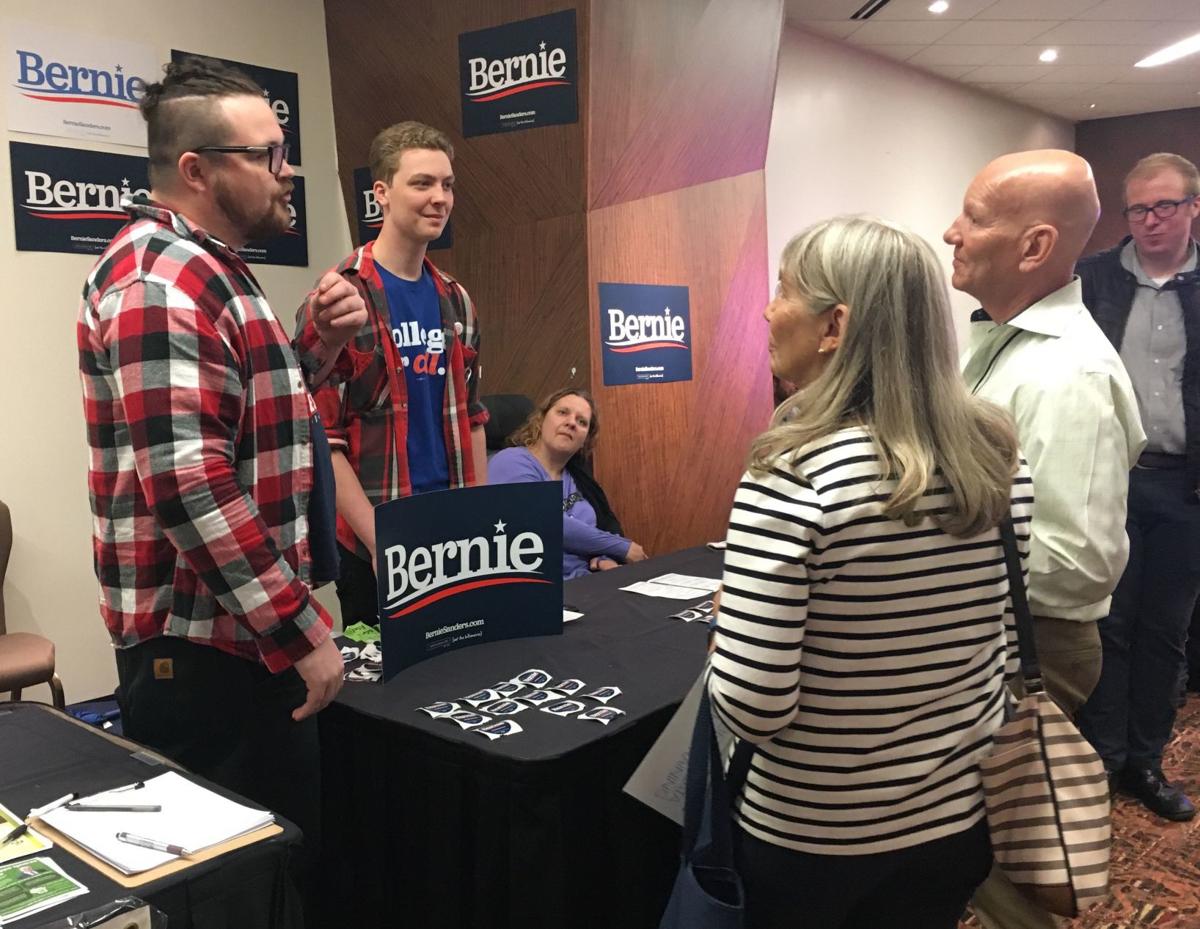 MILWAUKEE — Democratic activists are divided over who they want to take on President Donald Trump next year, as Wisconsin revs up for its role as host of the 2020 Democratic National Convention.
But many at the party's annual state convention played up the advantages that come from having a competitive primary race, drawing parallels between the burgeoning field of 20-plus White House hopefuls and the 2018 Democratic gubernatorial cycle, when more than a dozen sought to topple former Gov. Scott Walker.
"It's wonderful to have a wide-open primary. As we saw last year in the gubernatorial race, it really helped to get our message out and make our nominee stronger and helped us beat a Republican, and we need to do that nationally," said Kelda Roys, a former state representative from Madison who was part of that crowd of candidates. 
In all, just five of the Democratic presidential candidate campaigns had a presence at the Milwaukee convention on Saturday and Sunday, including that of Bernie Sanders, the Vermont senator who carried the state in the 2016 primary race over Hillary Clinton.
Others with staffed tables at the Potawatomi Hotel and Casino were the campaigns of South Bend, Indiana, Mayor Pete Buttigeg and U.S. Sens. Amy Klobuchar, of Minnesota; Kirsten Gillibrand, of New York; and Elizabeth Warren, of Massachusetts.
Volunteers across the board stressed the importance of outreach efforts in a state that many see as one that will play a pivotal role in next year's race.
That includes Warren campaign volunteer Crystal Bell, who drove two hours to Milwaukee to staff a campaign table. A resident of Rogers Park on the north side of Chicago, Bell said she headed to Wisconsin for the weekend because of the state's recent purple streak.
"2020 is important," she said. "This is where we build the foundation."
Bell, who supports Warren because of her policy platform, said convention-goers she's talked to seem to appreciate the second-term senator for the same reason — name a topic, she said, and "Warren's got a plan for that."
Meanwhile, Medical College of Wisconsin researcher Sarah Oehm, a Buttigeg volunteer, said it was crucial to have a presence at the event given that it's the last one ahead of Wisconsin's presidential primary next April.  
"These are the conversations that the movers and shakers in the Democratic Party need to be a part of and I couldn't let Pete's message not be part of that conversation," she said.
Oehm, 33, said while she expected to support a woman in the race, Buttigeg appealed to her initially because of his identity as a Midwestern millennial.
"I think his approach to uniting the Bernie and [former Vice President Joe] Biden wings of the Democratic party, his approach to uniting the blue and red states of America and building an alliance among generations, I think it's absolutely incredible," she said.
The latest Marquette University Law School poll found Sanders, Biden and Warren among the candidates garnering the highest levels of support. Specifically, the April survey found 32 percent of respondents ranked Sanders as "a top choice," followed by Biden at 29 percent and Warren at 17 percent.
But a reporter approached convention goers and asked their preference, which yielded 16 votes for Warren, eight for Sanders, three for Biden, two for Buttigieg and one each for U.S. Rep. Tulsi Gabbard of Hawaii and U.S. Sen. Kamala Harris of California before a party spokeswoman shut down the effort.   
Convention goers interviewed this weekend didn't universally rally around one candidate and many mentioned a handful they could see themselves supporting at the polls 10 months from now. 
UW-Milwaukee School of Education senior adviser Robert Longwell-Grice settled on his top two candidates, but he's also open to Warren, who he said has "the fire" necessary to combat Trump. 
The Shorewood resident, who supported Hillary Clinton in the last presidential primary, said he wants to see a woman win in 2020.
He said he sees Klobuchar and Gillibrand as his top two candidates. Klobuchar, he said, has an appeal because she has the ability "to reach across the aisle," while Gillibrand has been outspoken about gun control.
"I think I've been pretty consistent: It's time for a woman, it's time for a woman," Longwell-Grice said.
Jane Schrameyer, a retired teacher living in Hazelhurst, said she likes Sanders and Warren and wants to learn more about Buttigeg, a talked-about candidate among her "young friends."
But she noted it's too early to settle on a single candidate.
"The number one priority is to defeat Trump," she said.
And Waukesha resident Matthew Severt, a strategy consultant, said his top two candidates are Buttigeg and Julian Castro, the former mayor of San Antonio.
Castro could help Democrats in Texas and holds appeal as the only Latino in the race, Severt said. But he added Buttigeg has gotten more traction early on, has an appealing personal story as a veteran and potential to be the first openly gay president and has experience as an executive due to his role as mayor.
"So [Buttigeg has] got a decent track record of success," Severt said. "I'd prefer it to be on a larger scale, but it's at a bigger scale than anything [President] Trump ever did."
Democrats interviewed, as well as speakers at the convention, said the eventual nominee would gain strength from the process.
Evers, who addressed attendees Saturday night, said the contested primary for governor made him a better prepared, more thoughtful candidate, adding that "Democrats across our state were more energized because of that primary."
He said with 2020 looming, there are lessons candidates can take from the gubernatorial primary: focus on the issues and emerge from the race with a unified party front.
That means, Evers said, Democrats can't let Republicans "bait us" during the election, adding their "words and actions speak for themselves."
And he said those lessons apply to the 2022 election, as rumors swirl over whether Walker and U.S. Sen. Ron Johnson will run again and, if so, for which offices.
"If we can do these things, I don't care which office they're running for," Evers said. "We're going to send them packing."
Share your opinion on this topic by sending a letter to the editor to tctvoice@madison.com. Include your full name, hometown and phone number. Your name and town will be published. The phone number is for verification purposes only. Please keep your letter to 250 words or less.
Get Government & Politics updates in your inbox!
Stay up-to-date on the latest in local and national government and political topics with our newsletter.