After a campaign fraught with rancorous dialogue, incumbent Ismael Ozanne will continue serving as Dane County's district attorney after beating out challenger Bob Jambois in a decisive Democratic primary.
"We are going to go forward into the future, we are going to be national leaders instead of moving backwards ten years, which is a promise someone tried to sell to the community," Ozanne said in a speech to supporters at the Edgewater Hotel Tuesday night.
Citing his increased focus on initiatives to target child abuse in Dane County and on restorative justice alternatives such as the Community Restorative Court, Ozanne said he will continue to address racial disparities and issues of equity in the county.
"It will save resources but more importantly it will save people," Ozanne said of the CRC, which he hopes to expand county wide.
He also wants to turn his attention to strengthening communication between mental health resources and law enforcement.
Dane County Executive Joe Parisi praised his efforts and said in his experience, Ozanne is "very engaged" and focused on addressing root causes of crime that can break cycles of violence.
Ozanne captured 73 percent of the votes. One of his supporters, Hasan Nafid, said he stands with Ozanne because he represents diversity, social justice and equality.
"I know I will have a space in his office and his agenda," Nafid said. "He comes out of the office."
Jambois, who received about 27 percent of votes, said he is disappointed with the outcome but proud that he brought up issues he thought needed to be raised. After sitting on a jury trial Wednesday, Jambois said he plans to continue with his scheduled cases.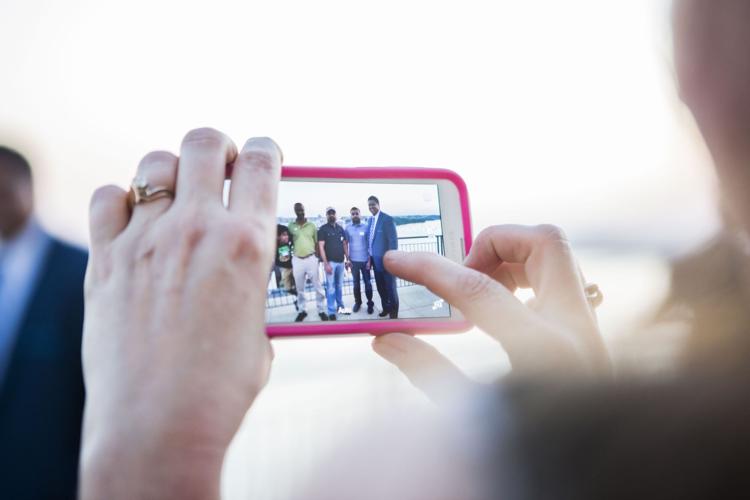 "I hope for the best," Jambois said.
Dialogue between the two campaigns has been filled with sniping, some of which was personal and racially-charged.
In his victory speech, Ozanne said the election had "politicized" the office, something he did not want to happen.
"I think the job in the DA's office is too important," Ozanne said. "It should never be disrupted with accusations that attack its integrity."
At the center of their debate is a difference in philosophy over what the role of a district attorney should be. Ozanne, describes himself as a "change agent," while Jambois has criticized him for being absent from the office.
Jambois thinks the DA should lead by example, taking a caseload that equals half of the caseload of a staff prosecutor, and devoting the rest of the time to administrative tasks.
Jambois, 64, announced his candidacy in late May, about a year after he was hired by Ozanne as a senior prosecutor. He is a former Kenosha County district attorney and has served as general counsel for the state Department of Transportation.
With a salary of $116,688, Jambois is the third-highest paid among the county's 28 full-time attorneys. That number does not include Ozanne, who makes $121,405 as the DA.
Ozanne, 45, was appointed to the position in 2010 by former Gov. Jim Doyle, a Democrat, after he'd spent two years as executive assistant at the Department of Corrections. Before that, Ozanne spent 10 years as a Dane County prosecutor.
He ran for the office unopposed in 2012, then ran unsuccessfully for state attorney general in 2013, coming in third in a three-way Democratic primary.