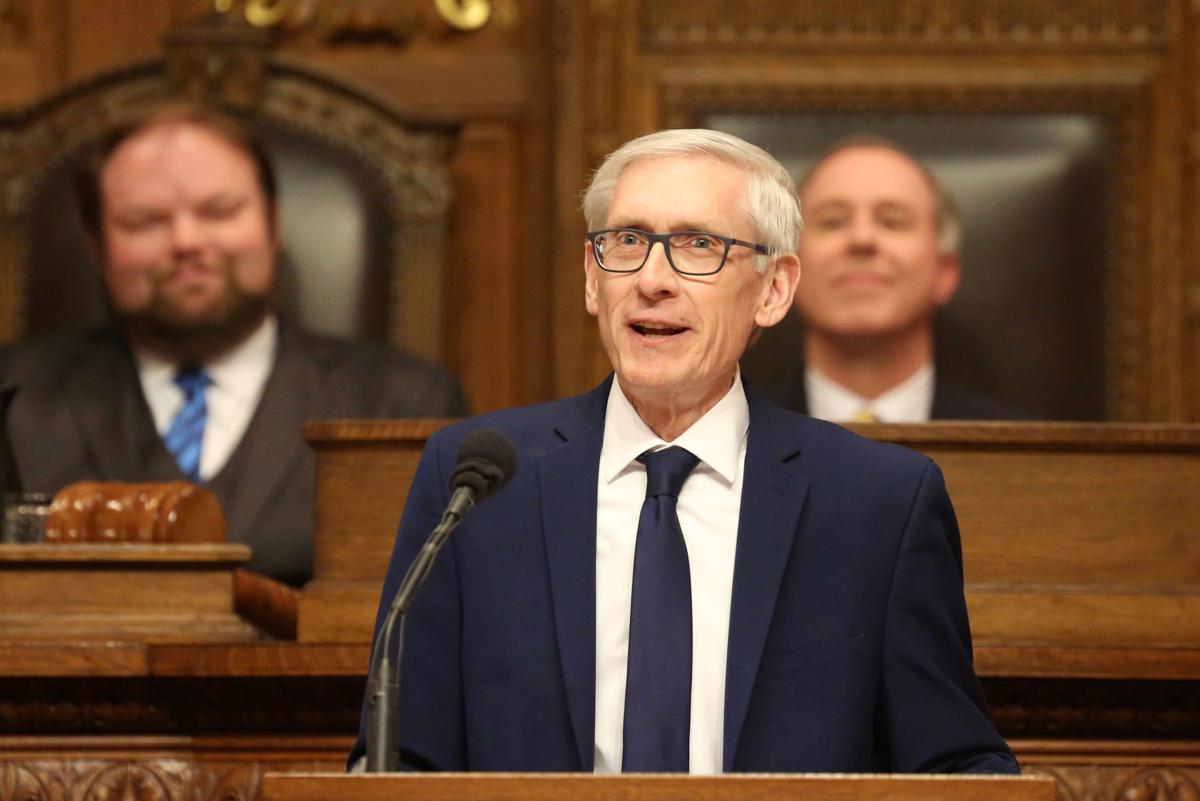 Gov. Tony Evers urged Wisconsin lawmakers to green-light a sweeping plan to aid farmers across Wisconsin in his second State of the State speech, an initiative that includes a three-pronged approach to helping rural areas. 
The Democratic executive also pledged to form a new nonpartisan redistricting board, similar to a push featured in his state budget that Republicans removed — a proposal that received swift scrutiny by Republican leaders following Evers' Capitol address Wednesday. 
As he touted his priorities, Evers sought to share a message of unity. He demanded the state move on from "past political tussles" and instead "greet the problems before us" — remarks that followed a divisive period of split government that marked the Evers' first year in office. 
"While there is time to contemplate 10 years' worth of successes and failures, we must fight the temptation to cling to the nostalgia of yesterday — there is too much work to do to find comfort in complacency," Evers said in his half-hour address. 
Speaking in the state Assembly chamber, Evers said he would call the Republican-controlled Legislature into special session next week to take up a host of measures seeking to address the dairy crisis in Wisconsin, ranging from bolstering mental health services for farmers to helping increase dairy exports.  
Among Evers' numerous priorities for the remainder of the session is a three-pronged approach that includes legislation to invest in farmers and agriculture, a move that comes as the state's industry has suffered amid dairy farm closures and declining milk prices. 
The efforts — some of which were featured in his budget — include greater investments in mental health services for farmers by coordinating local peer support programming and providing one-on-one counseling and a proposal to help increase dairy exports to 20% of the nation's milk supply by 2024.
Evers also includes the creation of a new office dedicated to a broader rural economic development strategy housed within the state's job agency, as well as the formation of a blue ribbon commission to promote agriculture. 
While Evers acknowledged his proposal isn't "the silver bullet," he told attendees: "We have to start somewhere, and we have to start today."
It's unclear how far those rural initiatives could get with the session winding down over the next few weeks. Republican leaders signaled they were open to looking at the package. 
Senate Majority Leader Scott Fitzgerald, R-Juneau, said he's "all ears when it comes to what (Evers) is going to propose."
"If it comes to protecting agriculture, advancing agriculture, the Legislature's going to work with the governor on that front, no doubt about it," he said.  
And Assembly Speaker Robin Vos, who was more measured in his response, said he'd need to review the details and added Evers was "finally paying attention to rural Wisconsin."  
"If it's a bunch more government programs and handouts, we'll have to see if those are something we can support," the Rochester Republican said. 
Meanwhile, Republican leaders also panned Evers' redistricting push and questioned its constitutionality. 
Nonpartisan redistricting isn't a new proposal from the first-term governor; in his budget, Evers sought to adopt such a process, though Republicans removed that language from the two-year spending plan. 
In his remarks, Evers said he'd bring "the fight for nonpartisan redistricting to the Legislature" by signing an executive order to form a nonpartisan redistricting board that'll draw what he identified as "The People's Maps." 
Those who make up the panel, he said, would hold public hearings around the state "and draw fair, impartial maps for the Legislature to take up next year" — a plan that could be included in the state budget, for example, or introduced as a separate bill. 
Fitzgerald dismissed the idea, saying "it's unconstitutional," while Vos slammed the initiative as creating a "fake, phony, partisan process." 
In Wisconsin, congressional and state legislative district boundaries are drawn by lawmakers and passed by both houses, with review by the governor. Frequently, those maps end up being drawn by the courts under cases of disagreement between the two branches. 
Assembly Minority Leader Gordon Hintz said Evers' announcement is "the line in the sand that this was the beginning of the redistricting process."  
Asked if it's a symbolic move, the Oshkosh Democrat said that even if it was, he believes it would help influence what the final maps that go through the Legislature may look like. 
"The power of the governor to get behind something like that will produce an exercise that will show people what's possible in terms of how a democracy is supposed to function," he said. 
Student debt, vaping and clean water were also among the areas Evers highlighted on Wednesday night. 
He also urged lawmakers to address the so-called "dark store loophole" by preventing stores from basing their property value off of vacant properties his address at the state Capitol Wednesday night. 
Telling attendees they could no longer "ignore the elephant in the room of student debt," the former University of Wisconsin regent and state schools superintendent announced a new executive order that would create a task force aiming to make higher education more affordable. 
He also pushed legislators to address youth vaping, remarks that came days after he unveiled a plan targeting youth vaping through legislation that would ban vaping on school campuses, kick-start a public health campaign to curb youth vaping, expand enforcement at key agencies to prevent the sales of vaping products to kids and more. 
Vos told reporters said Wednesday afternoon ahead of the remarks that while the issue "should be easy, bipartisan, something that should be a layup," he slammed Evers for releasing it "in a partisan way" without including Republicans. 
In his first State of the State address, a year ago, Evers declared 2019 "the year of clean drinking water in Wisconsin." He didn't revisit the theme Wednesday night, though he did call on the Legislature to act to get PFAS, a group of chemicals linked to cancer, reproductive problems and a host of other health issues, "out of our water." 
There's been movement on PFAS in recent days. Both the Senate and Assembly Tuesday approved a bill to limit the use of firefighting foam containing PFAS, sending it to Evers' desk. But Democrats have criticized it for not going far enough. 
Meanwhile, the Natural Resources Board on Wednesday gave the Department of Natural Resources the go-ahead to begin drafting new water quality standards for pollutants including PFAS. 
While the state Senate and Assembly are expected to wrap up their work for the session in February or March following at least a couple more floor dates, Evers pushed for lawmakers to act in the coming weeks. 
"There's no rest for the elected, folks, and we've got a lot to get done before anyone takes a vacation," he said.
Share your opinion on this topic by sending a letter to the editor to tctvoice@madison.com. Include your full name, hometown and phone number. Your name and town will be published. The phone number is for verification purposes only. Please keep your letter to 250 words or less.