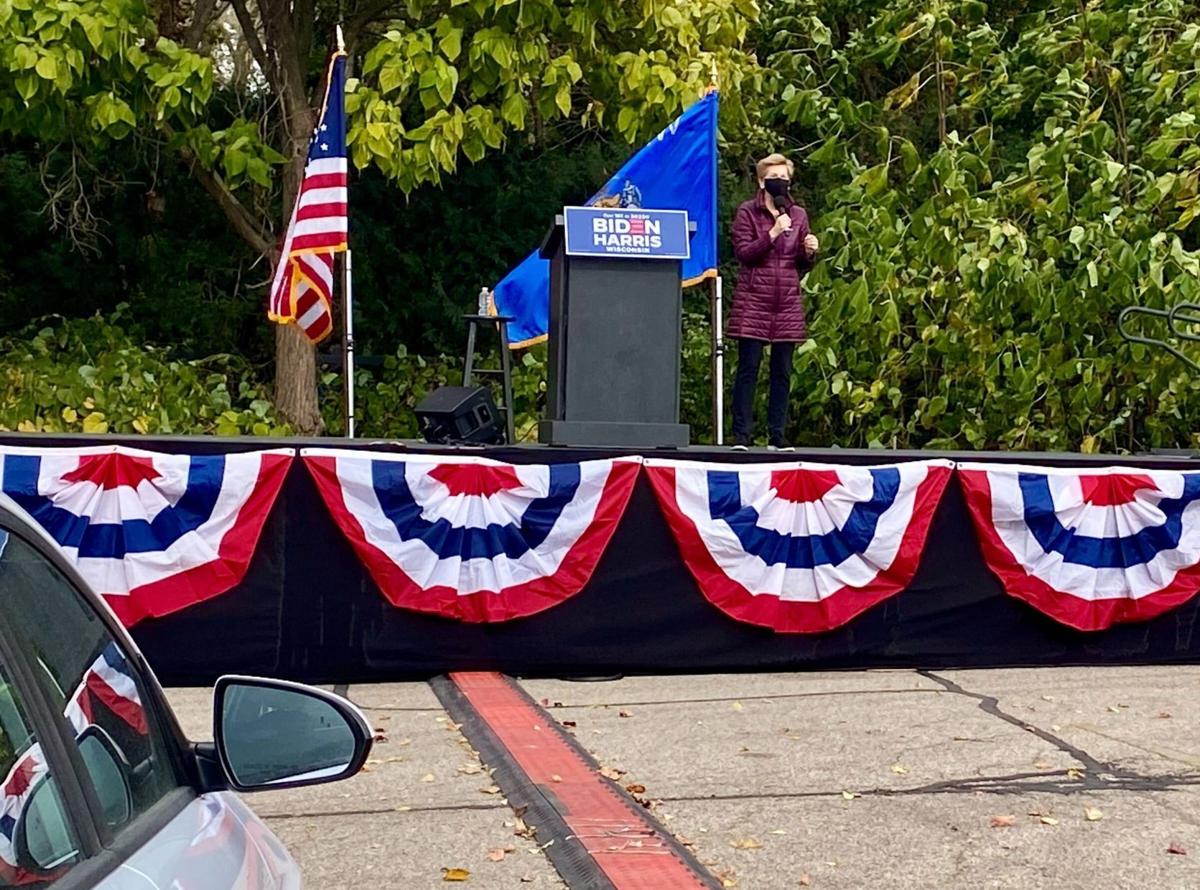 Less than three weeks out from the Nov. 3 presidential election, during an interview with the Cap Times, U.S. Sen. Elizabeth Warren touted the importance of Democratic candidate Joe Biden winning Wisconsin and the White House in a high-stakes election where "lives are on the line."
The Massachusetts Democrat played up the stakes in this battleground state in Democrats' effort to oust President Donald Trump, describing it to attendees at a Madison drive-in, get-out-the-vote event Saturday as one that lies "at the intersection" of this election.
But she dived further into what she sees as the stakes in this presidential race and her commitment to supporting former Biden's campaign when she spoke with the Cap Times later in the day. Her comments came in the hours before Trump was set to rally his supporters in Janesville, his first visit to the state since he contracted COVID-19.
What resonated then with her Midwest supporters and is hitting home now with Biden's campaign, she said, is the commitment to prioritizing individuals and policies that would help them.   
"I think that when you put people first it matters," she said. "But when you back that up with real plans, childcare, student loan debt, increasing Social Security, it matters even more."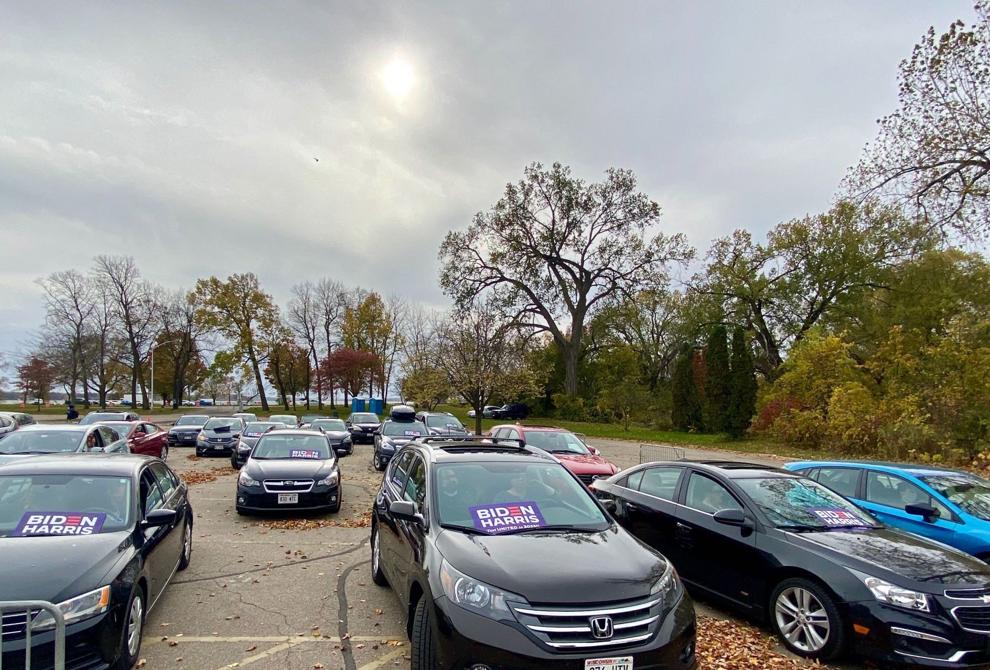 Warren ultimately finished a distant third in the state's April presidential primary this year, having dropped out ahead of the election.
The last major female candidate in the race at the time of her exit, she addressed the reality head-on as she talked about the little girls she met on the campaign trail who would "have to wait four more years" at least to see female representation in the White House.
On Saturday she revisited the topic, saying: "I'm sorry that I couldn't pull it across the finish line. I'm all in for Joe and Kamala. We're going to get this done. It's just going to take longer than I thought."  
Previously thought to be a top potential running mate for Biden as someone who could help unite the more progressive and moderate wings of the party, Warren urged more liberal voters to turn out in support of the Biden-Harris ticket this fall.
"With Donald Trump in the White House and Republican control of the Senate, more people are going to die," she said. "The planet could reach a tipping point in the climate crisis. Millions more will fall into poverty. And there will be no racial reckoning. Joe Biden is committed on all of those issues to building a stronger, better America that works for all. That's the team I want to be part of and help make it work."
Two years ago when Warren campaigned in Wisconsin with U.S. Sen. Tammy Baldwin during the Madison Democrat's re-election bid, protecting health care was a key theme in remarks Warren delivered in Madison. Now, she said, health care and former President Barack Obama's Affordable Care Act are still at stake – and lives, she added, are literally "on the line."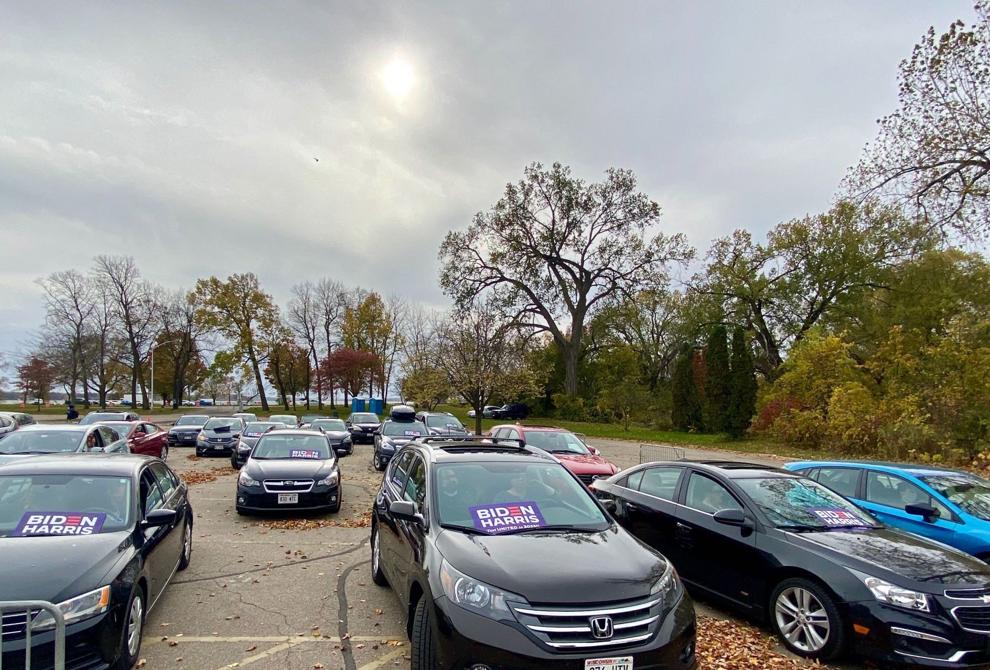 Slamming Republicans for "trying to steal a Supreme Court seat" ahead of the election with the appointment of Judge Amy Coney Barrett to the bench, Warren noted justices will hear oral arguments in a case seeking to overturn the Affordable Care Aact, or Obamacare, shortly after Nov. 3.
Looking ahead to a potential Biden administration, Warren, who has made a name for herself as a financial watchdog, didn't say whether she'd be interested in a Cabinet position.
And she said she has not considered about who may fill certain slots in the administration, including who may head up the Consumer Financial Protection Bureau, an agency that was Warren's idea.
Warren said she had not "thought about specific people in specific spots," noting the election is 17 days away and she's "focused 100%" on Nov. 3.
Others in the party have not shied away from discussing what a potential Biden administration could look like — and seeking to preemptively shape the behind-the-scenes decision making. Politico this week reported that progressive groups and left-wing members of the House urged officials to not consider corporate executives or corporate lobbyists for any Senate-confirmed jobs.
As for the CFPB, an agency dedicated to protect consumers in the financial realm that Warren proposed before becoming a U.S. senator, she said even though it "hasn't been as aggressive as it should be" under Trump's administration, "it's still there."
"For me, it's a reminder that if you build it right, you get the right structure and you attract good people, you really can make government work and make it work under the most adverse circumstances," she said. "Now, am I looking forward to having Joe Biden in and getting a new director for the agency? Yes I definitely am because there's a lot of work that needs to be done."
Responding to Warren's support of Biden and her role in the campaign, Trump Victory spokeswoman Anna Kelly said: "It's fitting that Joe Biden has enlisted fellow fraud Elizabeth Warren to stump for him in Wisconsin. Warren has lied about pretty much everything from her heritage to why she left teaching, and Joe Biden has been caught red-handed lying about his knowledge of his Hunter's business dealings. Wisconsinites know that Biden is out-of-touch with their values, and his clear crony corruption will be defeated on November 3rd."
Sign-up here for the Campaign Notes newsletter to get important Wisconsin politics updates in your inbox each Thursday, now through Election Day.