Following changes at Tree Lane Family Apartments on Madison's west side, city leaders are reporting a positive transition to a new case manager and a decline in police activity.
In February, the city committed more funding to support services, boosted security and issued a chronic nuisance property declaration in response to ongoing problems since the apartment complex at 7933 Tree Lane opened in June 2018.
"We've already seen improvement, and we expect that as we go into the summer and the fall that that improvement will continue," Mayor Paul Soglin said at a press conference Thursday.
As of Monday, the Road Home transitioned to acting as the sole case management provider, replacing the YWCA.
"Because of the change in security management and now the partnership of the Road Home, we feel like we're in a good place right now," Deputy Mayor Gloria Reyes said.
Tree Lane Family Apartments houses formerly homeless families and is a part of the city's ongoing efforts to provide permanent supportive housing, which includes on-site services and case management. Reyes has been working at the apartment complex since November 2018.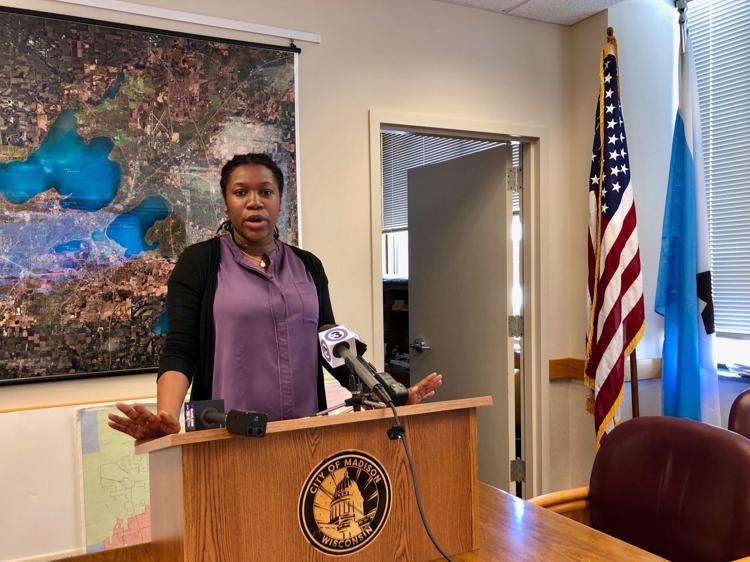 Belinda Richardson, program coordinator for the Road Home, described a smooth transition and said there is an emphasis on connecting youth who live at the property with summer activities.
"We're working to get to know the families and figure out ways to provide services to families," Richardson said.
Including Richardson, there are five Road Home staff members working at Tree Lane who are generally available between 8 a.m. and 7 p.m. One position is dedicated to working with youth.
Police activity, nuisance abatement
In the first six months Tree Lane Family Apartments was open, the Madison Police Department responded to an increase in calls for service to the property, according to city data. 
In the month of December 2018, calls for service spiked to 90. Calls for service have declined since reaching that peak. The city reported that there were just under 30 calls for service in February. 
The data does not differentiate between proactive and reactive calls for police service.
Chief Mike Koval said the results are "promising and encouraging."
"Moving forward, the trajectory of the calls for service are less compelling, less urgent and certainly less magnified in terms of the frequency and scope of our attention," Koval said.
In another attempt to stabilize the property, the city issued a chronic nuisance premises declaration to Heartland Housing, the owner and manager of the property. This is a tool the city can use to compel owners to resolve problems at their properties.
Assistant City Attorney Jennifer Zilavy said that Heartland Housing met with the city to develop an abatement plan and is now implementing it.
The abatement plan primarily included getting new management and increasing security. It also addressed amending tenants' leases and revising the property's guest policy.
"At this point, there is no thought of further enforcement action," Zilavy said.
Many of the problems at Tree Lane were attributed to visitors, which led to a stricter guest policy. But Reyes said tenants found the policy too restrictive.
Now, the guest policy allows visitors up until midnight and up to four visitors at a time. Reyes said she felt the policy would work with the increased training and support of security staff.
"We really wanted to listen and hear from the residents," Reyes said. "We wanted them to make sure that this place was home and that they should still be allowed to have visitors."
Ald. Paul Skidmore, District 9, has been outspoken about the problems at Tree Lane and called for the city to pursue a nuisance action weeks before the city did. On Thursday, he reaffirmed his commitment to Tree Lane.
"What we're doing is fine tuning," Skidmore said. "We have a significant population with special needs, and we knew that there would be some challenges."
Oakbridge Neighborhood Association President Abigail Darwin said the neighborhood is pleased with the reduction in police calls for service. She also emphasized the commitment of the neighborhood to Tree Lane residents.
Darwin said neighbors are volunteering at the apartment complex and bonding with families at Tree Lane.  
"Our concern is with the Tree Lane families. It is not us versus them. They are a part of us," Darwin said. "They are a part of our community."