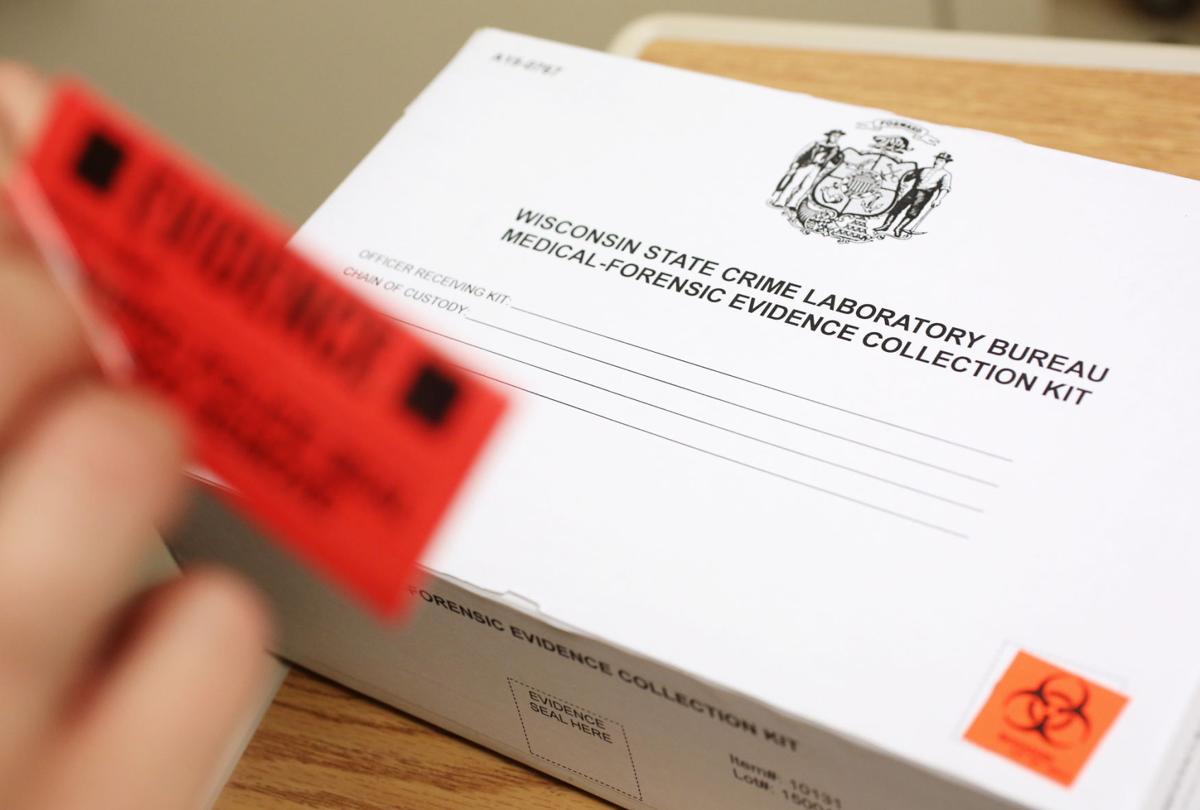 Wisconsin officials say they are in the process of testing thousands of untested sexual assault evidence kits.
But there has been some dispute over what that means, exactly, and if the state is moving fast enough.
One state Democratic lawmaker is calling for an audit of the state Department of Justice, which is spearheading the initiative. Rep. Melissa Sargent, D-Madison, is asking the Joint Legislative Audit Committee to examine whether the agency has been wasteful and inefficient in its process. Last fall, Sen. Tammy Baldwin called on Schimel and the DOJ to pick up the pace. 
But the DOJ and national advocacy groups that track the state's progress say testing sexual assault kits is complicated and involves several steps, each of which take time and involve separate challenges. Next month, Schimel is set to outline the agency's efforts on the kits and update lawmakers at a Joint Finance Committee hearing.
The state has been working on the issue since 2011, when it formed a 33-member task force made up of law enforcement officers, prosecutors and victims' advocates to determine how many untested kits existed and how they should be tested. About 6,300 kits built up — sitting on shelves at law enforcement agencies and hospitals in every county statewide over the last 25 years — because there was no standard protocol for how or if kits would be tested.
The state DOJ received $4 million in federal grants in 2015 to fund the initiatives of that task force, which included testing old sexual assault evidence kits and creating a new protocol to make sure they never build up again. The state began using a standard sexual assault kit for all hospitals last year and now attaches a form to kit each that outlines the victim's wishes. When the victim of an alleged sexual assault reports it and goes to the hospital for an exam, she has three choices: undergo an exam only, with no kit; undergo an exam with a kit that is immediately sent for testing; or undergo an exam with a kit where testing can be postponed for up to 10 years while the victim decides whether she wants to pursue a case. 
The grants, issued by the federal DOJ's Bureau of Justice Assistance and the Manhattan District Attorney's office, both have specific parameters that dictate how kits are inventoried, documented and ultimately verified by the State Crime Lab and before they are sent to a private lab for testing. The state has contracted with Bode Cellmark Forensics, a private lab based in Virginia, to test its backlogged kits. 
So how is a kit tested? What do observers have to say about Wisconsin's progress on the untested kits? Here are some questions and answers.
How old are the untested kits in Wisconsin and how did they get there?
The backlogged kits, which do not include kits that are currently compiled, are as old as 25 years. These untested kits have sat on shelves in law enforcement agencies and hospitals statewide since they were first collected. Until last year, there was no statewide protocol for what to do with kits once they were compiled. When a person received a forensic exam for an alleged sexual assault, they were told different things depending on the county and hospital.
Why weren't the thousands of old, backlogged kits tested right away?
Officials at the DOJ and former law enforcement officials say there are many reasons: a case may not have been prosecuted or DNA evidence may not have been needed to secure a conviction. State law mandates that law enforcement agencies keep sexual assault kits for the duration of a convicted perpetrator's sentence so the kits stay on the shelf, mixed in with all the others.
As investigative practices have evolved and DNA evidence became more common, law enforcement officials and prosecutors realized the importance of having kits tested to catalog instances of alleged sexual assault. Detectives and prosecutors now believe that it is best for all kits to be tested, if the victim consents to the kit being tested, so an alleged perpetrator's DNA can be loaded into a federal database to potentially be connected with other alleged incidents of assault.
What does 'backlog' mean?
The term is disputed by officials at the DOJ, who say it is not indicative of a current, ongoing backlog.
There is a backlog of untested kits that have built up over the last two decades, but kits that are currently compiled are immediately sent to the State Crime Lab for testing. There is no current backlog of new, untested kits sitting at the State Crime Lab like there was in 2006 and 2007.
At the end of 2006, there were 1,785 DNA cases waiting to be tested by the State Crime Lab.
That dynamic is not happening now, said Audrey Skierawski, an assistant attorney general at DOJ who prosecutes sensitive crimes.
What has been the process for getting an untested kit to the private lab to be tested? 
Getting the kit tested in a lab involves at least six steps, according to the DOJ. The agency said it had not been able to fully start these steps until it received its grant money in 2015. 
1. Inventory — The DOJ first determined how many kits were on the shelves at 556 law enforcement agencies statewide. It reached out to each law enforcement agency individually, asking them to log their untested kits onto a spreadsheet. Each kit was examined on-site and the reports associated with the kit were reviewed. The DOJ determined whether to test the kit based on several factors, including whether the victim wanted it tested in the first place. For some kits, the DOJ is still trying to determine the victim's wishes so it can decide whether or not to test the kit. To connect kits with victims, it launched a public awareness campaign along with the Wisconsin Coalition Against Sexual Assault. The DOJ collected spreadsheets of the kit inventory from each law enforcement agency.
2. Certification — The Bureau of Justice Affairs, which awarded the DOJ grant money to test kits, certified the inventory cataloged on the spreadsheets. This was a requirement before the state received the money to physically send kits in for testing.
3. Intake — The BJA-certified list was sent to the State Crime Lab, which acts as the central intake-point for all kits, even though most of the untested kits are sent to a private lab for testing. The Crime Lab then sent formal notices to law enforcement agencies asking them to physically send their kits designated for testing to the Crime Lab. Law enforcement agencies received the DOJ's letter and sent kits. The Crime Lab received the kits, opened them and assigned numbers to each piece of evidence within the kit so it can be tracked.  
4. Testing — The State Crime lab sends kits to Bode Cellmark, which tests them. 
5. Review — The kit is sent back to the State Crime Lab. The State Crime Lab will review the results and consult the DOJ and law enforcement agencies on next steps.
How long does it take for the State Crime Lab to test kits right now?
The average turnaround for the State Crime Lab to test a sexual assault evidence kit right now is eight to 10 weeks, according to Nicole Roehm, a deputy director of the State Crime Lab, which is a division of the DOJ . She did not know what Bode Cellmark's turnaround time was. 
How many sexual assault evidence kits has the State Crime Lab processed in the last few years? 
In 2014, the State Crime Lab processed 785 kits. That number rose to 896 in 2015, according to Roehm. The lab is keeping pace with what they are currently being sent by law enforcement agencies. 
Why aren't all 6,000 untested kits being sent for testing right away in one batch?
There are a couple of reasons why the testing ends up being a piecemeal process. Kits vary in age, what the victim's wishes for the kit were, and the specifics of each case.
The DOJ said it aims to only test kits in cases where the victim wanted it tested. It does not want to test kits where the victim is no longer interested in pursuing a case or never wanted the kit tested in the first place.
The private lab that the state has contracted with, Bode Cellmark, can only handle 200 kits each month, according to its contract.
The state said it is in the process of sending batches of 200 each month. Results from each kit come back to the state one-by-one when Bode Cellmark tests them. Bode Cellmark is one of only two main private labs in the country that does testing for several states aiming to work through their backlog. There is a cap on how many kits they can take at a time.
The DOJ said Bode has 14 contracts with other jurisdictions who are working through their untested kits.
So how many kits have been tested? 
As of last week, 13 kits have been completely tested.
Why have only 13 kits been tested? 
These 13 tested kits were deemed "priority" kits, picked out one-by-one from the larger 6,000 kit backlog, by DOJ officials. "Priority" kits like these 13 are tested in-state by the State Crime Lab. DOJ officials might prioritize a kit because the statute of limitations is running out on it, or it is needed for an ongoing court case. 
What is happening with the thousands of other kits then?
The other kits, not deemed an immediate priority by the DOJ, are being sent to Bode Cellmark. Bode Cellmark can only accept 200 kits each month because it is one of only two private labs testing old kits from jurisdictions nationwide, according to the DOJ. The DOJ  sent its first batch of 200 kits in January. The DOJ will receive the results of those kits individually after each one is tested by Bode Cellmark. It is sending another 200 this month and 200 every month after until all kits that have been approved for testing have been tested. It is still awaiting more results on its first batch of 200, the DOJ said. 
The DOJ said it is nearly finished fully certifying the inventory of sexual assault kits from each law enforcement agency. It has broken the state into four phases to inventory and certify each kit. As of last week, it had five counties left for which to complete certification.
What have others said about Wisconsin's progress with its untested kits?
Ilse Knecht, a director of advocacy and policy for the Joyful Heart Foundation, a national sexual assault survivor advocacy group based in New York City, said she has been monitoring Wisconsin's efforts to address its untested kits.
"We respect this very thoughtful and cautious approach for how to deal with survivors in Wisconsin," she said. "From the survivor perspective, we all want this to happen at lightning speed but we also definitely need to be deliberate about the way that survivors are re-engaged in the system and that can take some time."
Knecht said that she thinks Wisconsin has moved quickly in securing funding and addressing its backlog, especially since it had so many untested kits and is working on a statewide level. Most other recipients of the federal grants to work on the kits were cities, which had far fewer kits to process and test.
She said the state could use legislation that would mandate testing so a backlog does not happen again.
"We'd like to see some legislation," she said. "We are looking at a 50 state strategy to end the backlog forever. We believe that requires mandatory testing of rape kits."
Share your opinion on this topic by sending a letter to the editor to tctvoice@madison.com. Include your full name, hometown and phone number. Your name and town will be published. The phone number is for verification purposes only. Please keep your letter to 250 words or less.