In her first spending proposal for Madison, Mayor Satya Rhodes-Conway on Tuesday offered a $170.6 million capital budget for 2020 that seeks to limit borrowing while following through on her administration's priorities. 
The executive budget invests $1.1 billion over the next six years in 195 capital items, outlined in the Capital Improvement Plan. Rhodes-Conway's proposal heavily supports Bus Rapid Transit and housing initiatives, which she campaigned for ahead of the 2019 election.
"My priorities for our great city are clear — affordable housing for all residents and the expansion of our transit system to ensure fast, reliable, accessible service," Rhodes-Conway said in the budget memo. "I am committed to doing this work through the dual lenses of equity and sustainability. I am committed to doing it in a fiscally responsible way."
The proposed spending plan is also well under the adopted $347.6 million 2019 capital budget.
Rhodes-Conway's proposal does not include reauthorized funding that was previously approved but not yet spent. The re-authorizations will be included in the city's annual borrowing resolution, which will be on the City Council's meeting agenda Sept. 17. 
Rhodes-Conway's proposal holds the line on city debt, keeping it at 17% of the city's budget through 2026, and lowers general obligation debt from what was requested by departments by $116 million. The 2020 proposal depends on $96.6 million in authorized borrowing and $73.9 million from other sources.
The city's capital budget and associated debt has grown significantly over the past 15 years. The adopted 2019 capital budget includes $185.8 million in authorized borrowing and $168.8 million from other sources.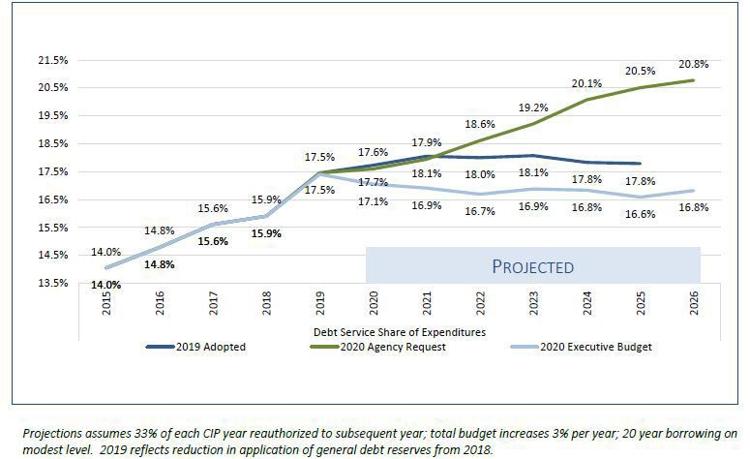 To better plan for future projects, the mayor introduced a new tool called the "Horizon List," which includes items that need additional planning before being included in the capital budget. For example, the new Reindahl Library "Imagination Center" project, estimated at $17 million, has been moved to this category.
"The major focus here is to speak with entrepreneurs and business owners of color to makes sure we understand the barriers as they perceive them and that we're actually working on things that will help businesses owned by folks of color and in some of our disadvantaged neighborhoods," Rhodes-Conway said.  
Projects on the Horizon List could come into future capital budgets and improvement plans.  
The mayor said "delivering results in an efficient, effective and affordable manner" will mean the city will have to make tough choices. 
"We know the capital needs in our growing city are great and exceed the financial capacity of what our residents can afford," Rhodes-Conway said.  
To invest in Bus Rapid Transit, affordable housing and land banking while also driving down debt, Rhodes-Conway proposed changing how the Madison Public Market would be funded. Her budget would transfer the $7.5 million local funding share to revenue from the tax increment district that runs along East Washington Avenue.
It also calls on the Madison Public Market Foundation to raise an additional $500,000 to complete the project.   
"I feel like this is a more appropriate source of funding for the market because it is related directly to economic development," Rhodes-Conway said. "It is only fair as we are tightening our belts and sharpening our pencils to ask our partners to share some of that."  
The foundation expects the market to open in the fall of 2021 and had originally planned to raise $4 million. 
"Together we will continue to meet our challenges and achieve our priorities as a city," Rhodes-Conway said. "Our vision is a Madison that is innovative, inclusive and thriving. I want that vision to be realized for all our residents. My 2020 capital budget sets a path toward that goal.
Comprehensive plan connection 
For the first time, all items in the capital budget are connected to elements outlined in the city's comprehensive plan called Imagine Madison. The plan is built around six elements, including land use, transportation, housing, environmental priorities, the economy, culture and effective government. 
"For a comprehensive plan to be really truly effective, it can't just then go and sit on a shelf somewhere," Rhodes-Conway said. "The more things we do to connect back to Imagine Madison, the better."  
Rhodes-Conway's budget advanced the construction of a $12.9 million new satellite bus facility to 2020 and 2021 from 2023. The garage at 1101 E. Washington Ave., built for 160 buses, is at capacity and currently storing 215 buses.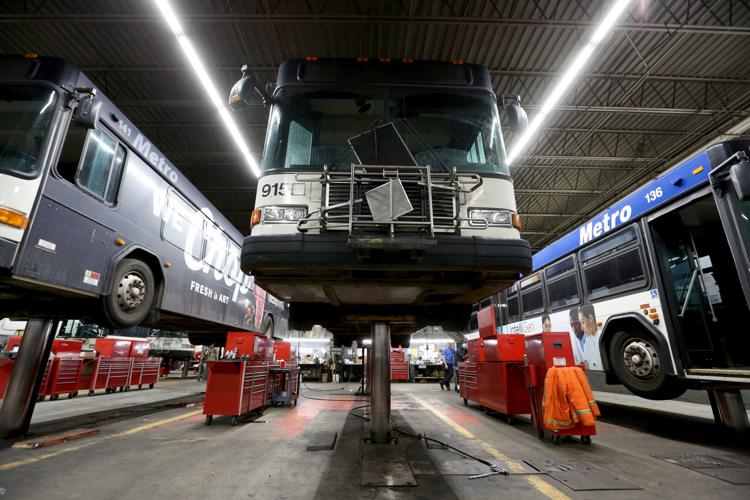 The proposal funds the first phase of Bus Rapid Transit — a system that offers fewer stops, faster and more direct service and larger vehicles to transport more riders — by 2024, including $7.5 million in 2021 and an additional $17.5 million over the next two years.
"Our beautiful Isthmus must not be turned into a superhighway," Rhodes-Conway said, noting that Metro supports 57,000 riders daily. "We need to build on success and grow a modern transit system that is regional, fast and reliable." 
Rhodes-Conway hopes a BRT system would grow annual Metro ridership to reach 18 million riders. 
On housing, Rhodes-Conway is funding a new Land Banking that would make $1 million available per year to acquire parcels of land that can be used for affordable housing and other neighborhood supporting development. This was a strategy recommended to prevent gentrification and displacement in Madison neighborhoods.  
The mayor is also increasing the city's affordable housing program from $4.5 million to $5 million annually. 
"Ensuring that all Madisonians have access to affordable housing in complete neighborhoods is a key focus on my administration," Rhodes-Conway said.  
Rhodes-Conway's plan includes funding for flood mitigation projects with an emphasis on using green infrastructure to decrease the number of buildings and roads that flood during extreme rain events. The proposal includes $3 million in 2020 for stormwater network improvements and an additional $475,000 for storm sewer improvements.
Her proposal also includes a goal of increasing the city's energy generated from renewable sources by 33% in 2020. The budget proposal includes funding for a Green Power training program, solar installations on city buildings and purchasing renewable energy credits. 
The mayor recommends spending $82,000 in 2021 to study options to treat chemicals called perfluorinated compounds (PFAS) that are contaminating Madison's water. Well 15 on the city's east side remains closed due to these contaminants.  
Rhodes-Conway's budget plan to complete the $4.3 million renovation of the Warner Park Community Center by 2024 and funds $550,000 in renovations to the Madison Senior Center. 
To improve the efficacy of Madison's government, Rhodes-Conway's plan funds a $250,000 study to analyze how the city can operate in a disaster, adds $600,000 for new computer system for property assessments and includes $190,000 for an electronic health care records system in the public health department. 
The city's Finance Committee will hold hearings on the capital budget Sept. 9-10 and will consider amendments later this month. Rhodes-Conway will propose the 2020 operating budget Oct. 1 with Finance Committee hearings Oct. 7 and 10. The City Council will vote on both budgets during the week of Nov. 11.