Just as gazing up at the stars on a clear night buoys the soul, Eugene Crisler'El reasons, being confined to the Dane County Jail plunges emotions to their depths.
Crisler'El, 33, has served two separate stints in the Dane County Jail and struggled with depression. With an overdose on his medical record, he spent time isolated in a cell wearing a suicide smock, in line with the jail's protocol for an inmate at risk of harming himself.
"It's a daunting setting," he said, describing the vertical bars of cell blocks. "You're going into a dungeon in an old jail."
Best practices for housing people in jail have outpaced Dane County facilities, which lack versatile programming space and housing units designed for medical and mental health needs. The oldest part of the jail, located on the sixth and seventh floors of the City-County Building, is 65 years old. It's where about 300 of the jail's most restricted inmates are housed.
The Dane County Jail is spread across three facilities: the downtown City-County and Public Safety buildings and the work-release Ferris Center near the Alliant Energy Center.
Sheriff Dave Mahoney, whose office administers the jail, said the philosophy of corrections in 1953 was to "warehouse" people in the hopes of holding them accountable. He said the jail operated on more of a "power and control" model rather than the community policing model he hopes to move toward.
"It didn't take into account the need to have a relationship with people you're guarding," Mahoney said.
In the City-County Building, long hallways make supervision difficult and those on suicide watch are placed in isolation cells. Those cells are an "invitation to self-harm from the standpoint of ligatures being able to be tied onto a cell bar," Mahoney said.
As correctional facilities become more aware of how to better care for the mental well-being of incarcerated people, Dane County is faced with responding to suicide attempts and meeting the medical needs of inmates in an outdated, antiquated jail.
"I always feel it's just a matter of time that something tragic is going to happen," Dane County Supervisor Paul Rusk said.
The sheriff's office and county officials say a primary goal of a $76 million jail renovation project is to better provide for the medical and mental health needs of inmates. The plan will eventually shut down the City-County Building jail and combine three facilities in an expanded Public Safety Building.
Four million dollars of mitigation work is underway to fix locks, add lighting and improve air quality, among other improvements. But jail staff are in a holding pattern until the new facility is complete, which could take three years.
"You can never make it like a modern jail," said Sgt. R.J. Lurquin, who works in the City-County Building jail.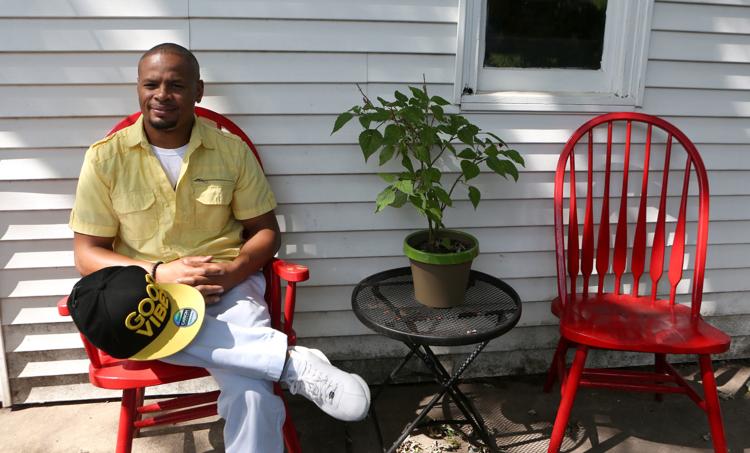 Mental health resources
Crisler'El said jail was like a "no man's land." The disruption in routine, isolation and unanswered questions about the future playing on a feedback loop hold the mind hostage.
"Your body's got taken away from you," Crisler'El said. "Sitting there on the bridge, not knowing what's going to happen."
To cope, he practiced meditation, engaged in spiritual practices and made use of the jail's mental health services, which are available 24 hours a day, seven days a week.
"We know that in today's society, mental health is a component of corrections," Crisler'El said.
The Dane County Jail contracts with Correct Care Solutions for its medical and mental health services. During the week, there are four mental health professionals available, including a director of mental health, nurse practitioner, psychiatric nurse and discharge planner.
During the booking process, medical and mental health staff conduct an evaluation. Following a nurse's examination, a member of the mental health staff asks questions to determine if an inmate has past mental health issues, is currently involved in mental health treatment or taking medication.
Michele Reed, a regional behavioral health manager with CCS, said people arrive at the jail with different afflictions, habits and needs than they did two decades ago. Reed oversees three facilities in Wisconsin, but was the mental health coordinator in the Dane County Jail from 2009-2011.
"A lot more drug use, people coming in with all sorts of drugs that we maybe don't even know about. That's affected the population for sure," Reed said.
In 2017, the Bureau of Justice Statistics, a federal agency, reported that 63 percent of sentenced jail inmates met the criteria for drug dependence or abuse. The report used data from 2007-09, the most recently available.
In addition, an estimated 75 percent of jail inmates reported regular drug use prior to incarceration and 37 percent of sentenced jail inmates reported they had used drugs at the time of the offense for which they were incarcerated.
Juliann Bliefnick, an inmate in the City-County Building Jail, said addiction is a major issue among the jail population.
"I don't think I've met anybody in jail who is not addicted," Bliefnick said.
People in jail also have higher rates of serious psychological distress than prison inmates. That includes mental health problems severe enough to cause impairment in social, occupational or school functioning and require treatment.
Data from 2011-12 show that 26 percent of jail inmates reported experiences that met the threshold for serious psychological distress and 44 percent had been told in the past they had a mental health disorder, according to the Bureau of Justice Statistics. Of federal prisoners, 14 percent experienced serious psychological distress.
In the Dane County Jail, Reed said there is increased demand for mental health services. Inmates can use a written request system to ask for a mental health professional to see them. The requests are triaged to see if there's an immediate need, otherwise patients are seen within the next business day.
"Over time, the numbers have increased, the mental health staff is busier with more crisis calls, more requests for service," Reed said.
Using pharmaceutical information to track the monthly number of inmates on psychotropic medications, consultants determined in a 2016 report that 20 percent of individuals booked into the jail may have a mental health issue. These inmates stay in jail longer than the overall population by an average of about 14 days.
In jail, mental health staff can provide brief, solution-focused therapy, ongoing wellness checks, some individual therapy and discharge planning, Reed said. There are some conference rooms available for these meetings, but otherwise they are done cell side.
"There really isn't a safe place for someone … to talk to mental health," Crisler'El said.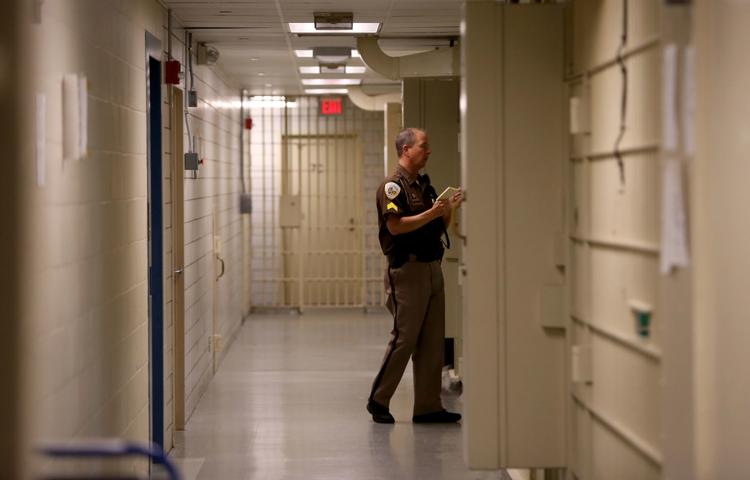 'No alternative' to segregation
Christa Fisher, a former chaplain at the Dane County Jail, said in five years of working there, she witnessed what she called "compounding trauma" in inmates. Being separated from family, feeling a sense of failure, the lack of access to fresh air and the inability to move around freely is traumatic, she said.
"The fear and the grief can become unbearable," Fisher said. "It's my observation that many people who are in jail have experienced compounded trauma, never with an opportunity to heal, and so the trauma compounds."
In extreme crisis situations, inmates may consider suicide. Policies to monitor and protect the well-being of suicidal inmates is critical given the high rate of suicide in jails.
In 2014, suicide was the leading cause of death in jails across the country and accounted for more than a third of all jail inmate deaths, according to recent data from the Bureau of Justice Statistics. The Mortality In Correctional Institutions report includes information voluntarily submitted by 2,800 jails.
Jail suicides nationwide increased from 328 to 372 deaths between 2013 and 2014.
More inmates die by suicide in jails than prisons. There were 249 deaths by suicide in 2014 in state prisons, up from 192 in 2013.
In the Dane County Jail, there have been three in-custody deaths in the past five years. None were suicide-related, according to Dane County Sheriff's Office records. However, six inmates attempted suicide from January through the end of May this year. One individual attempted suicide four times over the course of one month.
During intake, mental health staff determine if an inmate warrants additional monitoring. They ask direct questions — "Have you ever had a self-harm or suicide attempt?" — and indirect, asking if there is a history of trauma or victimization.
"If we believe that they are at risk for self-harm or thinking about suicide, then they automatically go on a suicide watch," Reed said.
Through May of this year, the jail dealt with 47 cases of suicidal inmates. Of those, five individuals were placed on suicide watch multiple times. Four of the inmates who attempted suicide were previously on suicide watch.
Since 2014 at the jail, the number of inmates on suicide watch each year has increased while the number of inmates who have attempted suicide has declined, according to Dane County Sheriff's Office records.
In 2014, 130 inmates were placed on suicide watch and 35 attempted suicide. Last year, 226 inmates were placed on suicide watch and 13 people attempted suicide.
Mahoney attributes the decline in self-harm attempts to increased awareness from jail deputies due, in part, to crisis intervention training. The goal of CIT is to gain a better understanding of mental illnesses, current medications and treatments, substance use disorders, co-occurring disorders and intellectual disabilities.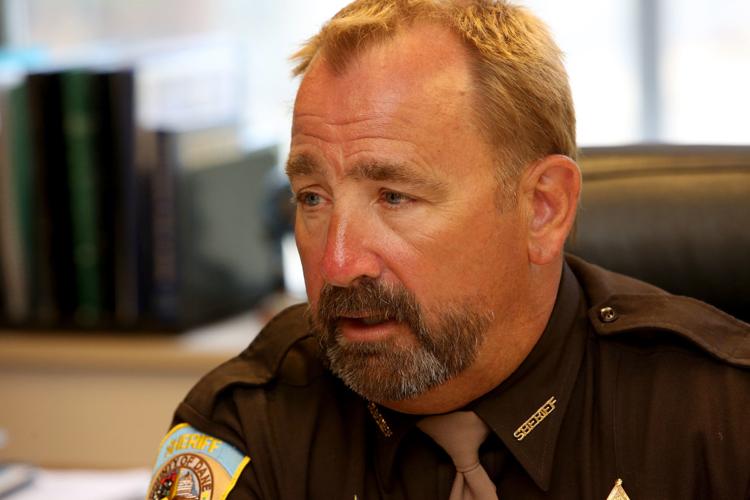 Under suicide watch, inmates are observed at staggered intervals, a minimum of four times per hour in increments of 15 or fewer minutes, according to Dane County Sheriff's Office policy. Once an inmate has been placed on a special watch status, jail mental health staff will conduct a face-to-face evaluation before removing the status.
Those at risk of suicide are housed alone in segregation cells and wear a "safety smock." Fisher argued that stripping inmates of their clothing and placing them alone under constant light and supervision does more harm than good.
Lt. Kurt Pierce of the sheriff's office agrees. He said staff are frustrated by limited options when responding to inmates in crisis, especially if an emergency detention is not supported.
An emergency detention is when someone with a mental illness needs to be detained for safety reasons. Typically, these individuals are transported to the Winnebago Mental Health Institute near Oshkosh. Madison's Mendota Health Institute stopped being used for emergency detentions in 2014, after services were consolidated to Winnebago Mental Health Institute in Oshkosh.
Pierce acknowledged the damaging consequences of solitary confinement but said "life is the number one priority."
"There is no other alternative," Pierce said. "If the emergency detention is not supported, we have to do the best we can with not only the staffing but with the facility that we have."
Inmates could also be separated into segregation units if they come into the jail with particular medical conditions. The jail does not have an infirmary and there are few places that can accommodate hospital beds, Pierce said.
"If I came in with a broken arm and a cast, that's a heck of a weapon," Pierce said. "It's not my fault my arm is broken, why do I have to go in a segregation cell? Where if you had an infirmary, you could be housed there."
Staff review the status of inmates on special watch at weekly meetings to facilitate communication between jail staff and jail health care staff. Housing inmates in the least restrictive units is always the goal, Pierce said.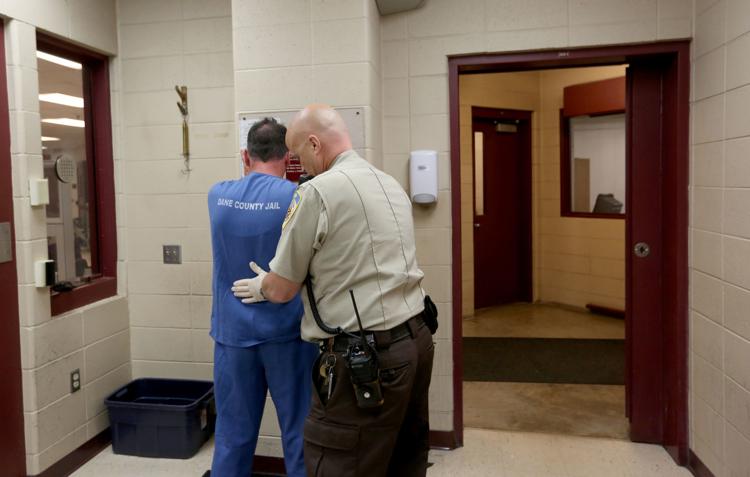 Priorities in the new jail
Consultants have argued that the two jail floors in the City-County Building should be shut down with "due haste" because of the safety concerns it poses for inmates and jail staff.
After several years and millions of dollars spent on studies, the county approved plans for a massive renovation last November.
"We finally made a decision and the county executive and the sheriff and all but four members of the County Board came together in a decision, and that's pretty historic," Supervisor Paul Rusk said.
Looking ahead to the renovation, Mahoney said he's keeping what he calls the most pressing needs in mind.
"Our first priority is the creation of medical and mental health housing," Mahoney said. "It will raise us to a level of care that I think, in Dane County, our citizens expect us to provide."
Pierce hopes to add more sensory rooms, a concept he advocated for and believes will help diffuse tense situations. The first sensory room is located in the Public Safety Building and features a rocking chair, music therapy and a mural.
The sensory room gives deputies an alternative to transferring an inmate in distress to more restrictive housing.
"Jail is very stressful," Pierce said. "With someone with anxiety, that's multiplied more."
Pierce said more options for programming space in the new jail will benefit inmates. If a multi-purpose room were located in each housing unit, more inmates could take advantage of programs without being transported around the jail, which takes time and coordination.
Currently, the jail provides ministry services, jobs and education programs and yoga. Staff is also emphasizing re-entry services through new contracts with Madison-area Urban Ministry, Nehemiah Center for Urban Leadership development, Anesis Center for Marriage and Family Therapy and the Jessie Crawford Recovery Center.
Madison-area Urban Ministry also provides a re-entry peer support program, which targets individuals who have a history of mental health issues and substance abuse in their backgrounds. 
Harmony Holman, 39, is working with MUM to get her life "back on track." She has been in and out of jail for about eight years, mostly for retail theft, and is currently housed in the City-County Building jail.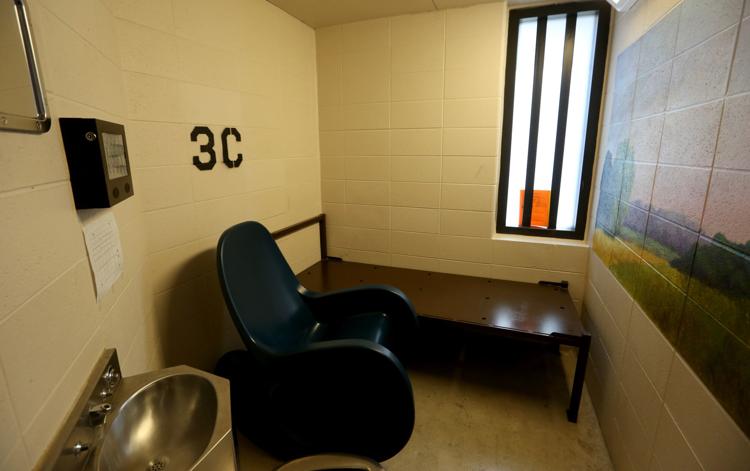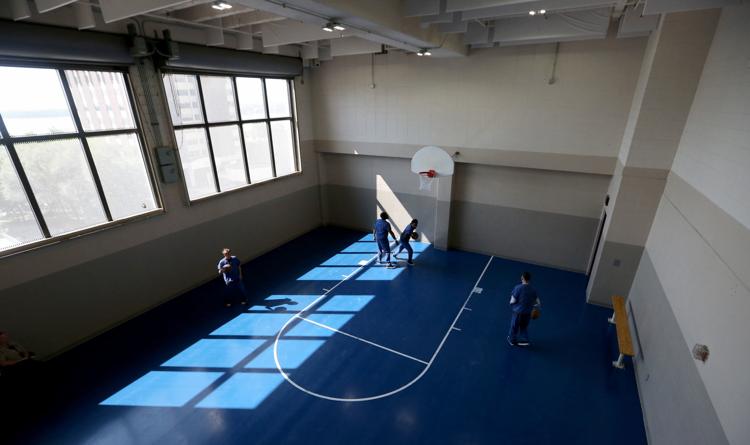 "It's very dreary and depressing," Holman said.
Crisler'El said the jail could be doing more. He would like to see a more rigorous peer support program for inmates like one he helped facilitate with Fisher called New Beginnings.
Relationship-based therapy is necessary for recovering from trauma and moving forward in life, he said. Talking to people who have a shared history of incarceration is invaluable.
"If you don't have the experience, all that means nothing," Crisler'El said.
Increasing programming space could also improve mental health services by providing private spaces for inmates to talk to providers, which is Lt. Brian Mikula's top priority.
"I think the inmate would be more forthcoming and it would be easier on the mental health professional to diagnose and treat with that confidentiality," Mikula said.
Fisher, the former chaplain, has raised concerns that the new jail will not have a dedicated space for spiritual services, which will be offered in multi-use programming space instead. Rusk said access to programming areas will not be unlimited and space dedicated for health care takes priority.
"If we put aside space just for that, something else has to go," Rusk said.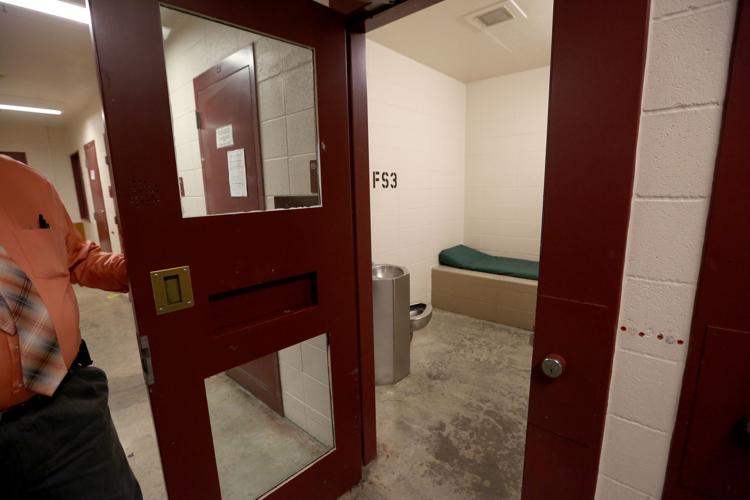 'Appalling' confinement
Rusk, who chairs the county's Public Protection and Judiciary Committee, remembers touring the jail years ago and seeing a woman in solitary confinement in visible distress. That image has never left him.
He said it is "appalling" that people are housed in solitary confinement "where we are exacerbating and making worse their behavioral issues."
"When the remodeled facility comes on board in a couple of years … my highest priority is to see that we have state of the art health care for all behavioral-related issues," Rusk said.
Last November, the county approved $140,000 for a comprehensive mental health study, which will inform whether a crisis restoration center is needed in Dane County. A request for proposals is being revised and issued for a second time, Rusk said.
Rusk believes people struggling with mental health end up in jail because the health care system does not adequately provide the help they need. He said the County Board is pushing for criminal justice reform but ultimately, the board can't control who is in jail.
But it can control the conditions of the jail.
"If they're going to be in the jail, they have to be housed safely," he said.
Share your opinion on this topic by sending a letter to the editor to tctvoice@madison.com. Include your full name, hometown and phone number. Your name and town will be published. The phone number is for verification purposes only. Please keep your letter to 250 words or less.
Get Government & Politics updates in your inbox!
Stay up-to-date on the latest in local and national government and political topics with our newsletter.