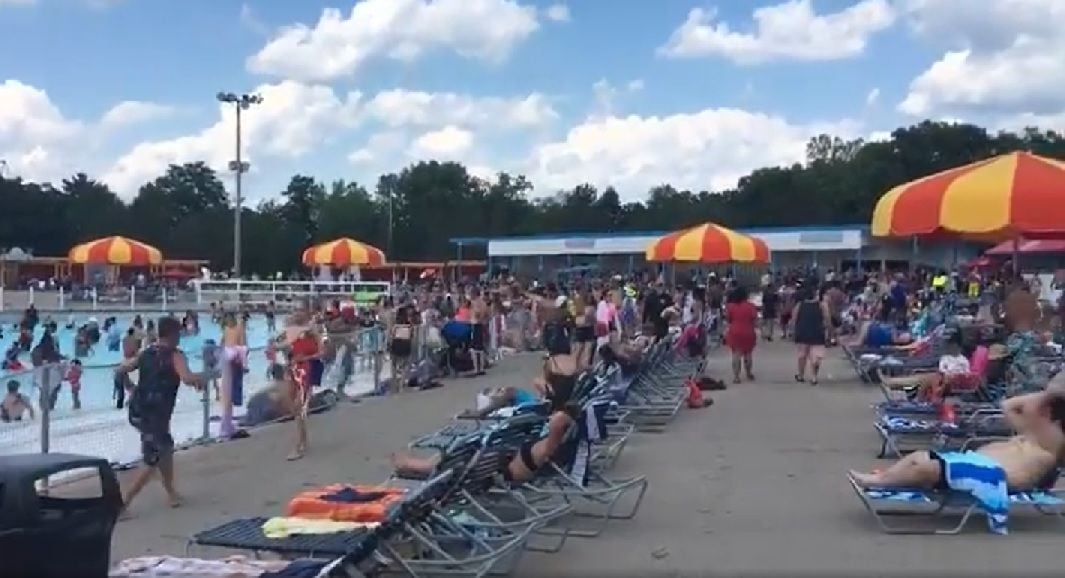 As the number of COVID-19 cases continues to rise, Tim Lawther is worried that the disease could be spreading undetected among the thousands of tourists and employees at the waterpark mecca of Wisconsin Dells, creating the potential for a major outbreak.
"That is a recipe for disaster, frankly, and I'm nervous about it," said Lawther, health officer for Sauk County, whose jurisdiction includes many of the Dells-area waterparks.
It's anybody's guess how prevalent coronavirus infections may be in the Dells, an area of four intersecting public health jurisdictions that in a normal year sees up to 4 million visitors. And while the numbers may be down because of the pandemic, videos on social media have shown closely packed crowds. And 100,000 tourists were estimated to have descended on the area during the Fourth of July weekend, potentially importing and exporting the virus.
In a 13-day period ending on Monday, Sauk County has seen 75 confirmed cases of COVID-19, more than any 60-day period since the pandemic began. Some of those cases are spread throughout the county, but others are centered in the Dells area among employees.
And while the average of about six cases per day is concerning for health officials, even more alarming is the fact that the trend is worsening. On Monday, 13 cases were reported. On Saturday, there were 17.
So far, Sauk County has racked up 191 reported cases of the disease, which has claimed three lives, according to state figures updated on Wednesday. Among other counties that contain a piece of the Dells, Adams County has seen 45 cases and two deaths, Columbia County has 129 cases and one death, and Juneau County has 59 cases and one death.
Adams and Sauk counties are considered to be at a high rate for coronavirus activity — meaning that they surpassed one case per 1,000 residents — while Juneau and Columbia are deemed moderately high.
But Lawther thinks the number of infected people in the Dells could be much higher than reported because of the flow of tourists, many from Illinois and other states, the lack of cooperation among some who have had contact with infected people, and the complications of Wisconsin Dells coming under the jurisdiction of four county health departments.
"Our anecdotal sense of that is that there are very likely people who have been exposed and do not have a level of symptoms that forces them to go get tested," he said. "So what could happen then is they could unknowingly expose somebody else, which then become a case."
So far, confirmed cases have not led to an announcement by public officials of an outbreak, except for Juneau County's public notice that Cruisin' Chubbys Gentlemen's Club had seen a number of cases in June.
On Monday, the Baraboo Burger Co. announced that several employees had tested positive for the disease and the restaurant would remain closed for a week for deep cleaning.
"They did that voluntarily," said Lawther. "We may have announced that, but there was no reason to because they announced that."
Lawther said that Sauk County won't make a public announcement of the presence of COVID-19 unless multiple cases have been reported, which would create a "public health benefit" for the public to know.
"There certainly are cases in multiple businesses around the entire county, not just the Dells," he said. "But they have not turned into an outbreak scenario yet. We are monitoring them, we are investigating them, trying to figure out what is the point that we may need to announce that to protect public health."
Amanda Dederich, health officer for the Juneau County Health Department, said the criteria for disclosing COVID-19 cases at businesses varies by county.
"For businesses in our county, we notify the public if we determine there is increased risk of exposure to the public and we can't identify all individuals who may have been exposed by name," she said in an email.
But he's concerned that many cases are going unreported, in part because contact tracers, who attempt to track down those exposed to someone diagnosed with the disease, are not getting full cooperation.
"There are a fair number of folks, when we call them and say, 'Hey you could have been exposed to COVID,' they don't want to give us their contacts, they don't want to talk to us, and so there's only so much we can do," he said.
He added, "I think it absolutely makes the numbers look lower than they actually probably really are."
It's unclear how closely waterparks are monitoring the coronavirus situation, what preventative measures they're taking and whether they're aware of any infections among out-of-state patrons. Managers at three of the Dells' largest waterparks — Noah's Ark, Kalahari and Mount Olympus — didn't return calls seeking comment, though Noah's Ark reportedly kept attendance down to 35% capacity during the Fourth of July weekend. 
But Lawther said he's aware of at least one case where an Illinois resident who was at a Dells resort tested positive.
"We investigated to make sure there were no other cases connected to that person," he said. "That person could be bringing cases in, or they could be taking cases out. Either one of those things is a possibility."
The Sauk County Health Department has beefed up its resources to deal with the pandemic. Lawther said four nurses "spend a good portion of their time" investigating cases, and five contract tracers have been hired until the end of the year, and the county is still looking for more.
"Our stance is at this point is we're going to try to hire as many people as we can who can help us with this," he said.
Dederich, from Juneau County, said her department is "close to capacity" for contact tracing. And complications from the influx of tourists hampers the county's ability to make timely notifications to the public in the event of outbreaks. 
"If people travel from other jurisdictions and are positive and infectious during their stay in our county, there may be a lag between when a person receives a positive result and when our department is notified of this information," she said. "This delays our ability to notify the public in a timely manner when deemed appropriate." 
Health officials can only do so much. Since a May ruling by the state Supreme Court shut down the state's safer at home order, only a handful of jurisdictions have enacted local coronavirus orders, and they don't include any of the municipalities or counties that oversee the Dells.
That leaves Lawther making unfortunate comparisons with coronavirus hotspots like Texas and Florida, where loose restrictions and early re-openings have led to dramatic spikes.
"We've got to help people understand why it's important for us to take this seriously — social distancing, wear the mask, avoid the large gatherings," he said. "Without an order we can't mandate that they do it, all we can do is educate them."
Editor's note: This story has been revised to indicated the correct number of COVID-19 deaths in Columbia County.
Concerned about COVID-19?
Sign up now to get the most recent coronavirus headlines and other important local and national news sent to your email inbox daily.